Come spring (and really, for months now), rainy weekends in the Northwest seem like they'll never end, making it difficult to get the family out and active. So why not get creative?
Whether you're prepared to get wet on a new hiking trail or want to pretend it's summer at an indoor pool, we have eight ideas that will get your family excited to get out and active, even on a rainy Saturday.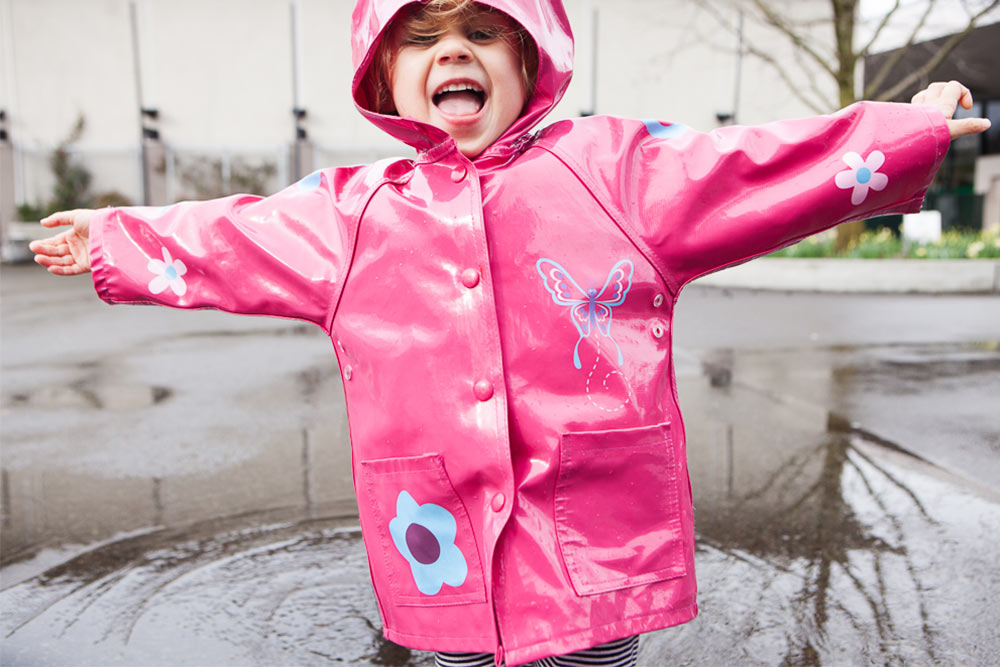 Prepare to Get Wet – Outdoor Adventures in the Rain or Snow
1. Puddle jump on a rainy hike. Layer up and break out the wet weather gear for a rainy day on the trail. Enjoy fewer crowds and the natural tree cover while you get a great workout and a breath of fresh air. The Washington Trails Association lists great rainy day ideas for Washington hikers and Cascadia Kids offers hiking ideas in Oregon. Before you go, read our tips for staying positive (and dry) while hiking in the rain.
2. Break out the snowshoes and sleds. If it's raining in the lowlands, it's likely snowing in the mountains. Head east for a snowshoeing or sledding adventure and you'll quickly forget the dreary, gray skies.
Take it Indoors – Active Attractions for Rainy Days
3. Bundle up for a day on the ice. Get moving and test out your ice skating skills at a local indoor rink. You can even turn the excursion into a family game with a friendly ice hockey match. Check out our favorite Seattle and Portland ice skating rinks to help plan your trip.
4. Hit up a new indoor play area. When your local playground starts to look like a mud puddle, try visiting an indoor play area close to your neighborhood in Seattle or Portland. Your kids can expend their pent up energy and you can keep your living room clean!
5. Go for a swim. Dig up the bathing suits and pretend it's summer with a day at your local pool. A few hours of swimming is guaranteed to tire out energetic kiddos. Try these nine pools and waterparks (complete with water slides) in Portland, or these nine aquatic centers in and around Seattle.
6. Jump it out. Let the kids go wild at a trampoline park as they jump out all of their energy. (Don't be afraid to join the fun!) In the Seattle area, try Skymania in Kirkland or Elevated Sportz in Bothell. In Portland, try Sky High Sports.
7. Climb to the top. Test out your family's climbing skills at an indoor climbing or bouldering wall. Never been? Try one of these 12 climbing gyms in the Seattle and Portland areas.
8. Take a ride inside. Bikes gathering dust in the closet? Portland-based families can spend a day mountain biking indoors at the Lumberyard Indoor Bike Park.
More Rainy Day Resources
What are you go-to activities on a rainy day? We'd love to hear how you keep your family active in the comments below.