Editor's note: We encourage you to practice good physical distancing on the trail. Before you head out, confirm trails are open. Wildfire activity and COVID-19 are causing closures. Be welcoming of all people on the trail.
There's so much more that goes into planning a hike besides how beautiful the views are. Luckily, resources are available to help you navigate outdoor adventures when you have specific needs on-and-off the trail.
We've compiled a list of our favorite accessible hikes! These hikes are wheelchair friendly with minimum or zero elevation during the trail. This basic guide might help people with disabilities to plan their adventures. As said these tracks could be safe for people who can operate vehicles with handicap driving controls for their travel. Check out these gorgeous trails we've found, as well as some additional resources for planning your own future outings.
Catherine Creek Arch Loop – Columbia River Gorge
Distance: 1.9 miles roundtrip
Trail Type: Loop
Elevation Gain: 325-feet
Wheelchair Accessible: No
Parking Pass: None
Restrooms at Trailhead: Yes
Carving through the towering rocks and hillsides between Washington and Oregon, the Columbia River Gorge draws outdoor enthusiasts to its diverse beauty all year round! With a multitude of hikes specifically attracting hikers for gorgeous wildflowers each spring, Catherine Creek is one of the best spots to admire some blooming buds due to its wildflower diversity and seasons duration. Botanists flock here for months in the spring to enjoy steady waves of blooms while also admiring views of the expansive river gorge.
For specific directions on hiking this trail, check out the Friends of the Columbia Gorge.
Happy Creek Nature Trail – North Cascades National Park
Distance: 0.3 miles
Trail Type: Out-and-back
Elevation Gain: Minimal (less than 100 feet)
Wheelchair Accessible: Yes – Boardwalk
Parking Pass: None
Restrooms at Trailhead: No
Often thought of as one of the more remote and rugged National Parks in Washington, the North Cascades offers views of pristine lakes and rivers, as well as gorgeous glaciated peaks and expansive mountain ranges. To really experience the diversity of nature in this Park, check out Happy Creek Nature Trail. A well-maintained boardwalk and gravel trail traverses you through thick forests of Douglas Fir, Western Red Cedar, Western Hemlock and Maples all while following a gently babbling brook. With no elevation gain and a quiet surrounding, this trail is ideal for pausing to reflect and enjoying a tranquil forest bath.
Gorge Overlook Trail – North Cascades National Park
Distance: 0.5 miles
Trail Type: Loop
Elevation Gain: Minimal (less than 100ft)
Wheelchair Accessible: Yes – Paved
Parking Pass: None
Restrooms at Trailhead: Yes
If you're looking for a little more of a challenge while in the North Cascades, then check out this Gorge Overlook Trail. This is your chance to catch some views of the Skagit River, as well as the Gorge Dam, Gorge Lake and even some waterfalls if they're in season! The fully paved trail is completely accessible for wheelchairs and strollers alike, but does have a bit of elevation to be prepared for. Along the hike you'll find benches as well as interpretive signs to help you deeper connect to the beauty surrounding you.
Sourdough Ridge Trail – Mount Rainier National Park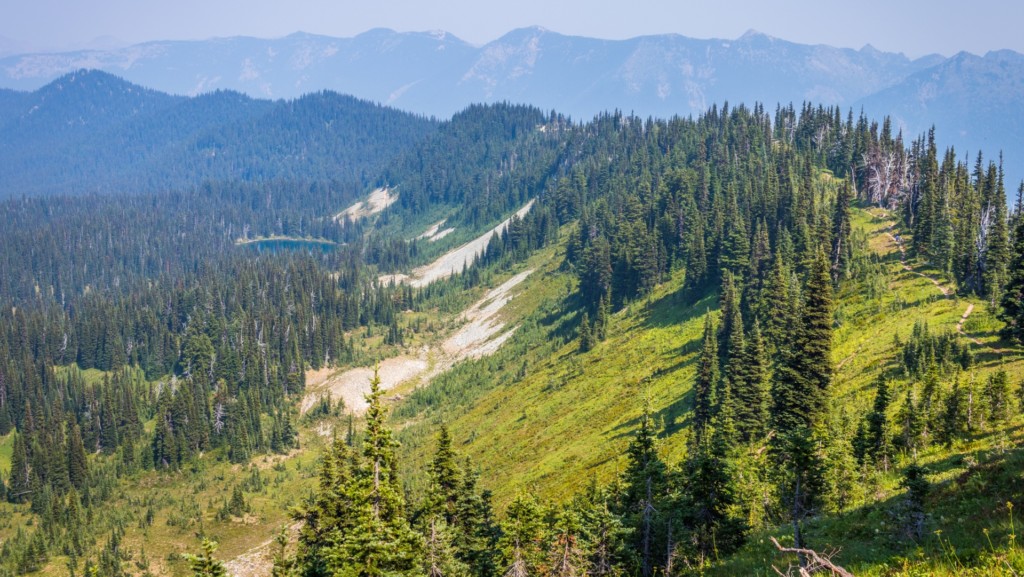 Distance: 3 miles
Trail Type: Loop
Elevation Gain: 500 feet
Wheelchair Accessible: No – Hike does have stairs
Parking Pass: NPS or America The Beautiful Pass is required.
Restrooms at Trailhead: Yes
Towering at over 14,000-feet tall, Mount Rainier is iconic not only to Seattle, but to Washington State all together! While there are several options for parking lot visits and nearby picnics, having the opportunity to walk through the wilderness of the National Park takes your adventure to the next level. Classified as a Moderate Trail by the National Park, Sourdough Ridge Trail starts at the full-service Sunrise Visitor Center and heads West with a few stairs to start the trip. After a short climb, you'll already be rewarded with gorgeous views of Mount Rainier, as well as Little Tahoma and the Sunrise valley below. Return to Sunrise via the Wonderland Trail and the old Campground Trail.
This trail system can get pretty intricate and offers opportunities for longer hikes, so be prepared to know where you're going and find the right trail. Get a more detailed description of how to hike Sourdough Ridge.
Staircase Rapids Loop – Olympic National Park
Distance: 4 miles roundtrip
Trail Type: Loop
Elevation Gain: 150 feet
Wheelchair Accessible: Possible with assistance
Parking Pass: NPS or America The Beautiful Pass is required.
Restrooms at Trailhead: Yes
With a multitude of short day-trip options and longer multi-days adventures, the Staircase regions of the Olympic National Park draws enthusiasts to its beauty all-year long. The Staircase Rapids Loops is a great option for those looking to explore a little further into this zone, but keep things at a fun and accessible pace. Beginning at the Staircase Ranger Station, you'll immediately cross the North Fork Skokomish River onto a well-maintained and shaded trail which meanders through moss-covered old-growth forest. Continue along the trail through towering Firs and along churning turquoise waters and eventually you'll come upon a recently installed suspension bridge. Admire the beautiful river views, as well as the impressive engineering, before turning around to head back to the trailhead.
Additional Resources
Throughout the Pacific Northwest, land management teams like the National Park Service and US Forest Service are working to continue making more wild, scenic places accessible for all. If you're curious about what other accessible hikes are in the region, check out these resources to help plan your visit!
Washington Trail Association – ADA Accessible Trails: This organization has compiled a list of completely ADA accessible trails in the state.
Oregon Hikers Forum – "Find a Hike" Page:
This is a service provided by the Trailkeepers of Oregon and is a forum where you can put in a wide range of parameters you need for your hike such as distance, elevation gain, or Universal Access.
Accessible Adventure in the Pacific Northwest Videos:
US Forest Service and visit National Forests and Scenic Byways in Washington and Oregon made short videos to let you see just how accessible (or not) many of these places are.
Image of hiker by grejak
Sourdough Ridge Trail image by RomanKhomlyak