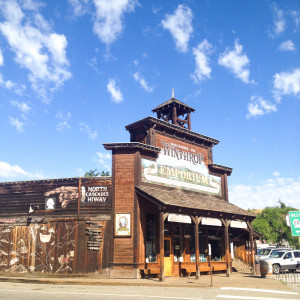 If you haven't caught on to Washington state's love of theme towns, you're missing out – especially if you're looking for an active adventure. For a Western-themed weekend, head to the Methow Valley to check out the lovely town of Winthrop. The small town was rebuilt in the 1970s to preserve its Western history by the architect who built Leavenworth, Wash., the Bavarian-themed town near Wenatchee.
While the town of Winthrop is fun to explore for an afternoon, the real adventure is just outside the city limits. Here are our tips for planning an active summer weekend, filled with biking, hiking, swimming and delicious food.
Biking: Explore Backcountry Roads
From easy road biking routes to tough mountain climbs, Winthrop is a haven for cyclists of all levels. If you're looking for a moderate afternoon ride, head out from Winthrop on East Twisp-Winthrop Road. The mostly flat road runs parallel to Highway 20 and takes you through beautiful farmland, with 360° views of the surrounding mountains. After nine miles of cruising, the road will end in Twisp. Grab lunch in the quaint town and return the same way for a nearly 20-mile ride round-trip. For detailed route overviews and mountain biking options, check out Winthrop Washington's overview of popular rides.

Hiking: Set off to the North Cascades
Winthrop is the perfect base camp if you're looking to plan a weekend full of hiking in the North Cascades. While there are dozens to choose from, we recommend tackling the Heather-Maple Pass loop. The trailhead sits just off Highway 20 and is 35 miles west of Winthrop. At just over seven miles, the hike offers stunning views of Lake Ann and nearby mountains. For other hiking options, consider the challenging Easy Pass or the milder Cutthroat Lake if you have younger kids in tow.

Swimming: Take a dip in Pearrygin Lake
Just four miles outside of Winthrop sits Pearrygin Lake State Park, a true gem of the region. If you're coming for the day, head to the second entrance and make your way down to the banks of the lake. Set up camp on the grassy field where you'll likely find volleyball games and Frisbee throwing in full swing. If you need to cool off, head into the warm but refreshing water. If you're looking for a water workout, put on the goggles and swim a few laps along the swim boundary.
Healthy Eating: Explore Local Markets
Whether you're renting a cabin or choosing to camp, stock up on healthy eats at one of the local farmers markets at the Methow Valley Farmers Market or the Winthrop Market.
Already have your summer adventures planned out? Consider returning in the winter for cross-country and downhill skiing, snowshoeing, as well as fat biking. The town transforms into a winter paradise.
Happy active adventure planning!