Updated March 19, 2019
Fall is the perfect time of year for some of the best waterfall hikes in Oregon and Washington. While many of Northwest's waterfalls never really dry up completely in the summer, they do shrivel up a bit. Come autumn, when the rain returns to the Northwest, the region's waterfalls plump back up and regain their roars.
Take advantage of the fall's beauty and enjoy these six breathtaking waterfall hikes in the Northwest.
3 Waterfall Hikes in Oregon
Punchbowl Falls
Length: 4 miles roundtrip
This popular cascade is a Columbia Gorge favorite, and for good reason. The relatively easy hike parallels the crystalline Eagle Creek for a ways and winds through a lovely forest of evergreens. This time of year, vine maples burst with color among the underbrush, and if you're lucky, you might even see spawning salmon in the creek.
Umbrella Falls
Length: 4.6 miles roundtrip
The incredible wildflowers that color this hike on Mount Hood in the spring are long gone by this time of year, but there's often a new dusting of bright white snow on the peak's upper reaches that adds a stunning scene. The falls, too, are something to see, and if you loop it right, you can also take in a second set, Sahale Falls, on your way back.
Niagara Falls
Length: 2 miles roundtrip
The name of is waterfall is a familiar one, but the Oregon iteration of Niagara Falls is on a much more peaceful and relaxing scale than the renowned falls back east. The trail wends its way through a lush forest splashed with fall color and arrives at a bit of a surprise: not only is the 107-foot Niagara Falls here, but so is the 112-foot Pheasant Creek Falls.
3 Waterfall Hikes  in Washington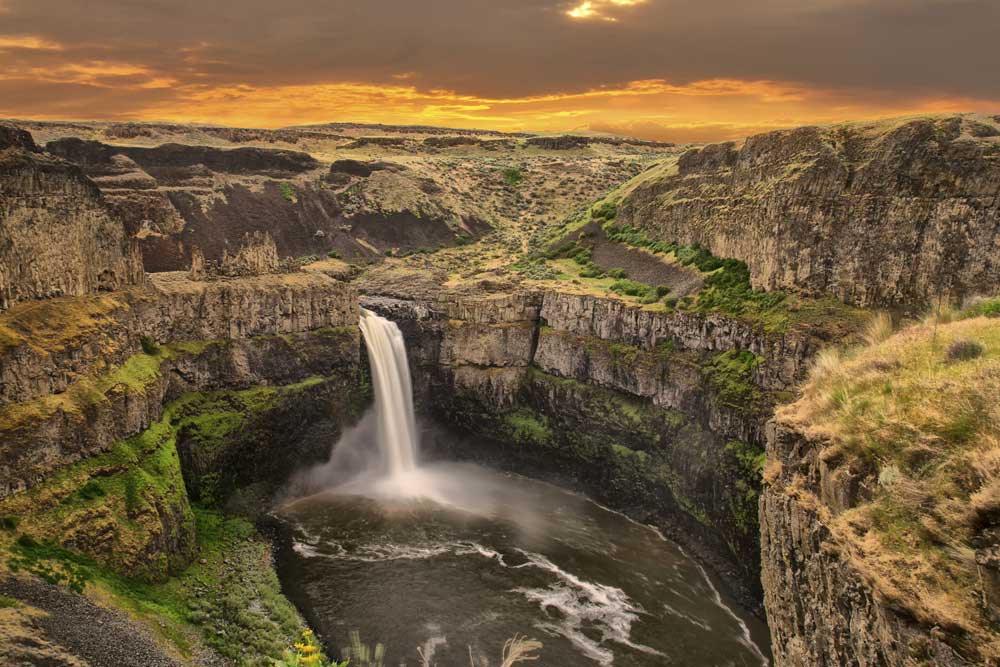 Boulder River
Length: Varies
There's more than one waterfall along this gentle trail that shadows the pristine Boulder River, so there will be no let-downs for the waterfall seeker here. There are also soaring trees and colorful pockets of fall color that make this relatively flat, scenic stroll ideal for an autumn afternoon.
June Lake
Length:  3 miles roundtrip
The waterfall that cascades into pretty June Lake at the base of Mount St. Helens has no name, but it probably doesn't need one. The quiet falls spill over a rock cliff almost out of nowhere down into the lake, and if you wander just a tad west from the lake, you'll get a giant view of St. Helens and its autumn layer of snow.
Palouse Falls
Length:  2 miles roundtrip
The desert can be beautiful in the fall, full of colors and warm sunlight. Splash a jaw-dropping waterfall into the scene and the setting can be nothing short of amazing. Palouse Falls does just that in Central Washington. There are multiple trails to try, including the Palouse Falls trail, which drops down to the namesake river and affords nice vistas of the surrounding canyon and the cascade itself.
Did we miss one of your favorite Northwest waterfall hikes? Share it with us in a comment on Instagram, Twitter or Facebook!