Swooping down the wide open upper ski slopes of Mount Hood or Stevens Pass can be thrilling: the fresh air, the chill, the expansive mountain vistas.
But there's something to be said about whooshing through the powder and carving your way down through the trees of a nice Northwest glade trail, too. Some of the best glade skiing is deep in the backcountry, but some ski areas in the Northwest are home to nice treed runs of their own.
Glade skiing, however, can be tough. Read on for tips for skiing Northwest glade trails – safely – and finding the best glade skiing areas near you, as recommended by a group of ski instructors from the Professional Ski Instructors of America.
Important Tips for Glade Skiing
1. Look for open spaces
A major key to successful glade skiing is focusing – not on the trees, as you might expect – but on the spaces between the trees and the white areas beyond them. Doing so will help you better navigate and anticipate what's next. Need an easy way to remember that? "White is right, brown is down," says Jennifer Lockwood, a personal trainer at Peak Fitness NW and a ski instructor at Mt. Hood Meadows Ski Resort.
2. Watch your eyes
Good ski goggles with tinted lenses are always a good idea, but even more so when you're skiing among trees. They'll help protect your eyes from low branches and twigs and also help you see better in snowy conditions. It's also important to always wear a helmet for protection.
3. Go strapless
Many experts recommend not using the straps on your ski poles (or use breakaway straps) if you're glade skiing. Poles can get caught on trees, which can lead to injuries if you're not able to let go of them.
4. Avoid the wells
Tree wells are the deep snowless voids that form around certain trunks because low branches block falling snow – and they're a real hazard when glade skiing in the Northwest. A fall into a tree well can lead to a serious injury or worse. Ski with caution around big trees, and keep yourself in control to avoid falls and crashes.
5. Buddy up
The peace and quiet that comes with solo tree skiing can be alluring, but schussing by yourself can be dangerous, too. Always ski with a partner. Or, if you insist on going solo, make sure you leave your plans with friends or family – especially if you're heading into the backcountry.
Glade Skiing in Washington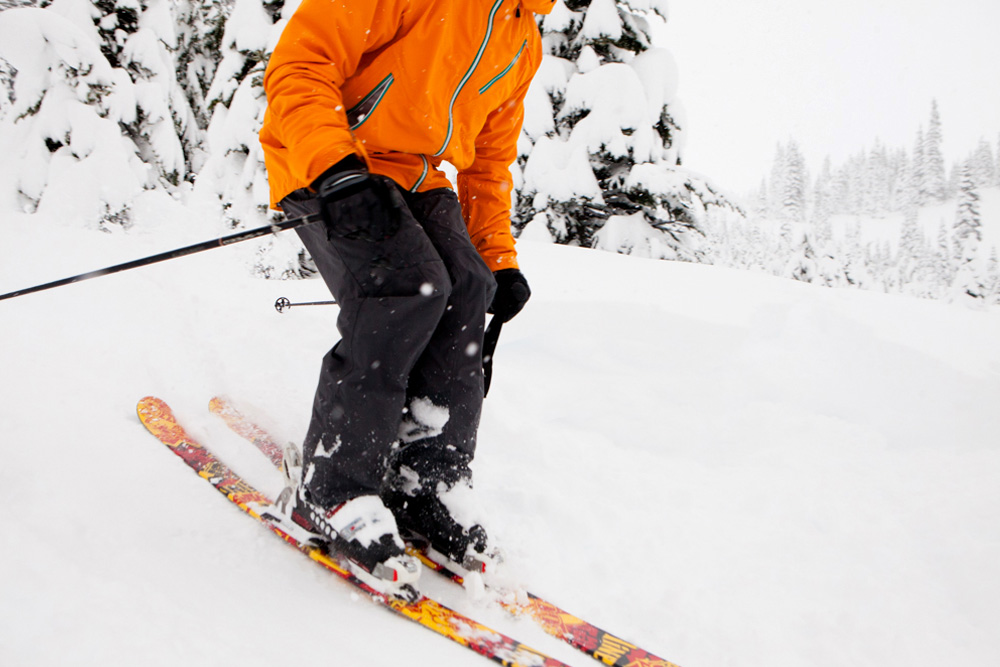 49 North
This scenic resort on Chewelah Peak – about 40 miles north of Spokane – is known for its hundreds of acres of glade skiing. Beautiful, but best for advanced skiers. The runs include Upper and Lower Cy's Glades, Tatanka and Powder Keg.
Mission Ridge
Twelve miles outside of Wenatchee, this 2,000-acre ski area gets plenty of sunshine and powdery snow – a perfect combination to go along with some of its treed runs.
Glade Skiing in Oregon
Mt. Bachelor
Generally drier and sunnier than the ski areas on Mount Hood, Mt. Bachelor's 3,700 acres of powdery terrain includes plenty of thrilling glades.
Mount Hood's Glade Trail
A historic ski run on Mount Hood, the Glade Trail starts near Timberline Lodge and ends down below in the village of Government Camp. The trail itself is fun, but there's other treed terrain off the trail to explore as well.
As always, play safe – and enjoy all the winter fun the Pacific Northwest has to offer!