Hibernation is for the bears! Head outside this winter and check out one of these ridiculously fun — and classic Pacific Northwest — winter fitness events instead.
1. The Chilly Hilly – February 22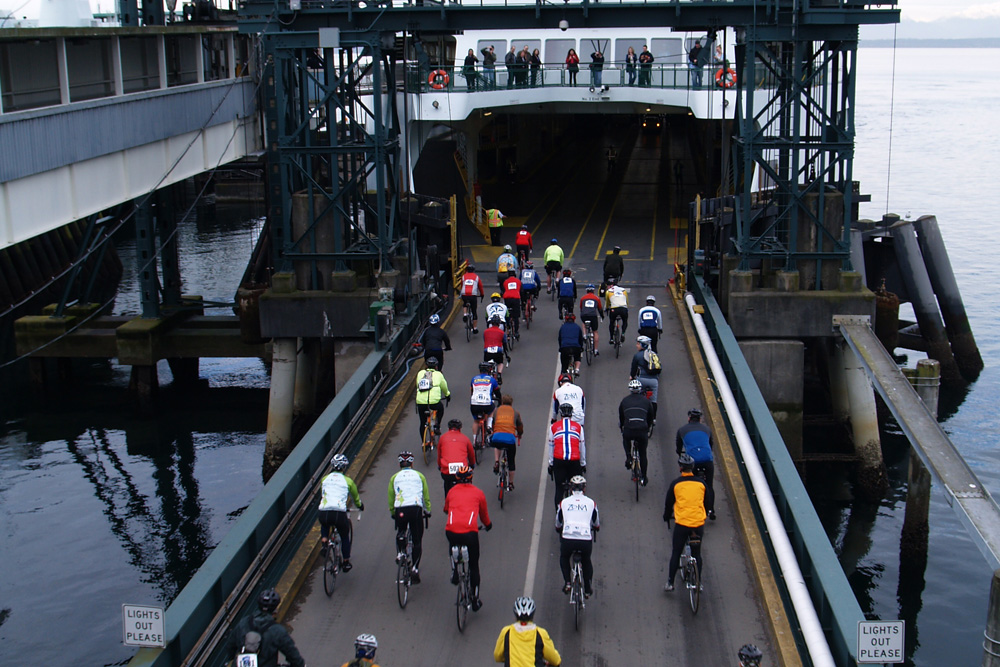 For the last 43 years, cyclists have gathered on the last Sunday in February to ride 33 miles around Bainbridge Island together, in the cold, for the Chilly Hilly. Why would you want to subject yourself to the elements for a whole 33 miles?
"Maybe it's the challenge of riding up 2,675 feet of elevation," explains Anne-Marije Rocj, communications director for the Cascade Bicycle Club. "Maybe it's the promise of home-baked cookies and hot chili afterward. Maybe it's the festive ferry ride to the start. Maybe we all know that if we wait for the weather to clear, we could be waiting for months to ride! Whatever the reason, the Chilly Hilly is the perfect ride to wake up your legs and get excited about the cycling season."
2. Worst Day of the Year Run – January 31
A little rain (plus maybe wind, and freezing temps) never hurt anybody, right? So why not lace up your sneaks and join a bunch of bold, costumed folks for the Worst Day of the Year Run? On January 31, you can defy the weather on either a 5K or a 10K around the golf courses at McMennamin's Edgefield in Troutdale, OR (about 12 minutes outside Portland). For braving the cold and rain you'll be rewarded with food and beverages at the finish line.
3. Worst Day of the Year Ride – February 8
The tagline to this bike ride, which takes place at the beginning of February every year, says it all: "Helmets are required. Wigs are optional (but encouraged)!" On February 8, about 3,000 people, decked out in costumes, will bike the streets of Portland on one of two routes: 15 miles or 46 miles. The ride starts with fresh coffee and doughnuts, offers treats at rest stops every four miles and ends with a finish line party at the Lucky Labrador pub.
4. The Polar Plunge – Throughout February
Take the plunge! There's nothing like jumping into a freezing cold body of water to tell the world that you're fully embracing winter. Various plunges take place throughout the month of February in Portland (Broughton Beach), Bend (Riverbend Park), Medford (Jackson Aquatic Center), Eugene (Maurie Jacobs Park) and Corvalis (Crystal Lake Sports Park). It's worth it for the story alone — but on top of that, all events benefit the Special Olympics Oregon.
5. Chicks on Sticks – February 1
This women's-only 8K ski race in Leavenworth, WA, features skate skiing, cross-country skiing and snowshoeing — paired with costumes, face paint and a whole lot of fun. Ladies of all ages can participate, and there is even a prize given to the "Best Dressed Chick."
6. Stumptown Birkbeiner – First snowfall in Portland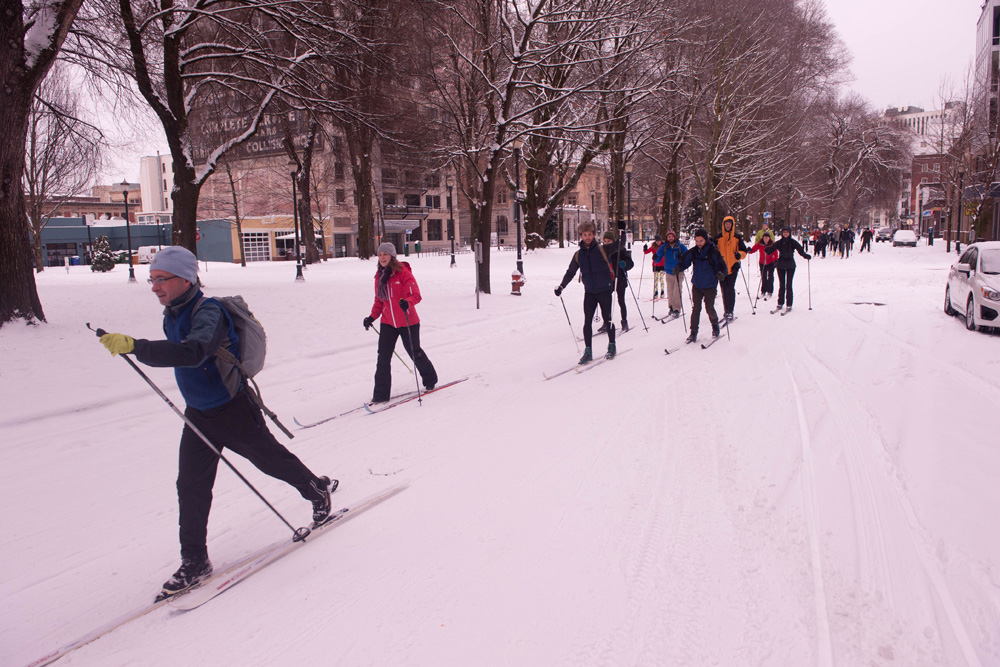 Sure, it doesn't snow very often in Portland. But when it does, expect to see cross-country skiers take over the streets in the impromptu Birkie. "It's a unique community gathering that organizes in an instant and turns out to celebrate those rare but unforgettable days when the city becomes one big ski area," says Win Goodbody, who created the Stumptown Birkbeiner back in 2008. "You haven't lived until you've tucked it alpine style from the top of Council Crest all the way down Greenway and Vista to NW 23rd."
7. Zombies Have Hearts, Too! 5K Run/Walk – February 15
Celebrate Valentine's Day with this zombie-themed race in Bellingham, WA. It features music, carnival games and a photo booth for snapping pics with your loved one after you cross the line. And if you don't feel you have the tools to adequately get into character, for $5 you can have someone turn you (and your significant other) into a zombie before the run.
8. Cosmic Tubing – Weekend Nights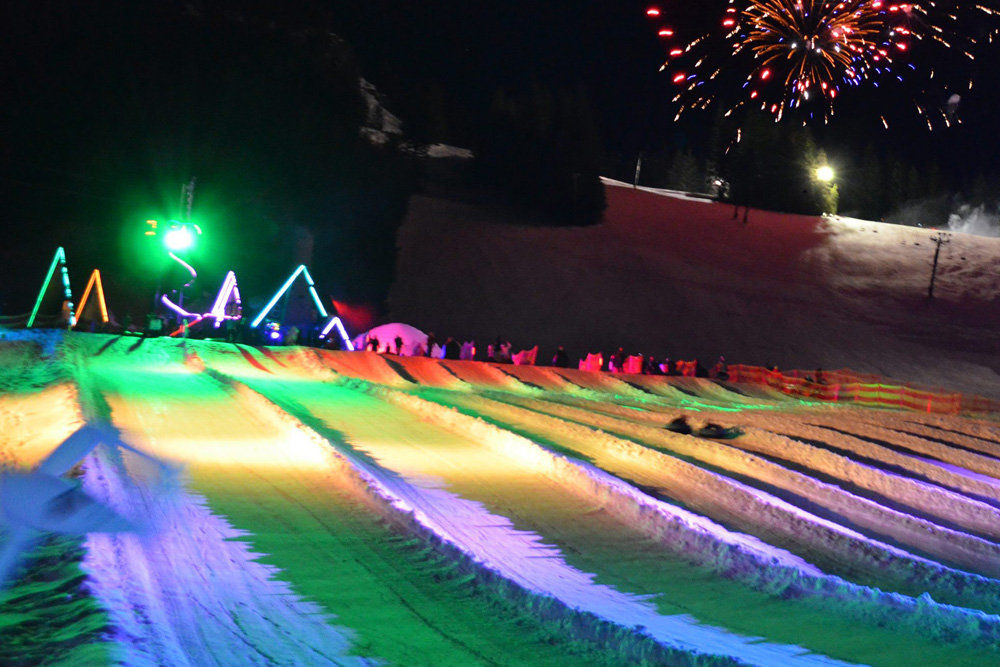 Head to Mt. Hood Skibowl for a night of bright lights, rocking tunes and crazy tubing during weekends this winter. You'll tube down a neon-lit mountain, ride the lift back up and repeat, all while enjoying over 600,000 LED lights and laser shows.
9. Skibowl's '80s Night – February 13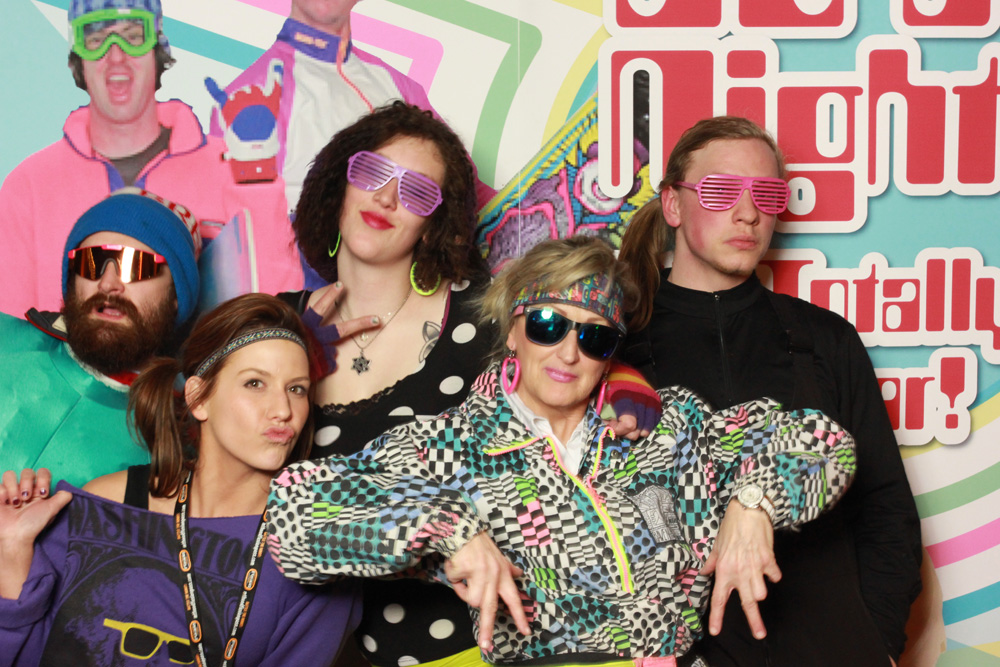 For a totally rad evening winter activity, check out Skibowl's '80s night. Everyone comes dressed in head-to-toe neon, complete with big hair, leg warmers and more. There's live music, a fashion contest and a dance-off. You'll also receive a discounted night lift ticket.
10. Hoodoo Snowshoe 4K – February 13
This family-friendly snowshoe trek starts at 6:30 p.m. and allows you to enjoy the peaceful quiet of nighttime in the Hoodoo Ski Area, guided by the light of the headlamp on your noggin. No need to worry about the dark — these well-groomed trails are marked with neon ribbon and reflective signs (in other words, you won't get lost!).
Header photo courtesy of the Mt. Hood Skibowl, LLC, The Chilly Hilly photo courtesy of the Cascade Bicycle Club, Worst Day of the Year Run/Ride photo courtesies of Good Sport Promotion, the Stumptown Birkbeiner photo courtesy of Win Goodbody Photography, and Cosmic Tubing and Ski Bowl '80s Night photo courtesies of Mt. Hood Skibowl, LLC.