Editor's Note: We encourage you to practice good physical distancing. Be sure to wear a mask, check for closures before heading out, and don't travel if you've been exposed to COVID-19.
Sun, sand, surf. The uninitiated may not know it, but the Northwest has plenty of these along our rugged and wild coastline. We also have ancient coastal forests, soaring and scampering wildlife and ocean vistas that simply overwhelm.
Thankfully, we also have some great Northwest coastal hikes that give a little glimpse of it all. Here are six of our favorites.
COASTAL HIKES IN WASHINGTON
Leadbetter Point State Park — Dune Forest Loop
Length: 3 miles
Difficulty: Easy
Perched on the pristine northern tip of the Long Beach Peninsula, this state park offers a hike of unmatched coastal diversity. To the west, wild, untrammeled beaches and the Pacific Ocean; to the east, Willapa Bay and the Willapa Bay National Wildlife Refuge, which teems with birds, otter, deer and all other kinds of Northwest wildlife.
Copalis River Spit
Length: 4 miles
Difficulty: Easy
Olympic National Park gets all the coastal love in Washington, which means this little gem often gets overlooked—all the better for anyone looking for a quiet walk among some scenic dunes and ocean expanses. Located in Griffiths-Priday State Park, the trail heads all the way out to the end of a natural spit where the Copalis River meets the Pacific.
Shi Shi Beach
Length: Up to 8 miles round-trip
Difficulty: Easy
Editor's note: Closed for the 2020 season due to COVID-19. Put this stunning trail on your list for next year.
Olympic National Park is known for its amazing and wild coastline, and Shi Shi Beach showcases the best of the best. The easy stroll starts in a signature forest of Sitka spruce and makes its way over about a mile to the beach. Once you're out on the sand, expect to see bald eagles, sea stacks and some of the most naturally beautiful ocean scenery around.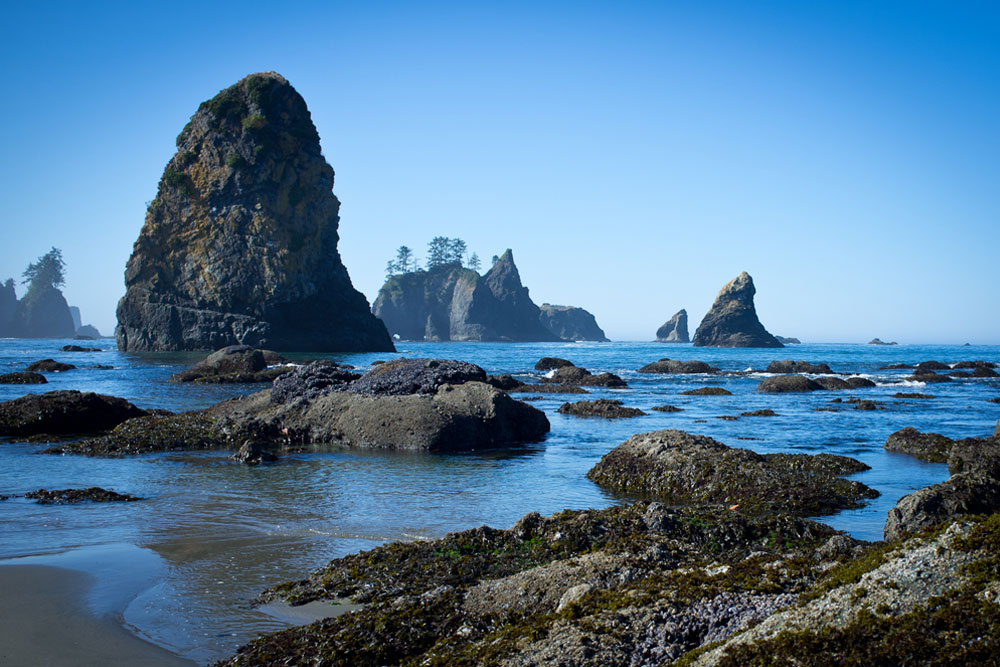 COASTAL HIKES IN OREGON
Threemile Lake — Tahkenitch Dune Loop
Length: 4.8-mile loop or 2 miles out and back
Difficulty: Easy to moderate
The Oregon Dunes National Recreation Area is one of the truly unique places along the Oregon Coast—or anywhere, for that matter. This refreshing hike is a great way to take in a little of everything the dunes have to offer: towering sand, breezy forests and beautiful beaches with wide-open views of the Pacific.
Cape Falcon
Length: 5 miles
Difficulty: Easy
Some of the enormous trees in the coastal forest here can put things in perspective real fast—as can the jaw-dropping view from the western end of the cape. After winding through the old forest to the sounds of crashing surf, you break out of the trees high above the Oregon coastline, with the ocean spreading as far as the eye can see.
Cascade Head
Length: 4 to 6 miles round-trip
Difficulty: Moderate
Endangered species, memorable vistas and old-growth forests make this coastal hike one of Oregon's classics. After gaining some elevation in a forest of Sitka spruce and Douglas fir, the trail ambles out onto open meadows and slopes. The money shot: look south to take in the Salmon River estuary and the coastline stretching into the distance.
What are your favorite Northwest coastal hikes? Share with us in the comments below!
Shi Shi Beach photo courtesy of Scott Neilson via Flickr. Leadbetter Point State Park photo courtesy of Sam Beebe via Flickr. Copalis River Spit photo courtsey of jwalsh via Flickr. Threemile Lake photo Courtesy of Jonathan Lidbeck via Flickr. Cape Falcon photo Courtesy of Matt Calder via Flickr. Cascade Head photo courtesy of Jami Dwyer via Flickr.