Editor's note: We encourage you to practice good physical distancing on the trail. Before you head out, confirm trails are open. Wildfire activity and COVID-19 are causing closures.
Bugs disappear, crowds decline, snow melts and fall colors burst onto the scene. It isn't cherished the way summer is in the Pacific Northwest, but fall actually offers some of the best hiking months of the year. To help you plan your last few trail adventures before winter, we've compiled our favorite hikes across Washington State to enjoy this glorious season.
Before you go: You never know when a storm may roll through and cover your favorite trail with a new blanket of snow. As we get closer to winter, be sure to check trip reports before you head out, to make sure your trail will be safe and accessible.
1. Washington Park Arboretum (Seattle)
Length: Varied
For a fall adventure close to Seattle, stop by the Washington Park Arboretum, which bursts with beautiful colors this time of year. Tucked away on the shores of Lake Washington, the park offers 230 acres filled with Japanese maples, botanical gardens and rare plants.
2. Carne Mountain (Central Cascades – Stevens)
Length: 8 miles
Known for spectacular summer wildflowers, Carne Mountain puts on a killer color show in the fall as well, when larch trees turn to golden yellow. Located in the Okanogan Wenatchee National Forest range, it takes quite a drive on forest roads to get there. The hike itself is also quite the trek, but the stunning views of the Enchantments and Entiat Mountains are well worth the climb.
3. Granite Mountain (Central Cascades – Snoqualmie)
Length: 8.6 miles
With fall colors as early as September and an exposed trail most of the way up, Granite Mountain is the perfect hike to celebrate the return of fall while soaking in sun rays. Prepare for a steep climb — gaining  almost 1,000 feet of elevation per mile — but take your time and relish views of Mount Rainier, Mount Stuart and the valley below. You'll want to eat at the summit, and a great place to do it is in the shade of the operating fire lookout.
4. Heather-Maple Pass Loop (North Cascades)
Length: 7.2 miles
Arguably one of the top hikes in the North Cascades, the Heather-Maple Pass Loop offers some seriously stunning scenery on a family-friendly trail. With snow lingering well into summer, this trail's a great one for your fall hiking list. Complete the full loop and see the changing colors as you take in views of alpine lakes and surrounding peaks.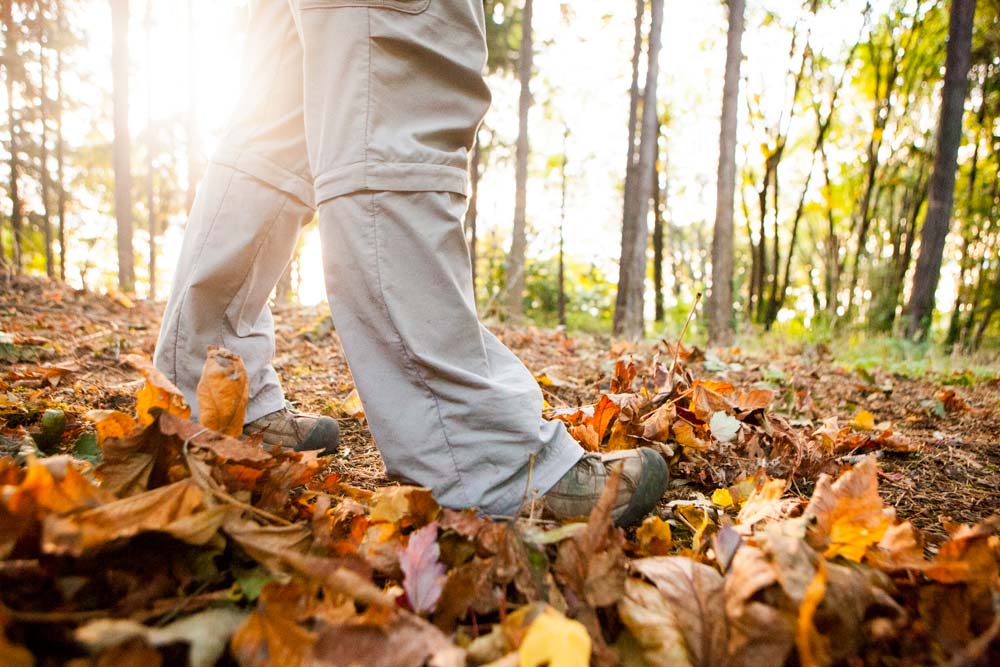 5. Abercrombie Mountain (Eastern Washington – Colville)
Length: 7.3 miles
By late October, the trees and trail shrubbery are all bursting with color on Abercrombie Mountain, the second-highest peak in Eastern Washington. There are many trail options to the top, but we recommend following WTA's lead and heading up the eponymous trail for a strenuous but doable fall hike.
6. Iller Creek (Eastern Washington – Spokane)
Length: 5 miles
A great loop option for a half-day adventure, the Iller Creek trail starts in a thick, forested area and culminates with views of Big Rocks and the Washington Palouse. If you don't make it here this fall, add the hike to your winter adventure list: It's a great option for snowshoeing in the Spokane area.
7. Silver Star Mountain (Columbia Gorge)
Length: 4 miles
Enjoy summit views with only 1,000 feet of elevation gain on this popular trail in the Columbia Gorge. It's an easy-to-moderate trail with photo-worthy fall foliage along the mountain ridgeline and beautiful views of nearby Portland and the Cascade Mountains.
Located in Oregon? Check out these eight Oregon hikes perfect for an autumn adventure.
Happy fall hiking!