#FitMob is officially underway! LifeWise kicked off the first workout of the series this past weekend with more than 40 participants at I-5 Colonnade Park, near the Howe Street Stairs. Instructors Dan Lawson, Lara Hedin and PJ Glassey led workouts for all levels while Olympic swimmer and world record holder Ariana Kukors was there to welcome the crowd and inspire all participants to live healthier, more active lives.
To see more photos of the event, check out our Facebook photo album.
Coming Up!
Join #FitMob again this Saturday August 31st as we head over to the Queen Anne Bowl Playfield for Zumba in the park with instructors Debbie Mann, Esteban Camacho and Vanessa Cook. See you there!
Event Recap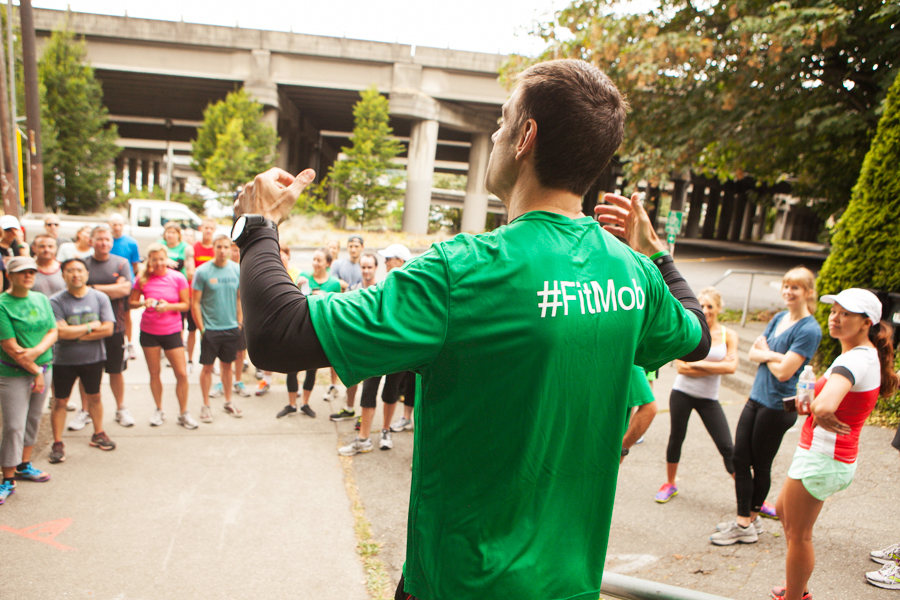 The Workouts
The beginners tackled the lower Howe Street Stairs leading to Eastlake. The intermediate group ran intervals up nine flights of stairs from Lakeview Blvd to 8th Ave, while the advanced climbers challenged themselves on the Blaine Street Stairs with burpees each time they reached the top.




Stair Climbing 101: Interview with PJ Glassey
Unable able to join and want to replicate the workout? Before you get started, read these tips and insights from PJ Glassey, owner of X Gym and self-proclaimed stair fanatic. PJ is vice president of the USA Stair Climbing Association and ranked 5th in the nation and 39th in the world for competitive stair climbing in 2012.
What are your favorite local Seattle locations for great stair climbs? The Howe Street stairs are my favorite because they are the 4th longest outdoor staircase in the nation. Golden Gardens in Ballard has a nice set of stairs as well as Forbes Creek park in Kirkland. Thistle Street stairs in West Seattle is another great site. All these and more are listed on publicstairs.com.
For those just getting started, are there other workouts that would help to build endurance? Any vertical training is great conditioning for stairs. Running hills, the StairMaster StepMill, Versa Climber, or any other activity where you go "up" against gravity will have crossover benefits to stair training. Spinning classes are also great training for stairs because the legs are operating in the same range of motion as stair climbing.
What are your favorite warm-up moves to try before hitting the stairs? For a quick warm-up, squat down and hold that position as low as you can while you rock back and forth between your heels and the balls of your feet until those muscles develop a healthy burn. Try to do this for 3-4 minutes and you'll be ready to hit the stairs.
What are some common misconceptions people have about stair climbing? Most people think stair climbing is hard on the knees, but it's all about technique. As long as you know how to go down stairs, the knees will be fine. Try side stepping as you come down, switching sides on each set of stairs.
#FitMob Stairs Workout
If you're interested in recreating your own #FitMob experience, check out out this great workout from instructor Dan Lawson.
Warm up (try PJ's warm-up idea to start)
Make 1-2 trips up to the top of the Howe Street Stairs (or other long staircase) at a slow, steady pace. Walk back down.
Rest for 90 seconds
Tackle a Pyramid Set: Staying at a steady walking pace, do 1 set of stairs and walk back down. Then do 2 sets and walk back down. Lastly, go all the way to the top, and then reverse it back down.
Try Interval ladders: Run up 3 sets, and then down 2. Repeat until you get to the top.
Cool Down/Stretch
Happy stair climbing!