LifeWise and #FitMob turned up the heat with some Zumba dancing action at our second workout of the series this past weekend. Forty participants joined instructors Debbie Mann, Marsha Rosamond, and Vanessa Cook as they led everyone through fun and exciting Zumba routines. Olympic swimmer and world- record holder Ariana Kukors was there to welcome the crowd and get participants pumped to join in on the dancing fun!
To see more photos of the event and to tag yourself and your friends, check out our Facebook photo album.
Coming Up!
Join #FitMob again next Saturday on September 7 as we head over to Lake Union Park for outdoor yoga with instructors Lara Hedin, Kathleen Meehan Lorenzo and Dawn Jansen. RSVP on our Facebook event page and spread the word to your friends. We hope to see you there!
Photo Recap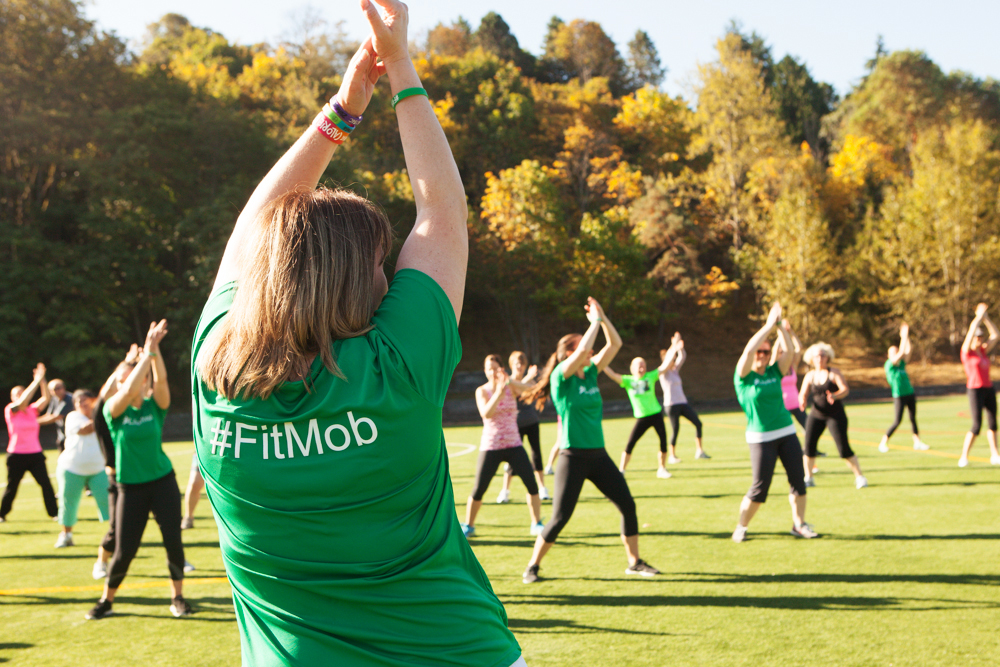 Zumba 101 with Debbie Mann
Unable able to join and want to replicate the workout? Before you get started, read these tips and insights from Debbie Mann, owner of Grand Central Fit Club in Kent and certified Zumba instructor since March 2010.
ANW: Zumba has been taking over the group fitness scene recently. What is it that makes Zumba such a great workout? 
Mann: Zumba is a release. It makes you feel good without realizing you are working out. Participants lose weight, gain confidence and self-esteem, all in a healthy social atmosphere. We get to cut up our clothes and be party animals with no responsibility for an hour.
ANW: Is Zumba something that anyone can do? 
Mann: YES! My mother introduced me to Zumba when she was 67, and my daughter has done Zumba Kids since she was 8. It's even common to have a mother and daughter in the same class – I know several mother/daughter instructor teams!
ANW: What tips do you recommend for someone just getting started, who may not consider himself or herself a dancer?  
Mann: Give it three chances before giving up. You can also mix it up and try a different class or a different instructor. Once you see the pattern of the steps or find an instructor whose style you like (we are all different), you will be hooked. WARNING: Zumba is addictive!
____
Thanks to everyone who came out! See you this week for Yoga.