Thirty people took in the sights and sounds of Lake Union during an hour-long outdoor yoga session for #FitMob's third installment. Olympic swimmer and world-record holder Ariana Kukors welcomed attendees and rolled out her own mat to stretch with everyone who braved a morning in the park after a week of wet weather.
To kick off the workouts, instructor Dawn Jansen challenged the small but dedicated advanced group, Lara Hedin led the intermediate group and Kathleen Meehan Lorenzo worked with the beginners on basic forms.
To see more photos of the event and to tag yourself and your friends, check out our Facebook photo album.
Coming Up!
Join #FitMob again next Saturday on September 14 as we head over to Myrtle Edwards Park for Tai Chi with instructors Kim Ivy and Brendan Thorson. Check out our Facebook event for more information and to RSVP. Spread the word!
Photo Recap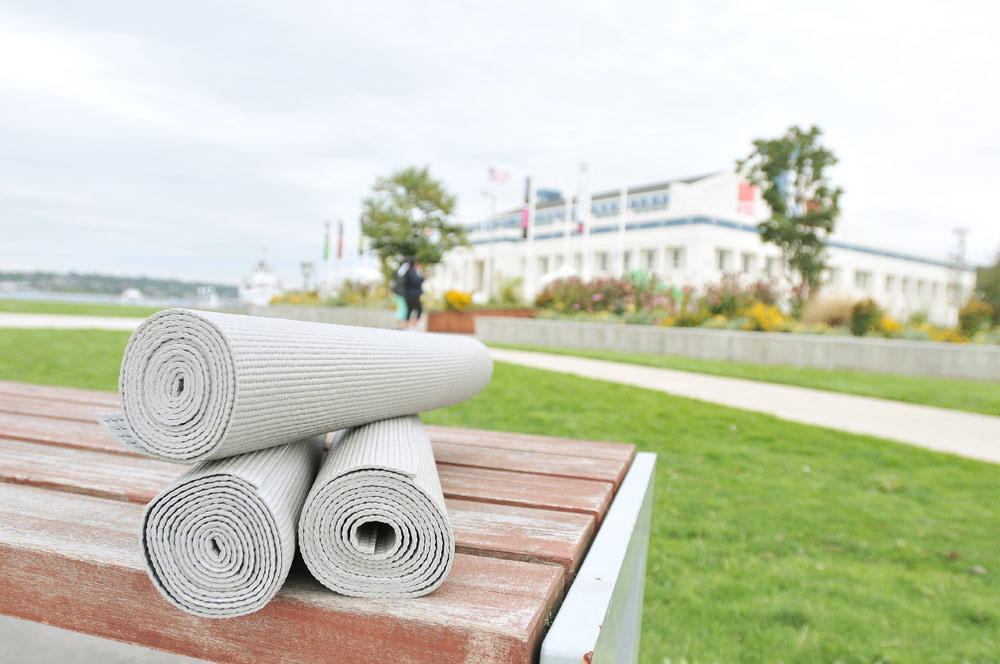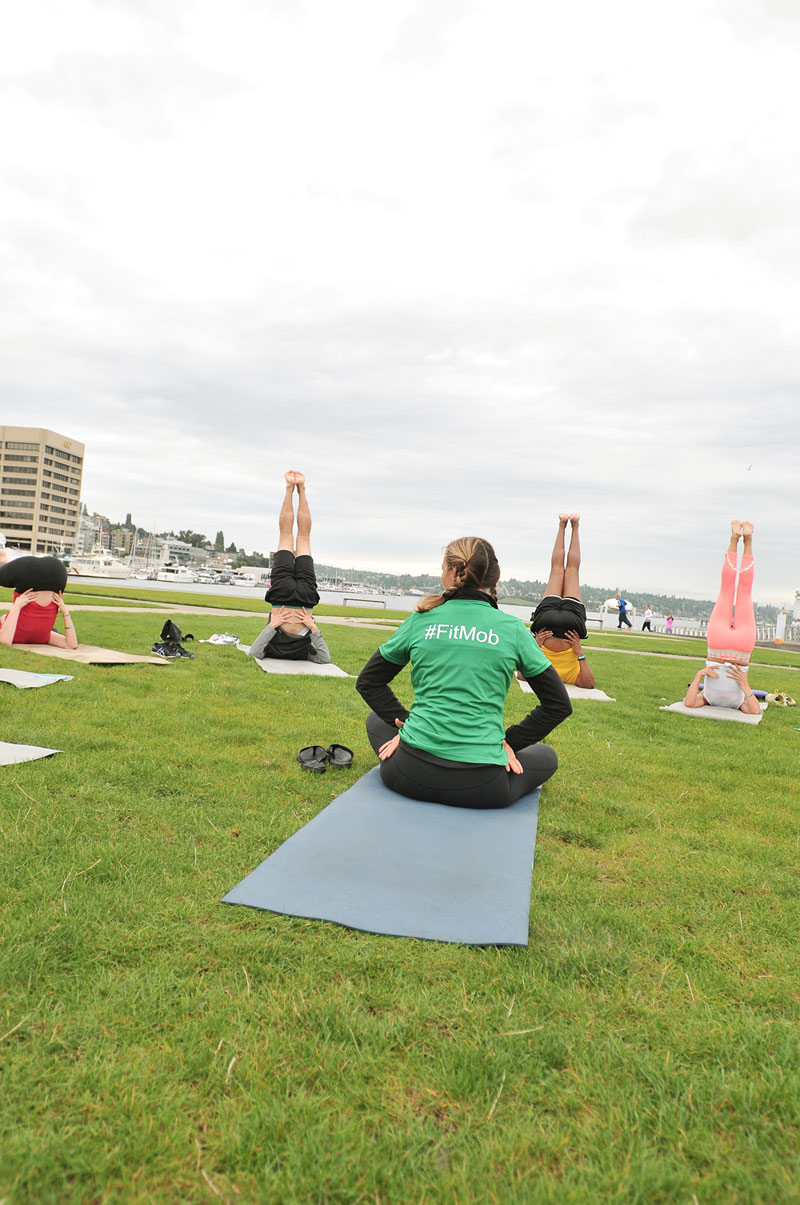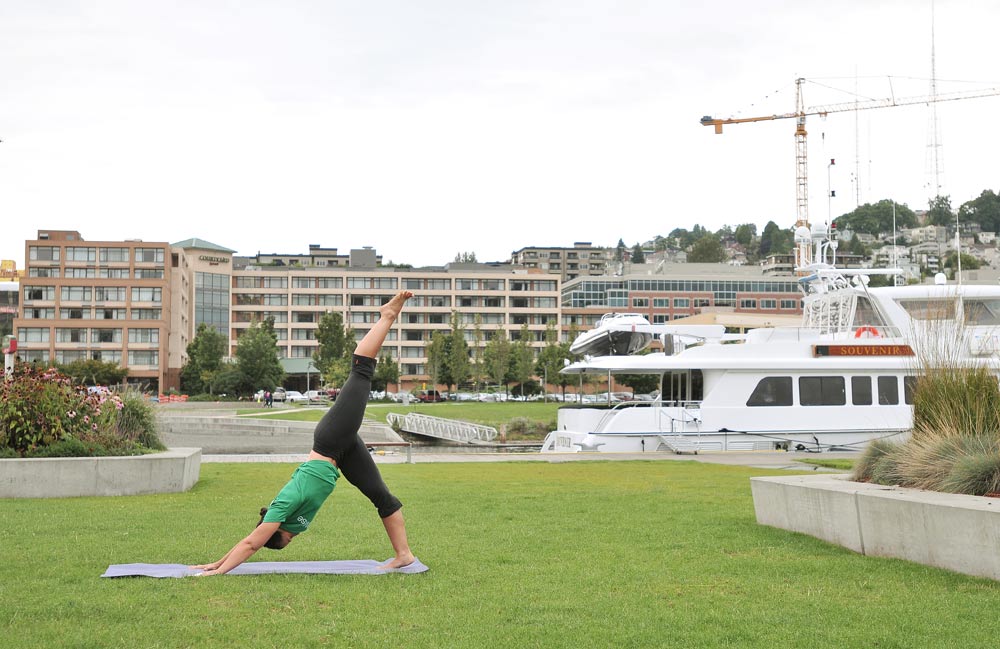 Yoga 101 with Lara Hedin
Curious about yoga and want to learn how to incorporate the practice into your daily routine? Check out our interview with instructor Lara Hedin for tips on how to get started.
ANW: Tell us about your type of yoga and the fitness benefits that it offers.
Hedin: Vinyasa means "breath-synchronized movement," and Vinyasa yoga is a series of poses that will move you through the power of inhaling and exhaling. Vinyasa movements are smoothly flowing and almost dance-like, which explains why it is sometimes referred to as Vinyasa Flow or just Flow.
Like all styles of yoga, Vinyasa has both mental and physical benefits. Physically, sweat expels toxins and re-energizes your body. The poses will also strengthen your muscles, while lengthening them. Mentally, the synchronized breathing relaxes you, while helping to focus and still the mind.
ANW: Yoga is as much about peace of mind as it is fitness. How do you recommend people get into the "yoga" frame of mind?
Hedin: By listening to your breath, your mind eases and settles. You can listen to your breath, or follow the sensation of it, and deepen it, anywhere, anytime, for greater ease in life.
ANW: Is it better to do your poses while listening to music, or silence?
Hedin: As long as you are able to focus on your breath, to hear it and feel it, either one is good. I like listening to the birds and the wind when I practice outside, and I like music when I want more inspiration. Every day is different. Whatever helps you get on your mat and move is what you should choose that day. The consistency of a regular practice will get you the greatest results.
#FitMob Yoga Poses
If you are looking to recreate Saturday's workout, or just want to get started with the basics, here are four beginner yoga poses from instructor Lara that are easy, fun and relaxing!
1. Downward-Facing Dog – A moderate inversion, it's easy for most people and can be done with bent knees, or legs and arms extended. It is energizing, calming and invigorating.
2. Lunges – A runner's lunge or a high lunge are great poses to practice to open the front of the hips. Since our society spends so much time sitting, our hip muscles become shortened. Lengthening the hip flexor muscles helps us stand more upright and eases low back pain.
3. Wide-Legged Forward Bend – Standing with feet wide apart, simply fold your torso forward. You can catch your elbows, hang out and breathe, or allow your hands to touch down on the floor. It's a great stretch for your inner thighs, hamstrings and spine.
4. Child's Pose – The main focus of child's pose is to open and stretch thigh muscles, but it is also useful in relieving back, shoulder, neck and hip tightness. If you need a break during a class, it's an awesome pose to rest in when things are moving too quickly. This is a natural pose for our body so do what feels good that day.
With all these poses, avoid rigidity; go for ease, and natural movement. We were born knowing how to move and live with ease. Taking some time on your mat everyday helps keep you balanced, relaxed and happy!