If you're a runner in the Pacific Northwest, you've probably been tempted by a trail run.
In this area, those who want to hit the trails are spoiled for choice. However, trail running is different from road running, with different joys and challenges.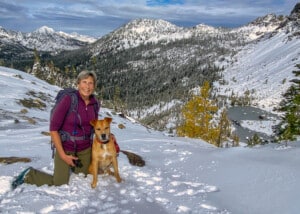 Certified personal trainer and experienced trail runner Karen Nolting shares tips for getting started. She's done the Crystal Mountain Sky Marathon with its 9,400 feet of climbing; she's completed the Wonderland Trail, a full Ironman, and a few Half Ironman triathlons. As someone who has run trails with her, I can attest that she's an awesome companion who adjusts her pace to push her partner juuuuuuuust enough.
"Happiest with grit in her teeth," for her 60th birthday, Nolting convinced a bunch of equally trail-happy, gritty toothed women to run the Volcanic 50K, a race circumnavigating Mount St. Helen's. Yep.
What Is Trail Running?
Among trail users, there are distinctions between trail types. The trails Nolting runs on are "single-track": narrow, technical, with rocks, water, roots, tight turns, mud, and little room to pass.
Trails used by equestrians and mountain bikers can have bike tracks, deep hoof holes, and … equine "deposits." Also slugs. Some times of year, you're as likely to slip on a slug as you are on a wet leaf.
Check the trail type and condition before you set out to determine what gear you take—or if you go at all. King County Parks and local running stores are great for getting the "beta" on the trails.
Where to Go
Cougar Mountain has "a little bit of everything and a pretty heavy trail-runner presence," Nolting says. If you're a beginner, lots of trail runners means lots of help if you fall or forget the way to your car. There's good signage, says Nolting, and because Cougar's within the King County Park system, you don't need a parking permit.
Tiger Mountain and Taylor Mountain are great fun for runners. Taylor is notorious for "shoe-sucking mud"! It might be dry in Seattle, but heavily tree-covered trail can retain water for a few days after a deluge. Have a spare pair of socks and shoes in the car and a bag for your muddy shoes!
Seattle's Discovery and Carkeek parks provide a gentle introduction to trail running, says Nolting. While many trails are legit single tracks, you can stay close to your car and get the experience of trail while still in the city. That reduces the amount of gear you'll need to carry, and neither requires a parking pass.
More trails to run:
What to Take
Seattle's weather isn't an indication of what you'll face on the trail. "It was thirty degrees when I left here," Nolting says of one such adventure, "and 45 degrees by the time I got to the trailhead. I had to peel off layers and drink a bunch of water at the car because I didn't bring my water pack."
The lesson is be prepared for anything. Nolting is a big believer in layers, particularly wool, though synthetic fabrics will do. There may be snow—in fact, there probably will be most of the winter—so microspikes for your shoes are a good precaution. Pick shoes with the best tread (or "lug"). Don't invest in trail shoes until you know you like the sport, but more tread equals better traction on the trail.
Many parks provide trail maps. Take your cell phone, though Nolting warns against letting the phone make you too complacent about the dangers.
Take more food and water. "If you go out for six miles, it might take you 50 minutes on roads, but it could take you an hour and a half on trail," Nolting says. "Think about that when you decide on your gear, water, and nutrition. Have a hand-held bottle at least. You can graduate into a hydration pack if you want to stick with it."
Take a headlamp if you might be there at dusk. Tree cover makes trails darker, and it can be easy to get turned around, even for experienced trail runners.
Finally, taking a more experienced trail runner reduces the stress of the experience, Nolting says. You don't need to worry about map reading, and you'll have someone to help if you fall. And they can suggest a trail that's less of a butt kicker.
Parking Passes
Plenty of trails don't require a parking pass, but if you want more room to explore, the Discover Pass opens up more than 100 developed state parks, and 2,000 miles of trails.
It's $10 for one day or $30 a year (plus fees), and you help keep parks safe, clean, and accessible.
What to Expect (of Yourself and the Trail)
If you're a road runner, make a few adjustments to your expectations, Nolting says.
Trails are different. Miles come more slowly (an 8-minute road miler may need 12 or 15 on trails). It can be humbling to hike or power walk up steep hills rather than run. You may tire much sooner, meaning an 8-mile run plan turns into a 4-mile run. That's OK. Don't go out too fast. Hold back until you know how it feels.
Adjust how you run. Rocks, roots, and uneven terrain mean you can't zone out.
"I look ahead of me, and if the trail is pretty smooth for a bit, I glance around and enjoy the scenery for a second or two. You can take in the sights, but pay attention to the terrain. Take shorter, quicker steps; keep your center of gravity lower. Arms a little lower and wider helps with balance. But do look up. See the trees and flowers and fungus. If you're enjoying what you're doing, you'll have a better time, both in terms of fun and the time on the clock."
You're going to fall, by the way. "I've fallen plenty of times," Nolting says, laughing. You're probably going to be sore the next day, even if you're a regular road runner. Uneven terrain recruits muscles you haven't used as much, and it's a heck of a core workout, so be ready for pain in new places!
Trail Etiquette
Those going uphill always have right of way.
Keep your dog on a leash at all times and carry its poop out with you.
Everyone yields to horses—step aside, stay calm, ask the riders the best way to pass.
Bikers should yield to foot traffic, but be aware they may not be able to stop easily.
Leave no trace! Wrappers and containers leave with you.
Headphones aren't the best idea on trails; you really need to hear what's happening.
No portable speakers, please. People are out to enjoy the natural environment. Your music choices may interfere with that.
Be courteous. When you're out there, you represent the trail running community, so be polite to all, so we can all enjoy the natural beauty together.
Running image by Tashi-Delek
Karen Nolting image by Tracy Jones