Editor's note: We encourage you to practice good physical distancing on the trail. Before you head out, confirm trails are open. Wildfire activity and COVID-19 are causing closures.
A creepy corpse in a beautiful Northwest lake… An abandoned mental institution with 1,500 graves… A legendary creature stalking the forests… There's more to hiking in Washington than old growth trees, mountain vistas and cascading waterfalls. As these five haunted hikes in Washington can attest, there can be a touch of terror on our trails, too.
Fort Worden State Park
Distance: Varies
Fear factors: Creepy old buildings, a cemetery and purported paranormal activity
This former military base on the Puget Sound near Port Townsend offers up lovely views, quiet walking trails and a 2.5-mile hike to a lighthouse. But eerie, abandoned military buildings, a cemetery, the fort's past use as a treatment center for troubled youths and reports of ghosts on-site make it one of the spookiest haunted hikes in Washington State.
Lake Crescent
Distance: Up to 8 miles roundtrip
Fear factor: The Lady of the Lake
There's nothing really spooky about hiking the Spruce Railroad Trail, which winds easily through the forest near Lake Crescent in Olympic National Park. It's quite beautiful, actually, with its towering trees, rolling mountains and aquamarine swimming holes. But it gets unsettling once you know the story of Hallie Illingworth, aka the Lady of the Lake. In 1937, the waitress went missing after a fight with her husband and wasn't seen again until three years later, when her body, tied and wrapped in blankets, floated up from the bottom of the lake. Her husband was later found guilty of murder. Now, who wants to go for a swim?
Northern State Hospital
Distance: 5 miles roundtrip
Fear factor: A former mental hospital and a 1,500-person cemetery
It was once the largest facility for the mentally ill in all of Washington. It's now home to the Northern State Recreation Area, which includes a network of pathways that pass by hollowed-out buildings from days of yore and an old cemetery that serves as the final resting place for some 1,500 former patients. Nothing to be afraid of here.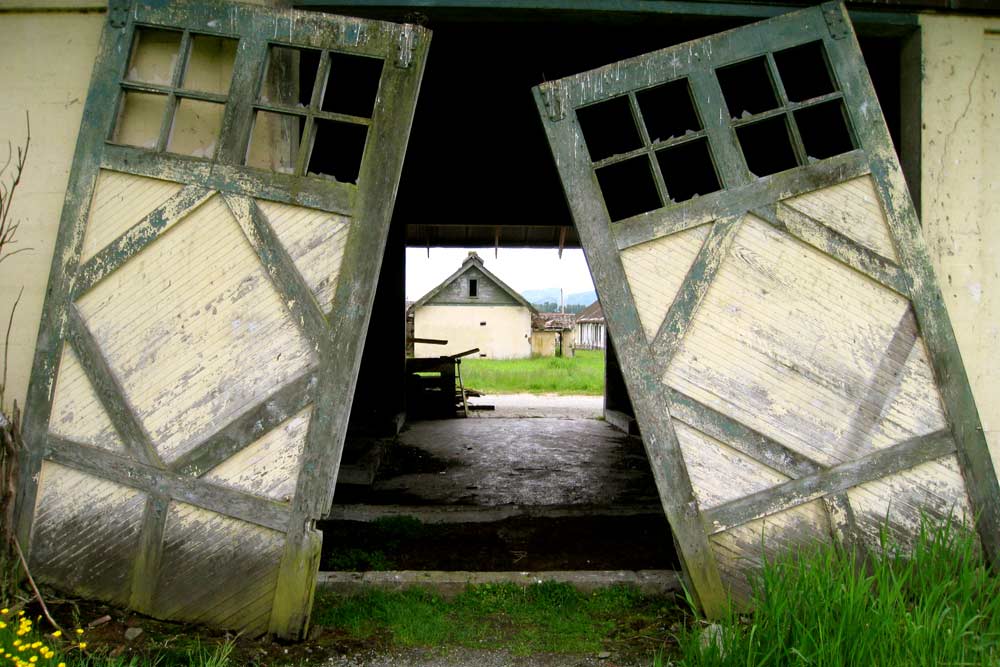 Wynoochee River Valley
Distance: Varies
Fear factor: Reports of a large, harry biped in the forest
If the chance to maybe spot your very own Sasquatch sounds like a fun way to spook yourself, the Wynoochee River Valley near Grays Harbor may be for you. The area has been home to scores of reported Bigfoot sightings over the years and has even drawn the "Finding Bigfoot" television show to town. For a hunt of your own, try the one-mile roundtrip hikes to Wynoochee Falls or Maidenhair Falls.
Lime Kiln Trail
Distance: 7 miles roundtrip
Fear factor: A dark forest, sharp implements from the past
A lot of Northwest hiking trails feature huge trees draped in moss that darken the daylight. This trail is one of those, though it's got the added eeriness of old saw blades, bricks and an abandoned lime kiln that give it an extra chill.
Looking for more haunted hikes in Washington? Check out these hikes for more spooky fun! Did we miss your favorite haunted hikes in Washington? Share them with us on Facebook, Twitter and Instagram!
Happy Halloween!
Image of Lime Kiln Trail courtesy of George Wesley and Bonita Dannell via Flickr.