When it comes to the sheer number of incredible hikes along a single stretch of pavement, it doesn't get much better than Washington's State Route 20, otherwise known as the North Cascades Highway.
Along the miles it runs through the North Cascades National Park, the road offers stunning mountain views, lake overlooks and scores of trails that lead to more of the same. For a few of the best, check out these North Cascades Highway hikes.
Fourth of July Pass
Length: 11 miles roundtrip
Difficulty: moderate to challenging
There may not be a more aptly named hike for summer than this show stealer, which includes expansive views of the North Cascades and beautiful Diablo Lake. You'll have to work for the view—one 2.5-mile stretch gains about 2,000 feet of elevation—but we're sure you'll find it, along with the cooling trees, waterfalls and turquoise creeks, worth every step.
Eight Mile – Squire Creek Pass
Length: 5.5 miles roundtrip
Difficulty: moderate to challenging
This one goes up and up—2,350 feet in less than three miles—through giant cedars and past tumbling creeks until it opens up onto huge North Cascade vistas: Mount Bullon, Whitehorse Mountain, Jumbo Peak, Three Fingers and countless other peaks. Throw in some high-up huckleberries and, if you're lucky, mountain goats, and it's hard to go wrong with this gorgeous trek.
Thornton Lake
Length: 10 miles roundtrip
Difficulty: moderate
Take in Mount Triumph, Teebone Ridge and the entire Skagit Valley from the subalpine meadow near this pretty little lake created by glacial gouging in another time. You'll get the best views of the surrounding peaks and ridges just before you drop steeply down to the lake basin, but you can also scramble your way up the challenging Trappers Peak for an even bigger and better panorama.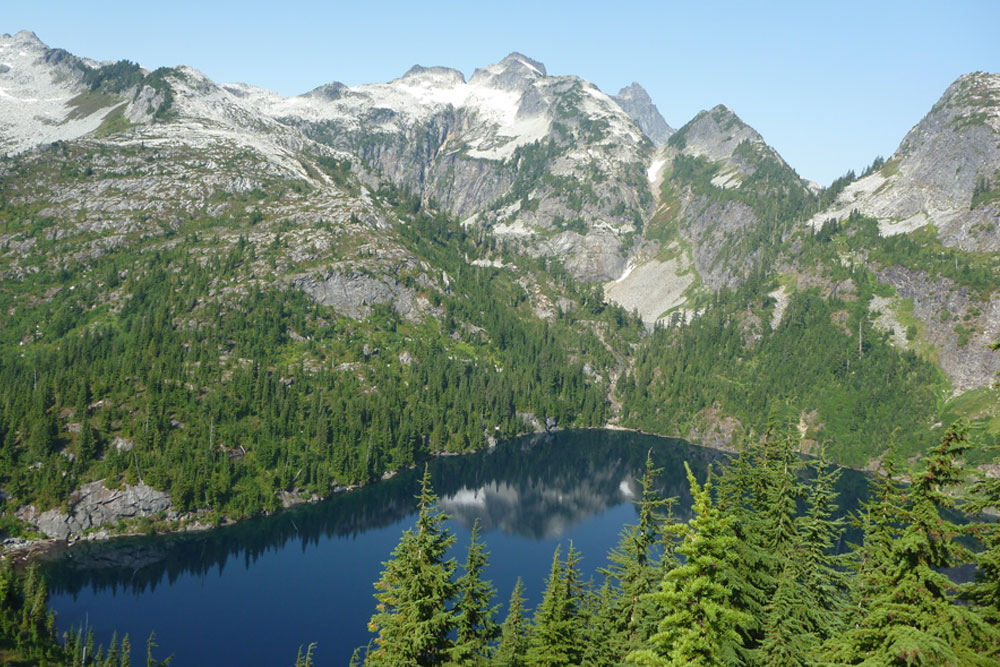 Thunder Knob
Length: 3.6 miles roundtrip
Difficulty: easy
Not only do you get to peek at Diablo Lake along this solid little trail, but there's also plenty of mountain goodness all around, including Colonial Peak, Pyramid Peak, Davis Peak and Jack Mountain. The trail gains just 425 feet, so it's an ideal climb for kids and anyone out for big views with little effort.

Fourth of July Pass photo courtesy of Miguel Vieira via Flickr. Eight Mile – Squire Creek Pass and Thornton Lake photos courtesy of Laurel Fan via Flickr. Thunder Knob photo courtesy of Navin75 via Flickr.