Who could possibly love a great hike in the mountains or forests more than a Pacific Northwesterner?
Nobody…except that Pacific Northwesterner's dog.
For lots of our four-legged friends, nothing gets the tail wagging faster than an unbridled romp down the trail. Not only will they have a ball and get some great exercise, but dogs on the trail mean great company for owners and dog lovers alike. They'll give you the motivation to get out of the house, and if you don't feel like chatting once you're out there, these trail companions won't mind a bit.
The Northwest is home to some ideal trails for hiking with dogs. But before you and your furry friend hit some of our favorites, peruse these tips to help make sure everyone on the trail—two legs or four—has fun and stays safe.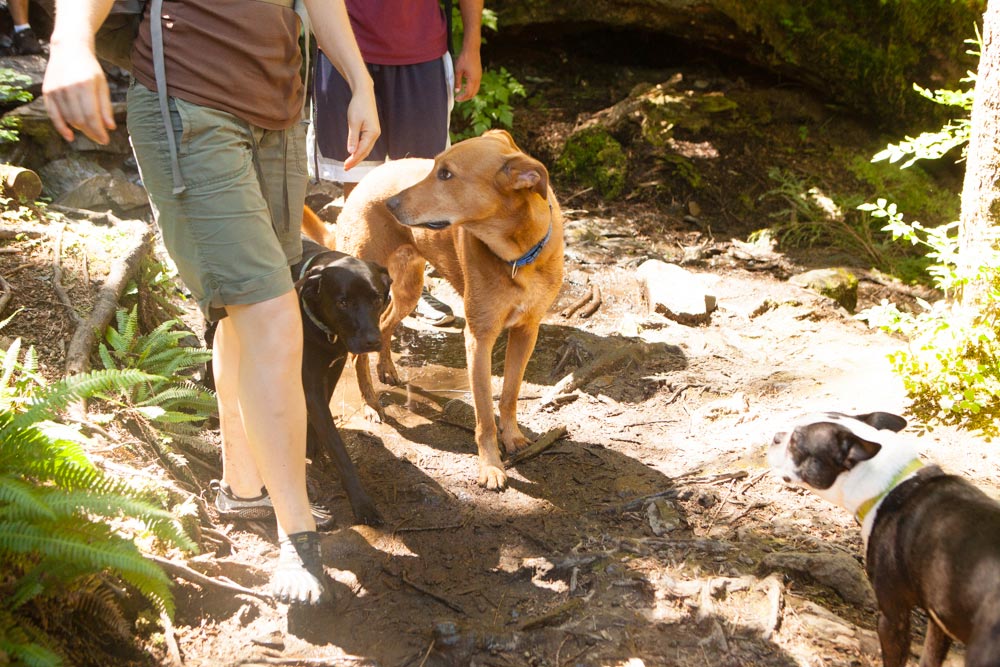 Doggy dos and don'ts
Fitness first — If your dog's idea of exercise is waddling between the food bowl and his bed, you probably need to get him in shape before you hit the trail. Daily walks or runs and trips to the dog park are a great way to get him ready. Check out our tips for working out with your dog and hit some of these awesome dog-friendly parks around the Seattle area.
Trail etiquette — Wherever you plan to hike, first make sure that dogs are allowed. When you're on the trail, follow all leash laws, and if it's okay to go off-leash, make sure your hound responds to vocal commands and stays fairly close to you. Last but not least, clean up after your pups.
Eat, drink and be aware — You get thirsty and hungry on the trail; so will your dog. Make sure you bring enough snacks and water for both of you. Also, at any signs of heat exhaustion—slowed pace, excessive panting, hyperventilation, weakness or confusion—stop, rest and hydrate.
Terrain troubles — Some mountain terrain can be hard on dogs' feet. Ticks can also be a problem, and lots of hikes in the Northwest come with exposed cliffs that can be dangerous. Make sure you know what you—and your dog—are getting into.
Trails for tails

Great dog hikes in Oregon:
Burnt Lake and East Zigzag Mountain
Distance: 9.6 miles roundtrip
The trail up to this pretty lake is mostly shaded, so it stays cool, and the lake itself makes for a nice dip before or after heading up Zigzag Mountain to a giant view of Mount Hood.
Sandy River Delta
Distance: varies
Here along the banks of the Sandy and Columbia rivers, you and your pooch will find more than 1,400 acres of prime, almost entirely off-leash romping.
Cape Lookout
Distance: 5.2 miles roundtrip
Head to the coast and stroll through a soaring old-growth forest with your (leashed) dog before breaking out into an incredible Pacific Ocean view.  

Dog-friendly hikes in Washington:
Lower Creek Falls
Length: up to 5 miles roundtrip
A nice, cool and scenic stroll with an easy grade, this one is perfect for dogs with shorter legs and less stamina.
Anderson and Watson Lakes
Length: 4 miles roundtrip
You have 1,100 feet of elevation to gain along this scenic path, but if you and your mutt are up for a little workout, the lakes and the surrounding North Cascades are worth it.  
Noble Knob
Length: 7 miles roundtrip
Who knows whether or not dogs appreciate gorgeous mountain views and wildflower meadows, but if they do, this is the place to take them.