If you've been exploring the outdoors of the Pacific Northwest for almost any length of time, you've probably caught wind of one of the most unique experiences you can have out there: spending the night in an old fire lookout.
Built largely by the federal government in the 1930s as a way to detect wildfires before the advent of better technology, fire lookouts often sit in remote corners of the Northwest and offer up commanding views of some of the region's most stunning scenery. At one time, Washington alone had 685 lookouts.
While most of those have been retired from service, a solid handful of them have been restored and are available for overnight getaways. Staying in them usually requires a bit of hiking, hauling in some of your own supplies and reserving early. But if you can do all that, you're in for a one-of-a-kind outdoor escape.
Here are a few tips for staying in a Washington fire lookout and a few favorites from around the state.
Book early
Washington's fire lookouts are popular places, as they should be. The lookouts that are open for reservations book up fast. The Forest Service and other agencies usually release available dates early in the year. (Other lookouts are first come, first served.) Book early at recreation.gov to ensure you get what you want. And if you don't, check back in often — cancellations are always a possibility.
Know before you go
Some lookouts are outfitted with mattresses, firewood, propane stoves and other supplies and have access to water. Others are a little more spartan and require you to pack in more gear. Research what you'll need — and what kind of hike it'll take to get you to the lookout — well before you set off.
Keep it clean
Because lookouts are so remote, their upkeep takes a lot of effort. Do your part by taking care of the lookout and being careful with fire. Leave the lookout in better shape than you found it and pack out all your trash.
Favorite Washington Fire Lookouts
This stunning lookout in the Mount Baker-Snoqualmie National Forest towers 70 feet above its namesake ridge, and its wraparound windows open up to jaw-dropping alpine vistas that include Mount Index and Bridal Veil Falls. The hike in is just a mile. The lookout is available to rent, but it books up fast.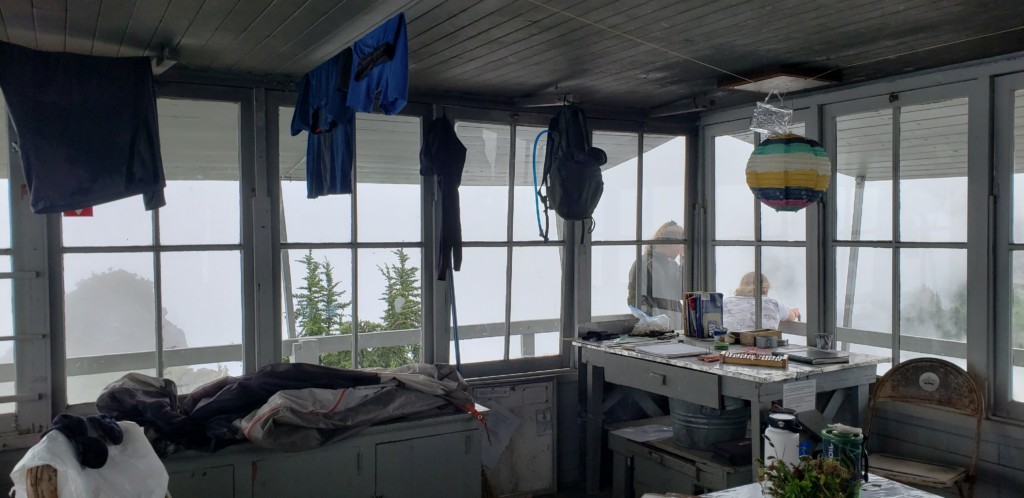 This Mount Baker lookout is available for an overnight visit on a get-there-first basis. Hit it early in the day as this is a popular spot! It's rustic with no toilet and water is procured by melting snow. Previous guests have left a cribbage board, books, and a lantern, but no guarantees, so bring what you need. The hike from the trailhead to the lookout is 3.5 miles with 2,100 feet of elevation gain. If you don't manage to snag the lookout for an overnight, you'll find plenty of camping spots along the way. You'll also find meadows of wildflowers, a waterfall, and unobstructed mountain views.
It's a steep 1.5 miles to get to this remote mountaintop lookout, but it's worth it for the far-off views of surrounding mountains and forests that'll give you a sure sense of solitude. Reserve this puppy early.
You'll hike two miles to reach this old lookout, but once you're there, the views stretch from the Northern Picket Range on up to the peaks of Canada. This one's first come, first served. If you get there and it's occupied, take in the panorama and then find a dispersed campsite or head down to the Silver Fir Campground along the North Fork Nooksack River.
Perched high up on Quartz Mountain in Mount Spokane State Park, this cozy lookout affords views out over the Spokane Valley and off to the Selkirk Mountains. It's a 2.7-mile hike in to the four-person lookout, which is fairly well stocked with drinking water, a propane camp stove, two single beds and other furnishings. It is reservable.
If you prefer just visiting, check out Mount Pilchuck Fire Lookout. The 2.7-mile hike climbs 2,300 feet and leads you to breathtaking views of the North Cascades from the wrap-around balcony of the fire lookout. It's not an easy hike. The terrain is uneven and requires scrambling at the top. The trail also gets crowded in the summer. The lookout is day-use only, but we've seen campers.
Park Butte images by Jessica Fenner
Mount Pilchuck image by Samuel Ali