Don't look now, but summer's days are numbered. Soon enough, we'll be talking about hiking in the rain and hitting the slopes.
But there's still some summer sun to be enjoyed, and late-season conditions can even be ideal: fewer people, fewer bugs and a few degrees cooler.
For some great late-season hikes to do before the summer ends, we picked the brains of some of the head honchos of Northwest hiking.
Paul Gerald's Oregon Picks
A Portland writer, hiker and eater, Paul Gerald (@60HikesPortland) started hiking at age 12. From the Rockies to Nepal and Argentina, he's never stopped. It's safe to say that Gerald knows a thing or two about Northwest trails. Here are some of his favorites and why he likes them this time of year.
1. Cooper Spur (Mount Hood)
Length: 6.4 miles
Elevation gain: 2,800
Why it's great: "Because it's not too hot, and the energy of a mountain when the first snowfalls are getting close is thrilling. You have a real sense of doing it while you can, then getting the heck out of there."
2. Cape Horn (Columbia Gorge, Washington)
Length: 7 miles roundtrip
Elevation gain: 1,630 feet
Why it's great: "For its fall colors, especially on the middle section between the hill and the river. It's like walking through the English countryside."
3. Ape Canyon (Mount St. Helens)
Length: 10 miles roundtrip
Elevation: gain: 2,500 feet
Why it's great: "For the vine maples and giant hemlocks on the way up. The bugs and people will all be gone, and the Plains of Abraham without the summer heat are fantastic."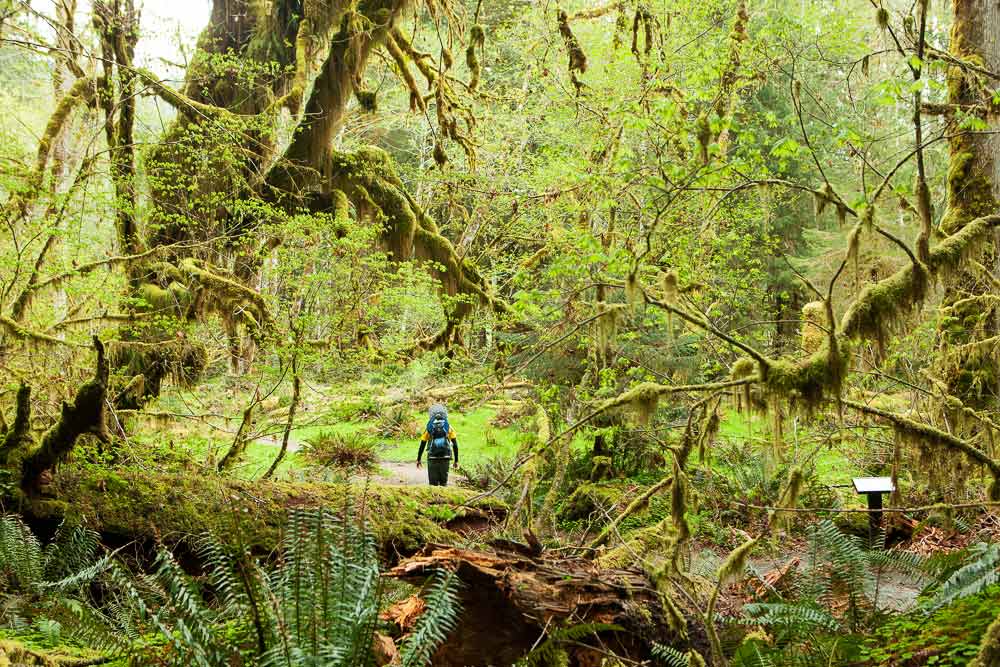 4. Oswald West State Park (Oregon Coast)
Length: Up to 10 miles depending on trail and route
Elevation gain: Up to 1,700 feet, depending on trail and route
Why it's great: "You can actually get more clear days out there in late summer and fall, making Neahkahnie Mountain views that much better."
5. Little North Fork Santiam River (Opal Creek Wilderness, Oregon)
Length: 6.25 miles roundtrip
Elevation gain: 200 feet
Why it's great: "This is an amazing forest with colors, cool temperatures, fewer people and mushrooms everywhere."
6. Clackamas River Trail (Oregon)
Length: Up to 8 miles one way
Elevation gain: Up to 450 feet
Why it's great: "You can almost do this one year-round. So when it's late fall and snowing elsewhere, take off to a shady spot and watch the river rise."
Craig Romano's Washington Picks
With more than 15,000 miles of Washington trails behind him, Craig Romano has seen plenty of good hiking in the Evergreen State. He's also written plenty about it too, with 11 hiking guides to his name. Romano had a hard time narrowing down his favorite late-season hikes, but he offered these gems from a big, long list.
7. West Fork Humptulips River (Olympic National Forest)
Length: Up to 10 miles roundtrip
Elevation gain: 700 feet
Why it's great: "A lush river bottom supporting spectacular groves of old-growth forest, meadows teeming with wildlife and views of rugged surrounding peaks, the West Fork Humptulips is one of the most varied of the rainforest trails. The river must be forded eight times on this hike, but in late summer it is merely ankle deep, making this a fun hike on a lazy, hot, late-summer day."

8. Hidden Lake Lookout (North Cascades)
Length: Eight miles roundtrip
Elevation gain: 3,300 feet
Why it's great: "One of the most spectacular hikes in the North Cascades — and one that can only be safely done in late summer, after dangerous snowfields have melted out. From a historic fire lookout on a rocky precipice, feast on mouth-gaping views of a serrated skyline of snow, ice and rock."
9. Indian Heaven Wilderness (Washington wilderness)
Length: Up to 8 miles one way
Elevation gain: Up to 450 feet
Why it's great: "A magical land of extinct volcanic craters and pastoral lawns along a high plateau dotted by over a hundred sub-alpine lakes, this 20,600-acre wilderness is indeed a heavenly place. Mosquitoes can be a pain here in early season, making this hike best late in the summer — with an added bonus of copious huckleberries."