Bike riding and the Pacific Northwest go together like peanut butter and jelly. But when the temperatures drop too low, or the rain starts to fall too hard, convincing yourself to get on the saddle and head outside becomes a bit more difficult. But don't fret. There's no shame in turning to the local indoor options instead.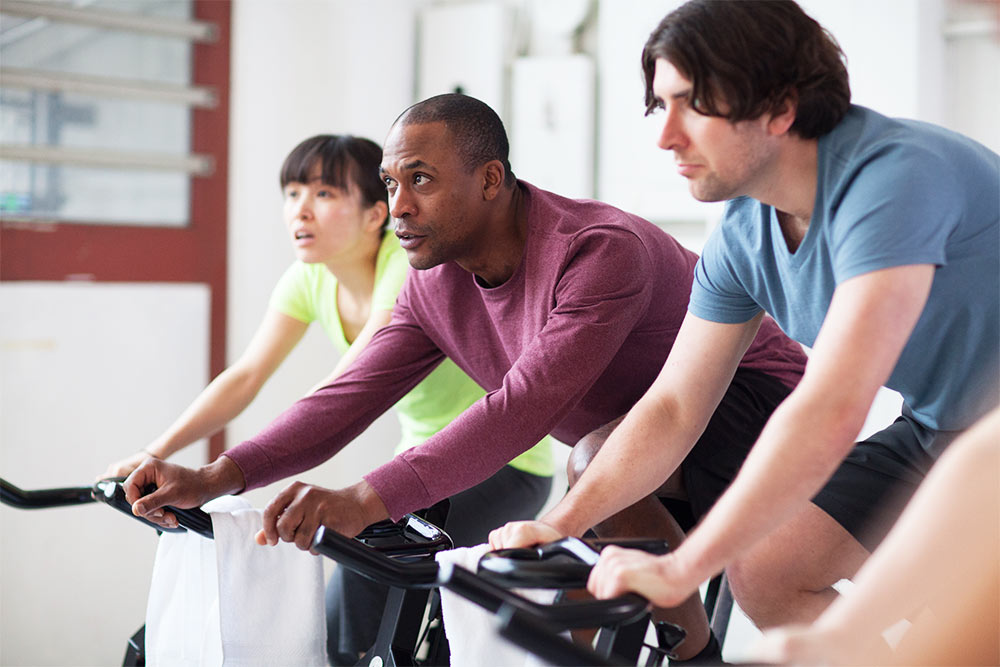 What to Expect
Indoor cycling, or spinning, is a type of group fitness class that's performed on stationary bikes. Each class is taught by a certified instructor who leads your ride from a bike at the front of the room. A typical Spin session strengthens everything from head-to-toe, boosts your cardio capacity and burns up to about 700 calories* an hour. It's also usually paired up with a heart-pumping playlist.
Today's indoor cycling bikes are super-smooth and very high-tech. You can manually adjust your bike to match your height, and a digital computer keeps track of your speed, cadence, distance, and calorie burn as you ride. The best part is that, since you're on your own bike, you can set your own pace and intensity, so anybody can do it-no matter your fitness level.
However, while doing indoor workouts and spinning, ensure that you don't push yourself too far since over-pressuring yourself physically can lead to a leg sprain, ankle injury, or you might pull a muscle in your back. This can slow down your pace in achieving fitness goals. You might also have to see a doctor similar to Dr Timothy Steel, with neurological expertise for proper treatment and recovery. So, to avoid any physical hassle during workouts and gym sessions, don't go overboard with exercises.

HOW TO DO IT
The instructor will call out recommendations on what your effort should be throughout class, but you are encouraged to work at a pace and resistance that meets (and pushes) your own fitness abilities.
Do not wear anything loose to class. If possible, opt for a pair of padded bike shorts, which will help keep you comfy on the seat.
Check with the studio and see if they provide clip-in bike shoes, or bring your own if possible. Riding with cycling shoes on, rather than sneakers, will give you a more efficient, powerful workout. They do take a bit of getting used to, however!
Show up 10 to 15 minutes early to class so the instructor can help you get set up.
FIND A RIDE… in Portland
StarCycle – This boutique studio in Lake Oswego puts an emphasis on finding the perfect playlist for every ride. Its instructors offer super high-energy, 45-minute total-body classes that align the music to your cadence – no matter what kind of intervals you're doing or resistance you're working at.
Firebrand Sports – If you want to simulate an outdoor riding experience, this is a great place to start. Portland's Firebrand Sports features "Full Tilt Cycling" classes performed on RealRyder bikes that lean, turn and tilt with you as you stride, making you feel like you're on the road, rather than in the studio.
Revocycle – Calm your mind as you push your body at this Zen, Pearl-based indoor cycling studio. Each person in class is set up on a 24 CycleOps 300 Pro Indoor Cycle bike, which can be perfectly adjusted to match your height and riding style, and uses a magnetic flywheel on its back, offering you a comfortable, smooth indoor spin session.
FIND A RIDE… in Seattle
Flywheel Sports – Ride top-of-the-line indoor bikes in a supportive class setting at Flywheel Sports, which has locations in Seattle and Bellevue. Your instructor will give you target resistance levels and RPMs (revolutions per minute) to work toward, and then you push yourself as you wish. If you're the competitive type, you can compare yourself to others during your workout, using an in-class leaderboard that shows how each participant is doing. All of your stats from class – RPMs, speed, power, distance, estimated calorie burn – are available online as well.
Beautiful Bike – Choose from all different kinds of classes, focusing on your core, your mind, your form and more at this cool, Fremont-based studio. Outfitted with RealRyder bikes that move, tilt and turn with you as you ride, Beautiful Bike gives its participants a calorie-blasting, total body, road-like experience indoors.
Live Love Flow – Seattle's first indoor cycling yoga fusion studio, Live Love Flow offers you a killer bike workout in a big, beautiful spa-like setting. Plus, you can practice two of our favorite healthy habits all in one membership. Some classes are just cycling-based, some are just yoga-based, and some are a combination of the two.