Editor's Note: We encourage you to practice good physical distancing, confirm trails are open before heading out, and be patient when visiting local businesses.
Hiking boots off, tent up, dinner cooking—there's  nothing better than breathing in mountain air, stargazing away from city lights and totally removing yourself for a few days on a backpacking adventure.
To start, here are eight tried and true Northwest backpacking hikes to fill out your summer adventure list. Looking for a coastal adventure with campsites on sandy beaches? We've got you covered. Want to see glacier-blue alpine lakes? You've got plenty of options. Whatever you're looking for, you'll find it in these eight routes across Washington and Oregon.
Backpacking Hikes in Washington

Enchantment Lakes
Location: Leavenworth
Length: 18 miles roundup
Difficulty: Strenuous
Every Northwest backpacker has either hiked the Enchantments or has dreamed of it—and for good reason. You'll need to win a permit lottery to make the full overnight trek, but you'll be rewarded with some of the most stunning alpine lake scenery in the area.
South Coast Wilderness Trail
Location: Olympic Coast
Length: 17 miles roundtrip
Difficulty: Moderate
For a coastal backpacking adventure, add the South Coast Wilderness Trail to your list. You'll spend three days hiking gorgeous sandy beaches and hopping over high tides with ropes and ladders set into the landscape. It's all worth the effort when you end the night stargazing on secluded beaches. Pro tip: Bring a tide table and consider leaving a car at both ends.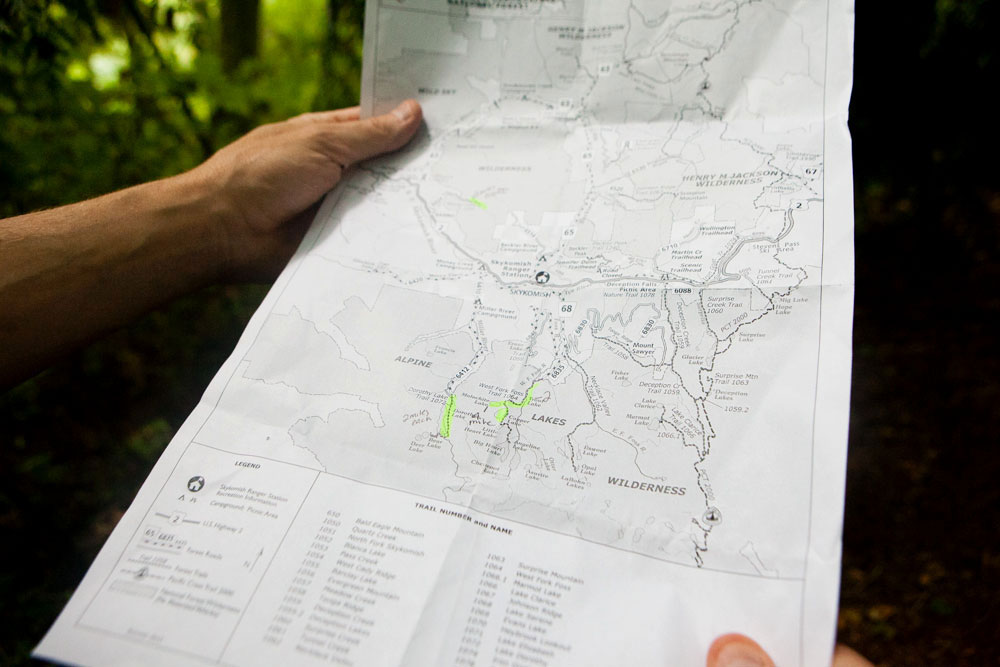 The Wonderland Trail
Location: Mount Rainier National Park
Length: 93 miles roundup
Difficulty: Strenuous
For a true Rainier experience (without summiting), plan a trip on the Wonderland Trail—a 93-mile trek that encircles the mountain. You may be hiking around the mountain and not up it, but still this trail is no cakewalk. Prepare for continuous elevation drop and gain as you make your way from campsite to campsite. The reward: day after day of wildflowers, wildlife and Mount Rainier views from every angle. Total serenity.
Golden Horn to Snowy Lakes (PCT)
Location: Rainy Pass,North Cascades
Length: 23 miles roundup
Difficulty: Strenuous
Take in the stunning peaks of the North Cascades in this 23-mile backpacking trip along the Pacific Coast trail. You'll make your way along a well-established, open trail through four different mountain passes and two alpine lakes. While you'll need to be prepared for constant sun exposure and busy campsites, there's nothing better than watching the sun set over the North Cascade peaks after a long day of hiking.
Backpacking Hikes in Oregon

Steens Mountain
Location: Southeastern Oregon
Length: Varies depending on trail
Difficulty: Varies
You're going to have to plan a few summer trips to really take in Steens Mountain—known for some of the most spectacular views in Oregon. With dozens of trails and campsites set up in subalpine meadows and deep desert canyons, there's just too much to see on one trip. As you're planning your route, think about incorporating Big Indian Gorge and the hanging valley that cradles Wildhorse Lake. These are two views you won't want to miss.
Broken Top
Location: Central Oregon
Length: 23 miles roundup
Difficulty: Strenuous
Accessible from Sisters or Bend, Broken Top is a volcano that offers a 23-mile loop for backpackers looking for a three-day adventure. To make the loop trip, plan your camps at Golden Lake and on Broken Top's southeast flank. You'll hike in and out of popular day-hiking areas, but will be rewarded with views of South Sister, Mount Bachelor, Green Lakes, wildflower meadows and more.
Three Sisters Loop
Location: Three Sisters Wilderness
Length: 55 miles roundup
Difficulty: Moderate
Carve out a week of late summer to hike this 55-mile loop. You'll use every day to savor secluded alpine lakes, meadows lava fields, and views from every angle of the Three Sisters and surrounding peaks. Plan your trail route and camping spots before you go, as there are many spots to choose from.
Timberline Trail
Location: Mount Hood
Length: 41 miles roundup
Difficulty: Strenuous
Usually done over four days, the 41-mile Timberline Trail circumnavigates Mount Hood, rewarding hikers with waterfalls, alpine meadows and views of Mount Hood and the surrounding Cascade mountains. Hikers start at Timberline Lodge and first make their way to Romona Falls, a classic Oregon waterfall day-hike. From there, the trail goes to Cairn Basin, Cooper's Spur and finally back to Timberline Lodge.
Backpacking Basics

If you're new to backpacking, be sure to read up on safety and beginner tips. Our resident backpacking guide Brooke Jackson offers tips for getting started.