Whether you're in the market for new outdoor gear, looking for a solid sweat session or simply want to stroll a pleasant neighborhood (stopping in for tasty snacks and beverages along the way), Northwest Portland's Pearl District is the place to be.
Here are a few of our favorite fun, healthy spots to visit while there — perfect to check out by bike or on foot.
THE WORKOUT: Shop 'Til You Drop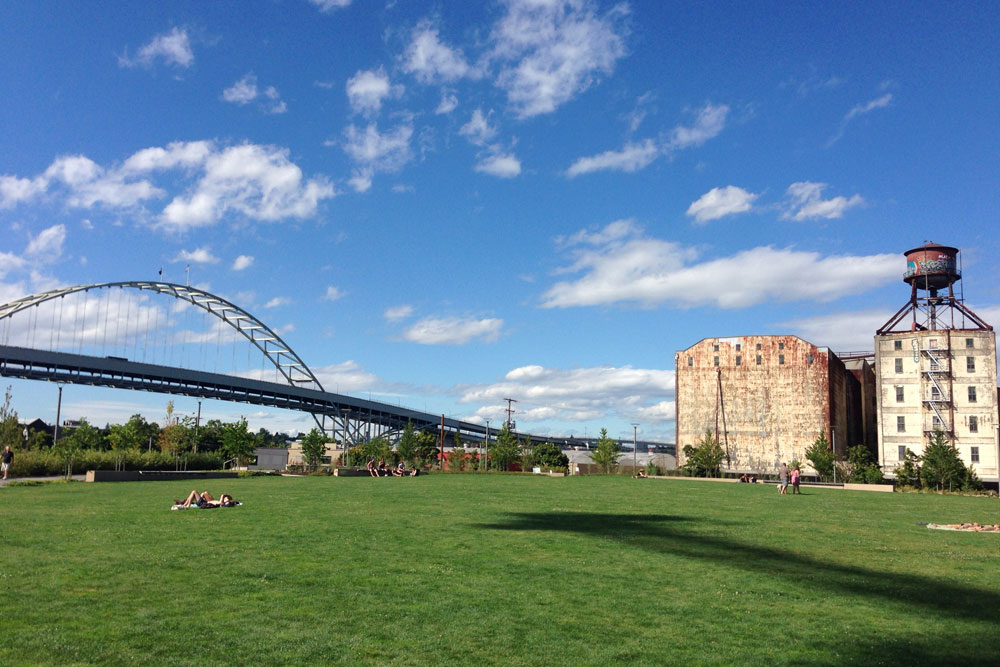 Seriously. The Pearl District has a Walk Score of 97, making it the third most walkable neighborhood in Portland, and with good reason. Pretty much every block north of Burnside contains boutiques, restaurants, bakeries, coffee shops and breweries, so you can wander aimlessly for miles, without ever getting bored — or hungry.
It's also home to First Thursday, a monthly event that brings thousands of pedestrians to the area for a celebration of art, food and drink. In addition to its many storefronts and art galleries, The Pearl has quite a collection of local fitness studios as well, like Barre3, Revocycle and Yoga Pearl.
Last but not least, if you need a touch of green, head north to Northwest Overton and 11th Avenue, where you'll find the new 3.2-acre Fields Park (pictured above). It offers great views of the Fremont Bridge and has a large off-leash dog area.
BUSINESSES TO BOOKMARK: KEEN GARAGE AND LUCY ACTIVEWEAR
The Pearl District is the perfect place to get fitted for your next adventure or workout.
Keen Garage – This massive storefront sits right below the local company's headquarters, so while you shop you can imagine the shoe designers cobbling away upstairs. It also smartly showcases the brand's many hiking, cycling and water shoes made from reclaimed and/or recycled materials. Even if you're not looking for shoes or carrier bags, it's worth stopping in, just to see and appreciate the craftsmanship.
Lucy Activewear – This women's fitness apparel company was founded in Portland in 1999, so you can go in and pick up some stylish spandex knowing that its origins were right here in PDX.
REI – Sure, its home base is in Seattle, but stepping into this giant store in the Pearl instantly makes you feel like part of the Portland outdoor community. Outfit yourself for your next camping, cycling, kayaking or hiking adventure, and then head upstairs to check out the community billboard and make sure you're not missing out on any other sweet PDX-based activities.
Lululemon – Again, it's headquartered up north (Vancouver, BC), but this store is a great source for local community activities (and really pretty workout clothes). Come by for a free yoga class on Wednesday night, or check the schedule for various running clinics.
THE FOOD STOP: GARDEN BAR SALAD CO.
If you're on the hunt for a healthy lunch, look no further than the Garden Bar Salad Co., where you can build your own tasty salad with fresh, organic and locally sourced ingredients like arugula, tempeh, French string beans, tarragon corn, roasted fingerling potatoes, quinoa and hazelnuts.
What are your go-to spots in The Pearl? We'd love to hear your recommendations in the comments below.
Header photo courtesy of Nicolas Toper via Flickr. Fields Park photo courtesy of Ryan Harvey via Flickr. Keen Garage photo courtesy of KEEN.