There's no better way to get into the holiday spirit than lacing up a pair of skates and trying your best to glide gracefully on ice. And with seasonal ice rinks popping up around the region, it's the perfect time of year to bundle up and plan an active family adventure.
Here are eight great options around Washington and Oregon for mastering your best crossover move:
Seasonal Ice Rinks in Washington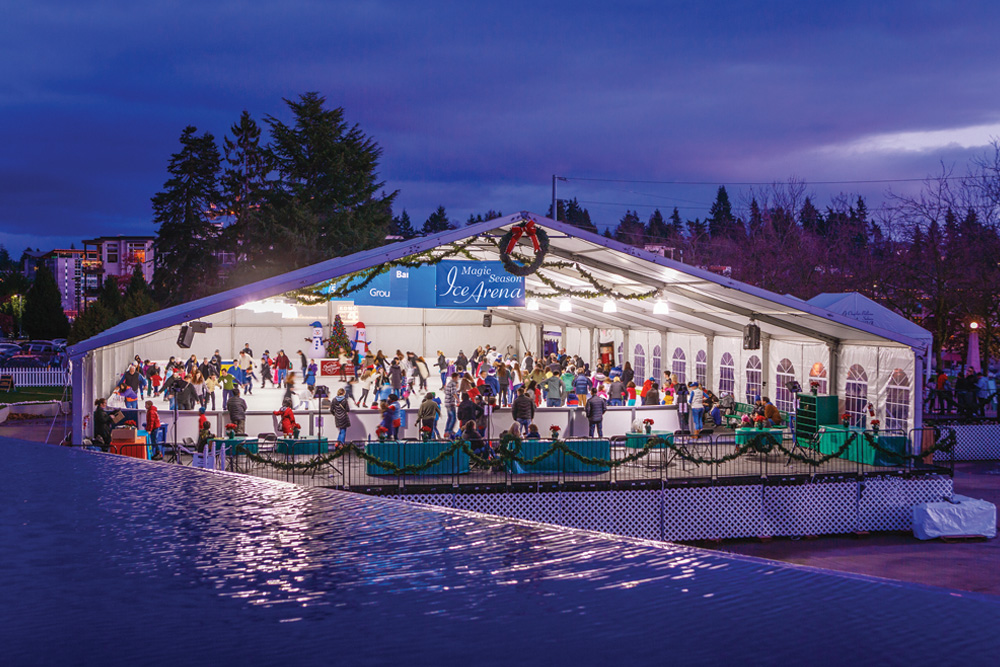 Bellevue Downtown Ice Rink
To experience the largest outdoor skating rink in the Washington region, head to Bellevue Downtown Park. The park is transformed into a winter wonderland. And be sure to check out the ice arena's special events.
Seattle Center Winterfest Ice Rink
Fisher Pavilion at Seattle Center turns into a winter playground with ice skating and holiday festivities. Check out the calendar for the events calendar to maximize your visit.
Indigo Frozen Fountain Ice Rink in Tacoma
Pack your thick socks and mittens because you will get cold. Holiday themed ice skating takes place at Point Ruston. Check the website for hours and events.
Redmond Town Center Winter Wonderland
Holiday activities run November 29 to January 5 and include a synthetic ice rink. The $7 fee includes skate rental or you can bring your own. While you're there, meet Santa, ride the carousel, and buy a gift for a child in need.
Enchant Christmas at T-Mobile Park
A light maze and skating trail, and Christmas market take over T-Mobile Park for the second year. The magic happens November 22 to December 29.
Numerica Skate Ribbon in Spokane
No basic skating oval here. Skaters follow a 650-foot path by a pond with slight inclines and declines. Warm up with hot cocoa by cozy fire pits. Skate rentals available.
Seasonal Ice Skating in Oregon
Bend's Seventh Mountain Resort
Plan a winter excursion to Bend and test your skating skills on one of the best rinks in Central Oregon. The resort offers group and individual lessons, as well as late-night hours for skating on the weekends.
Bill Collier Ice Arena in Klamath Falls
The Bill Collier Ice Arena is arguably the most stunning outdoor rink in Oregon. Covered by a fabric roof, the rink still offers peeking views of surrounding trees.
Year-Round Skating Options
Skating's a great way to celebrate winter and get a little exercise. But winter isn't the only time you can treat (or challenge!) yourself to a fun outing on the ice. Those of you living in Seattle and Portland (or even passing through at some point) should check out these great year-round skating options.
All photos courtesy of Merrill Images, Mike Penny Photography and the Bellevue Downtown Association.