There's no better way to get into the holiday spirit than lacing up a pair of skates and trying your best to glide gracefully on ice. And with seasonal ice rinks popping up around the region, it's the perfect time of year to bundle up and plan an active family adventure.
Here are six great options around Washington and Oregon for mastering your best crossover move:
Outdoor Ice Rinks in Washington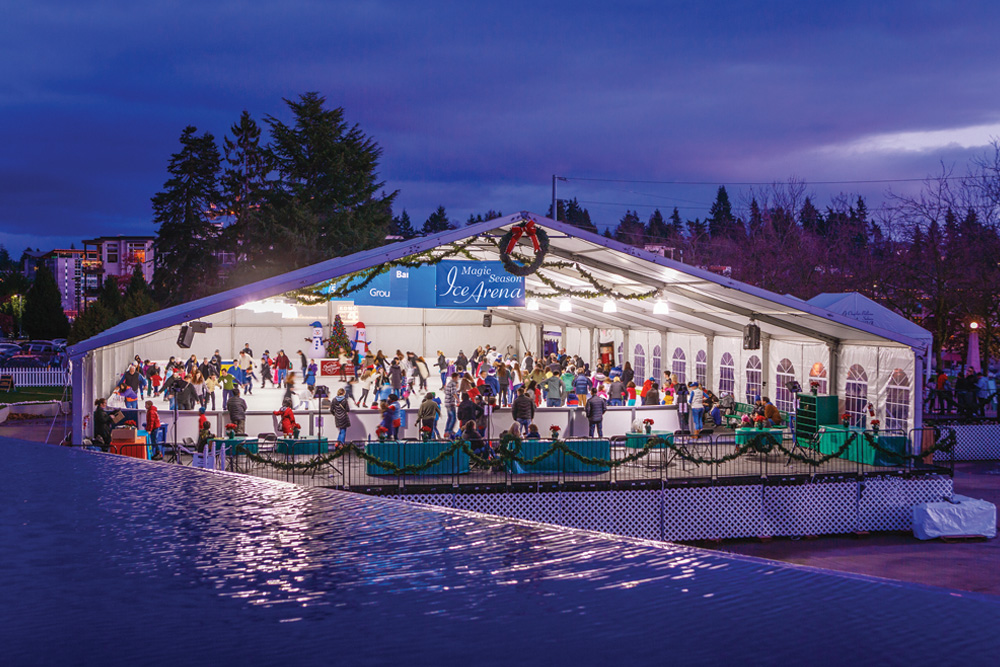 Bellevue Magic Season Ice Arena
To experience the largest outdoor skating rink in the Washington region, head to Bellevue Downtown Park. From now until January 11, the entire park is transformed into a winter wonderland. And be sure to check out the ice arena's special events happening throughout the season including Free Skate Mondays, free lessons on Tuesdays and Thursdays, Stroller Skate Thursdays and 'Late Skate' hours on Friday and Saturday.
Seattle Center Winterfest Ice Rink
Open through January 4, the Fisher Pavilion at Seattle Center turns into a winter playground with ice skating, art installations and holiday carolers. If you're there on a Saturday, be sure to check out the internationally renowned ice sculptors at work just outside the ice rink.
Tacoma Polar Plaza
The Tacoma Art Museum takes over the Tollefson Plaza with live music and ice skating for the whole family during the holiday season. If you have little ones, take advantage of rink hours reserved just for kids.
Seasonal Ice Skating in Oregon
Bend's Seventh Mountain Resort
Plan a winter excursion to Bend and test your skating skills on one of the best rinks in Central Oregon. The resort offers group and individual lessons, as well as late-night hours for skating on the weekends.
Sun River Village Ice Skating Rink
If you're planning a winter vacation to Sun River this season, don't forget to check out the newly remodeled seasonal ice rink — complete with cozy fireplaces to warm you up after a day on the ice.
Bill Collier Ice Arena in Klamath Falls
The Bill Collier Ice Arena is arguably the most stunning outdoor rink in Oregon. Covered by a fabric roof, the rink still offers peeking views of surrounding trees. Looking for a little more action on the ice? You can also try your hand at curling or broomball.
Year-Round Skating Options
Skating's a great way to celebrate winter and get a little exercise. But winter isn't the only time you can treat (or challenge!) yourself to a fun outing on the ice. Those of you living in Seattle and Portland (or even passing through at some point) should check out these six great year-round skating options.
All photos courtesy of Merrill Images, Mike Penny Photography and the Bellevue Downtown Association.