Updated May 1, 2019
Think hiking in the mountains has to end with the first snows of the season? Think again.
Snowshoeing lets you keep logging trail miles through the entire winter. The best part? There's not much to it, other than picking up a pair of snowshoes and beefing up your winter wardrobe. Snowshoeing is fun, scenic, active and, above all else, it's as easy as a walk in the snow-covered park.
The gear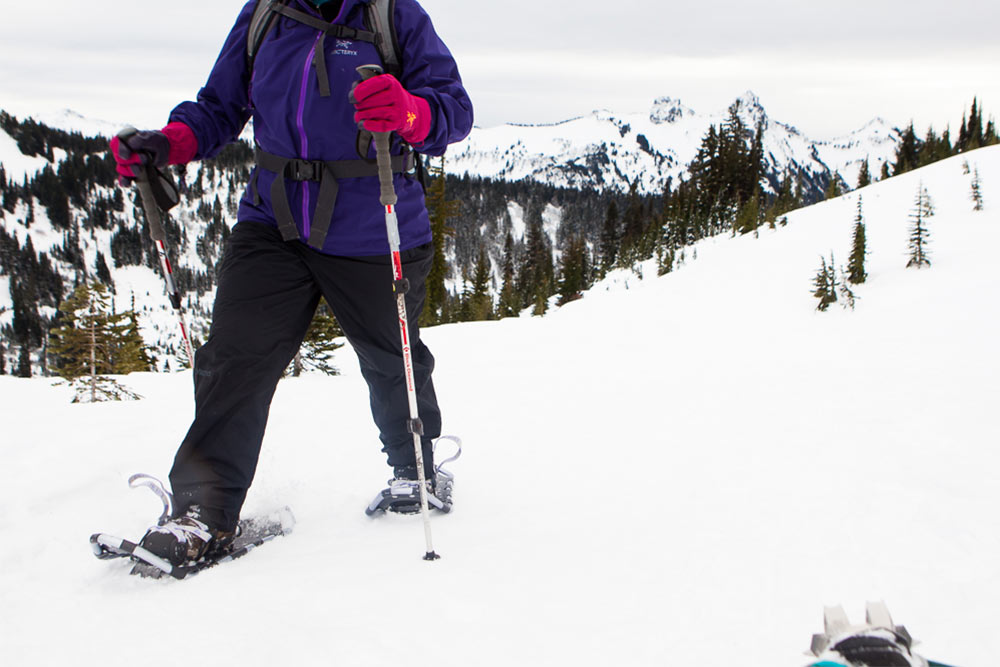 Most modern day snowshoes are a little more high-tech than the ones from the old days. Today, lightweight aluminum and rigid plastic replace wood and leather in most snowshoes. Styles suit different types of paths from light terrain – think groomed or flat trails – to super technical, with pivot systems and carbon steel crampons for burlier alpine climbs.
Stick with simpler snowshoes at first. Consider renting a pair to get an idea of what works best for you. The size will depend on your weight, how much you'll be carrying and the kind of snow you'll be treading. Quality rental shops (see below) will help determine the ideal size and style for you.
A good pair of trekking poles – equipped with snow baskets – is another essential piece of snowshoeing gear. Poles help you keep your balance and give you a little extra "oomph."
Sturdy, waterproof hiking boots are essential, as is a pair of gaiters to keep out the snow. Layer as you would on any winter outing: synthetic long underwear, hiking or waterproof pants, a fleece, a waterproof shell, hat, gloves and anything else that will keep you comfortable. Note that snowshoeing can be a little more invigorating than hiking, so be prepared to work up a sweat. Snowshoeing can burn as many as 300 calories in 30 minutes.
All the other essentials that apply to hiking hold true for snowshoeing: food, water, navigation tools, and a camera, just to name a few.
Don't forget to also keep a small first aid kit with you while snowshoeing or snowboarding. You can also buy bleeding kits to treat life-threatening bleeding such as head injuries or deep wounds. Accidents can happen, and it might be better to prepare how to handle such situations beforehand.
The technique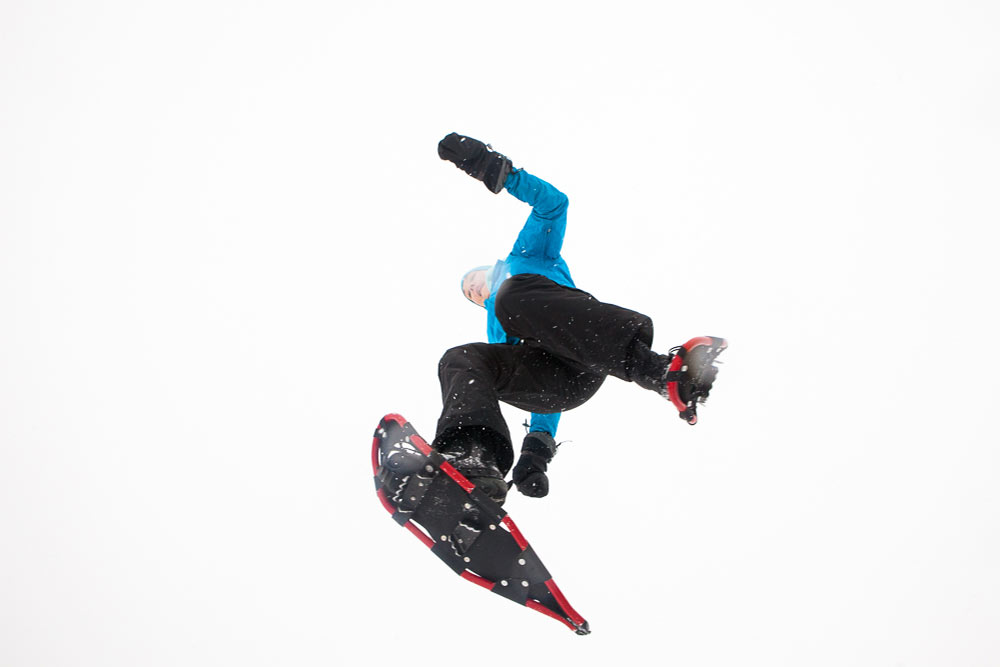 Though snowshoeing is essentially just walking in the snow, it does feel a little different with snowshoes on your feet. Start on flat terrain to get the feel. When heading up, dig your toes in so the crampon grabs hold. To turn around, walk in a wide circle or raise one foot off the ground, turn it 90 degrees from the other foot, set it down and swing the other foot around.
Most importantly, have fun and enjoy the outdoors.
Where to snowshoe

From Portland
Mirror Lake: This 3-mile roundtrip is a great for beginners. There's flat terrain, a little climb, Mount Hood views and a beautiful lake.
June Lake: A lovely, gradual slope up to a scenic lake with a waterfall and, on clear days, a look at Mount St. Helens.
From Seattle
Mazama Ridge: Open meadows, mountain vistas and even some wildlife await on this 6-mile roundtrip jaunt in Mount Rainier National Park.
Gold Creek: Just east of Snoqualmie Pass, this 4-mile stroll is a popular one for snowshoers, with incredible ridge views and quiet forests.
Where to rent snowshoes
Near Portland: REI, Otto's Ski and Bike Shop (Sandy)
Near Seattle: REI and Fairhaven Bike & Ski (Bellingham)
Alaska: Alaska Mountaineering and Alaska Outdoor Gear Rental