Summer's here, and there is no better time than right now to swim, run and ride your way into shape. But tackling three different sports all at once can be a bit overwhelming. So we asked Molly Balfe, a Portland-based USA Triathlon-certified coach, to break down the triathlon training basics for you. Here's how to successfully make it through your first race totally stress-free.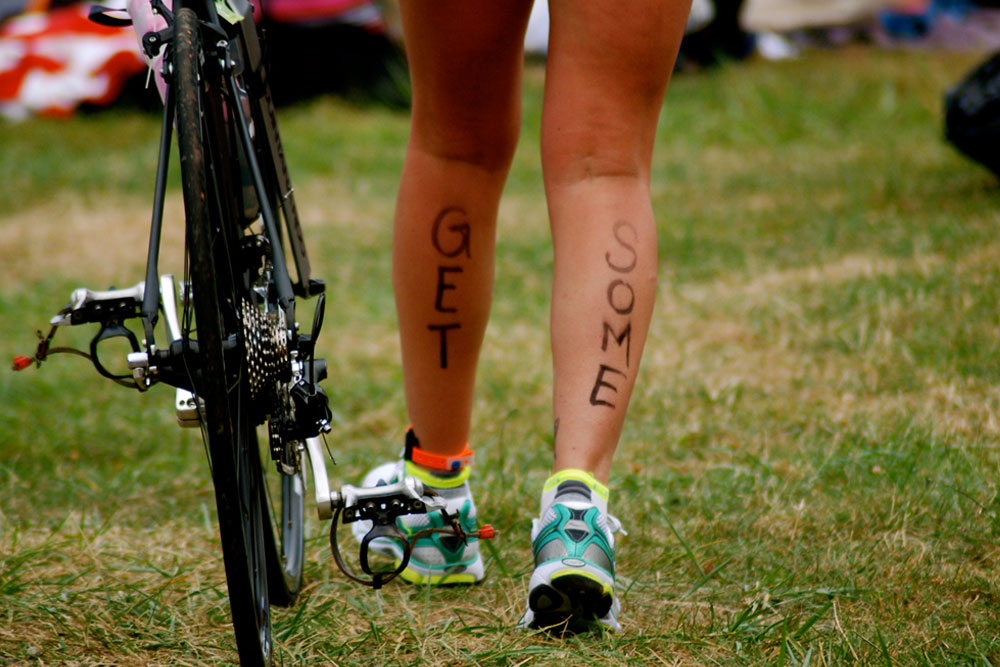 Pick a beginner-friendly course. Your best bet is to start with a sprint-distance race (a 750-meter swim, 20K bike and 5K run). "Look for one that has a lake — rather than an ocean — swim as well," said Balfe.
Gear up. "You don't need anything fancy for your first race, but you will need a bike, a helmet, a decent pair of triathlon shorts and a good pair of running shoes," said Balfe. If the water is going to be below 65 degrees, you may also want to buy (or rent, or borrow) a wetsuit. Be sure to train with the same equipment and apparel you plan on using during the race.
Plan ahead. According to Balfe, if you're already active, you should be able to train for a sprint triathlon in about eight weeks (or less, if you're just looking to finish). If you're starting from scratch, give yourself at least 12. Pick a plan that has you training in each discipline twice a week, with more focus placed on the activity you're least comfortable with. For example, if you're not a strong swimmer, hit the pool three times a week.
Join a club. It helps to have extra support and friends in the sport. Plus, certain workouts, like longer bike rides and open water swim sessions, are much better when performed as a group.
Strengthen your core. To prevent injury and improve your efficiency, perform core exercises, such as planks, bridges and one-legged squats, twice a week.
Eat wisely. "This is not the time to cut carbs and calories out of your diet," said Balfe. "You need to fuel your body properly while you train."
Be ready on race day. Put together all of the stuff (small towel, running sneaks, bike shoes, wicking shirt, sunglasses, sunscreen, gels, etc.) you'll need or want the night before in your transition zone, the small area you go back to between each leg of the race  to transition from one sport into the next. Put water bottles in your bike cages ahead of time, too.
Photos courtesy of Scott Meis via Flickr.