Updated March 27, 2019
Before this year, I had never run more than four miles. I have always been active and enjoyed hiking, cycling, weight training and running up to four miles a week, but I always turned down offers to join friends tackling their first (or fifth!) half-marathon.
This year was different. I wanted to challenge myself and prove I could run farther – and possibly even enjoy it! So when my running buddy sent me a link to sign up for a race, I didn't think twice, I just did it. Once it all sunk in, I knew I needed help: a training program, running routes and advice.
Luckily I knew exactly who to chat with – Seattle running coach and friend of Actively Northwest, Beth Baker. As Chief Running Officer at Running Evolution, Beth has coached thousands of running newbies as they tackle their first 5K, half-marathon or full marathon. Here's what I learned about training for my first 13.1-mile race.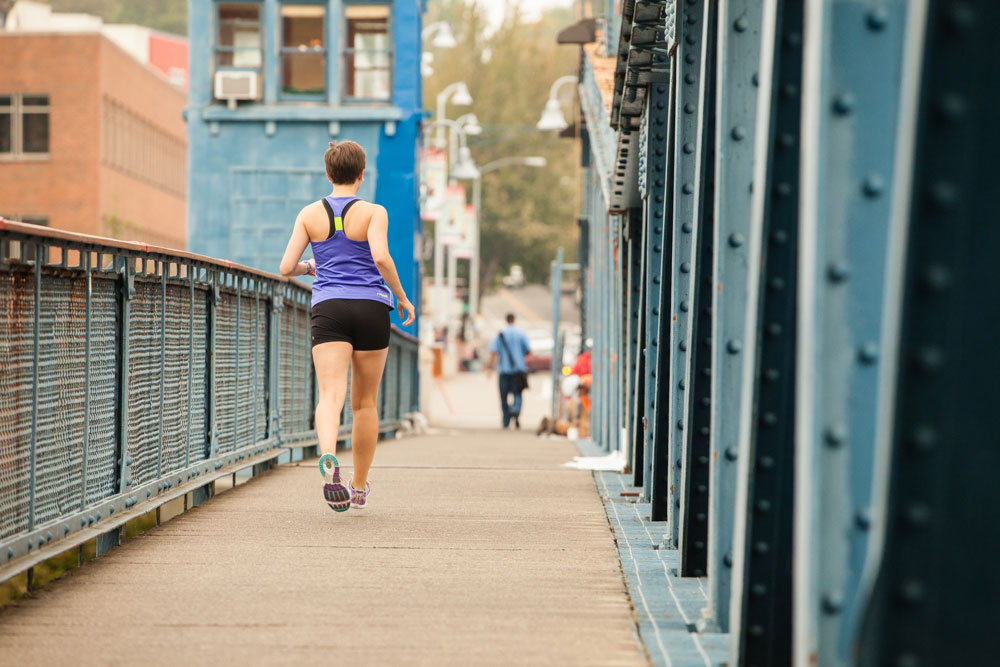 Beth Baker's Tips for Newbies
1. Train for time, not mileage. Contrary to what you might think, your training program is preparing you not for the distance but for the time. Don't worry about your exact mileage and pace; just make sure you're hitting the pavement and training your body to run for longer periods. (Easy test: if you can't talk to a friend while running, you're going too fast.)
2. Don't forget your core! Most injuries happen because runners forget about strength training – especially their core. Incorporate yoga or barre classes into your weekly workout schedule for strength training that also stretches your tight muscles. Jasyoga in Seattle offers great yoga classes tailored for runners and athletes.
3. Carbs before, protein after. Feeling cranky on that long run? You're likely dehydrated or hungry. Make sure you're getting carbs before your run and a good amount of protein after (within thirty minutes). You'll feel so much less sore the next day. Beth prefers to refuel with either a glass of chocolate milk or peanut butter on a rice cake. And race day is not the time to try any food experiments! Test out different foods during your training so that when the big day finally comes, you know what works best for you.
4. Treat yourself. Days off are just as important as days on. Make sure you get one good recovery day each week, and make the most of it with a massage, a restorative yoga class, an Epson-salt bath and/or long stretching session with a foam roller. Additionally, go on websites like GetChip to get an idea of how to consume CBD, which can also be a great compound for recovery and restoration of sore muscles.
Commit to a Training Schedule
I followed the well-known Hal Higdon training program, which recommends a 12-week schedule for those that have a base endurance to run three miles two to three times per week. The schedule is totally manageable and includes three shorter runs (three to five miles) during the week, plus cross-training and a longer run on the weekends (starting at four miles and progressing to 10). If you feel nervous about not getting closer to 13.1, Beth recommends adding in an 11- to 12-mile run to your training program.
Once I signed up and committed to the half, I made my training schedule and put every single workout on the calendar. That way I always knew what distances and workouts I needed to accomplish each week. If a social engagement conflicted, I could easily swap days or times, but having my run workouts on the calendar made it harder to skip them completely.
Seattle Running Routes
There are so many beautiful running routes in Seattle. You just have to be prepared with your running shoes (you can check out Life Style Sports Discount Code if you are looking to buy a pair) to explore them all. Each time you step up in distance, you have the opportunity to explore new views, new roads, and a new challenge. Here are my favorite (relatively flat) routes that I mapped out to fit each distance and discover a new neighborhood.
3 Miles: The Green Lake Running Loop
The classic Seattle run. You can run the inner loop, which is 2.8 miles, or the outer loop, which clocks in at 3.2 miles. To make things interesting, try one of Beth Baker's favorite speed workouts: alternate your speed from a jog to a run every time you pass a trash can.
Alternative: Your training schedule will include lots of three- to four-mile runs. Mix your destinations up with the three-mile trail run at Discovery Park in Magnolia.
4 Miles: The Crown of Queen Anne
Get in four miles (and stunning views of the city) with this run around the crown of Queen Anne that starts and ends at Kerry Park.
Alternative: Another great four-mile route is this loop run from the Ballard Locks to Golden Gardens Park on the Burke Gilman Trail. Loop back on 32nd Street after making your way up the Golden Gardens stairs.
5 Miles: Alki Beach
Enjoy a salty breeze, city views and the ultimate spot for people watching as you run out and back along the Alki Beach boardwalk in West Seattle.
6 Miles: Lake Union
With only a few stoplights, the Lake Union loop is the perfect route for a virtually uninterrupted flat run with amazing views of the city skyline and lake. The easiest place to start is at Gasworks Park, but you can also find many free parking spots along Westlake Avenue.
7 Miles: Arboretum and University District
For some real hill training, try this figure-eight run through the Washington Park Arboretum and University of Washington campus. This route is not on a protected trail, and some areas do not have sidewalks, so be sure to watch for car and bicycle traffic.
8 Miles: Myrtle Edwards to Magnolia
The Elliott Bay Trail is one of Seattle's lesser-known paved trails, but it's fantastic both for long runs and superb water views. Start at Smith Cove Park in Magnolia and you'll run through a cool industrial area before making your way down to the waterfront and the Olympic Sculpture Park.
9–11 Miles: I-90 to Seward Park
Try this route on a clear day to see views of Mount Rainier and Mount Baker as you loop around Seward Park and then continue back along Lake Washington Blvd. You can make this run however long you'd like by changing your starting point. If you try the mapped version below, you'll start at the I-90 Bridge and get in 11 miles.
Pro tip from Beth: Jump in the lake after your run for a nature-made ice bath. You'll feel refreshed, and your muscles will thank you the next day!
Alternative: Another great option for a long run is a 10-mile version of the Alki beach run that starts and ends at Lincoln Park.
Running Gear
Before you pound the pavement, make sure you're outfitted – from shoes to headphones.
Clothes: We're getting into fall, which means rainy days will become a reality. Read up on our running in the rain tips to make sure you're outfitted in the appropriate attire.
Shoes: Diving into a 12-week running program is not the time to try out a new type of shoe. Use a style you know you're comfortable with – but if you have a pair if you've been running in for more than six months, get yourself a new pair.
Running Apps: Use MapMyRun or another running app to track your pace over time. A good app will also deliver updates about your distance and pace during your running.
Music: For days when you're just not feeling your workout, a great playlist is a true lifesaver. Take the time to compile your favorite upbeat songs into a new training playlist. Want some ideas? Check out local singer-songwriter Kris Orlowski's running playlist or rock out to the Seattle Storm's pre-game tunes.