Editor's note: As public lands begin to reopen, we encourage you to keep maintaining good social distancing. The Seattle Times has a list of what that looks like on the trail.
Talk to just about anyone who lives in or visits the Pacific Northwest, and undoubtedly one activity will come up as a favorite: hiking.
Whether it's taking the kids on a paved stroll along the Portland waterfront, hitting a weekend hike along Eagle Creek or tackling all 500 miles of the Pacific Crest Trail that pass through Washington, hiking is one of the true highs of living in the Northwest.
Washington and Oregon are rich with trails for anyone looking to get out and get active in the most beautiful corner of the entire country. The Cascades are home to truly epic day hikes and backpack trips like McNeil Point on Mount Hood or the Wonderland Trail on Mount Rainier. Soaring forests in both states tower over pleasant riverside hikes. Plenty of miles lead to lakes and cascading waterfalls, and the wild coastlines of Washington and Oregon offer some of the most unique hikes on the entire West Coast.
To help you tap into our region's seemingly endless hiking riches, we've put together this ultimate guide to Northwest summer hiking. Looking for the best hot springs hikes? We've got 'em. On the prowl for brilliant wildflowers? Ten of the best trails are right here. Need to tune up your gear for a new season on the trail? Don't hit the trail just yet. You'll find all of that—and more, including the five hikes that every Northwesterner needs to do—in Actively Northwest's Ultimate Hiking Guide.
Wildlife hikes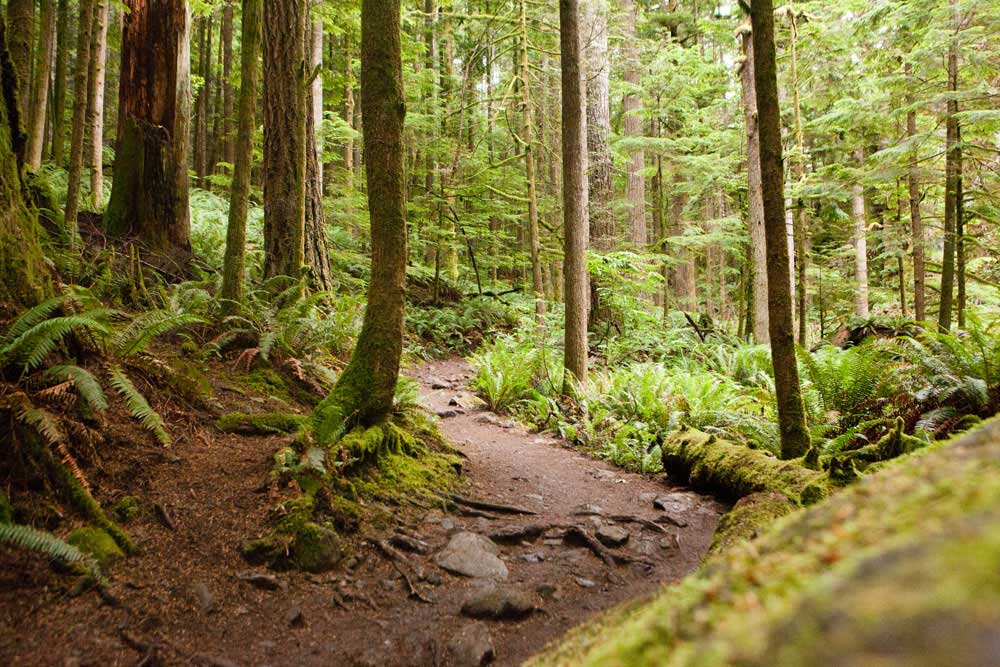 If you're lucky on a hike in the Northwest, you'll get to see some of the region's awesome wildlife: elk, deer, eagles, osprey, marmots, mountain goats, maybe even a bear or cougar. Pick more secluded hikes to increase your chances of seeing something a little less ordinary. For example, Mount Adams is great for mountain goats, and the North Cascades are home to a host of black bears. You'll almost guarantee a silvery sighting if you hike with the salmon at the Columbia River Gorge.
Dog-friendly Hikes

Some of the best hiking buddies have four legs, not two. Bringing Fido along for the hike is a great way to get your dog some exercise and let him do what he was born to do: run, sniff, swim and romp in the wild. Just be sure to be respectful of other trail users, follow leash laws, keep him hydrated and fed, and stay back from exposed cliffs—you know, all the stuff you do for yourself anyway.
Here are some great Northwest hikes to do with dogs. Looking for something a little closer to home? Try these dog spots in Seattle and Portland.
Wildflower Hikes

Northwesterners, not surprisingly, love the return of spring. And nothing says spring is here like the bright white of a trillium or the brilliant orange of Indian paintbrush. Lots of Northwest hikes, particularly those that wind through high alpine meadows, are flush with wildflowers.
Be sure to check out 10 of our region's most colorful wildflower hikes.
Family-Friendly Hikes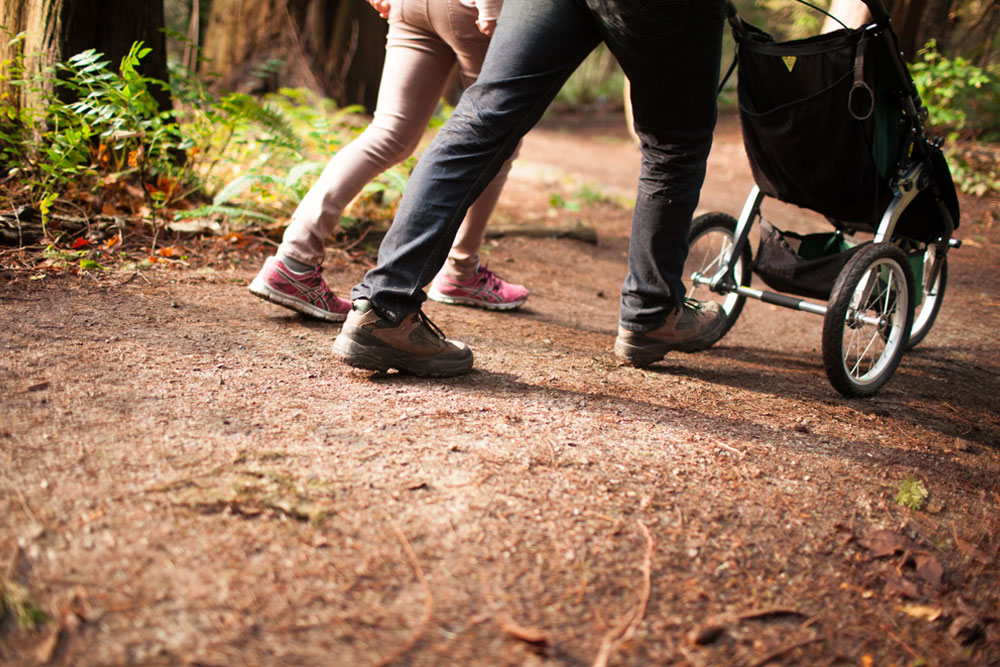 There's no better way to turn someone on to the great hiking trails of the Northwest than by starting them young. Lots of family-friendly hikes course through the region, from the flat and scenic Salmon River hike by Mount Hood to Rattlesnake Ledge near Seattle.
For a few other ideas, consider family hiking at Portland's Hoyt Arboretum and these three family-friendly Seattle hikes.
Hikes With Views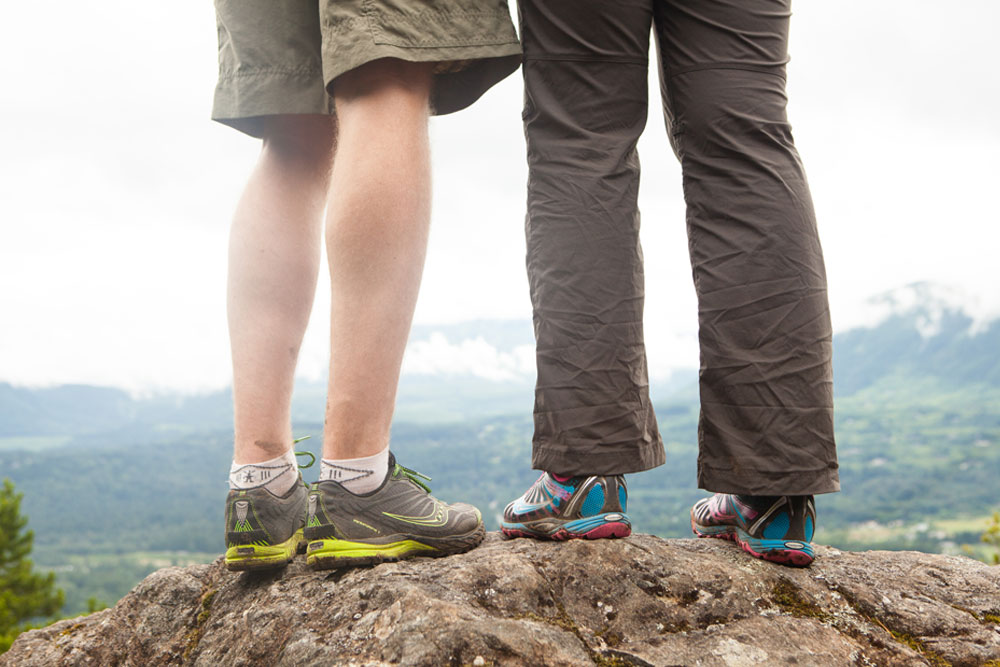 Mountain and valley vistas have a way of inspiring awe and humility in just about anyone, and the Northwest is home to plenty. Gaze out over the Gorge from atop Dog Mountain or scan the skies and surrounding peaks from Cooper Spur on Mount Hood and you'll scarcely remember the effort it took you to get there.
Some of the best summer summits with a view can be found in the North Cascades. For a more urban but just as scenic vista, try hiking up to the top of Portland's Mt. Tabor.
Overnight Hikes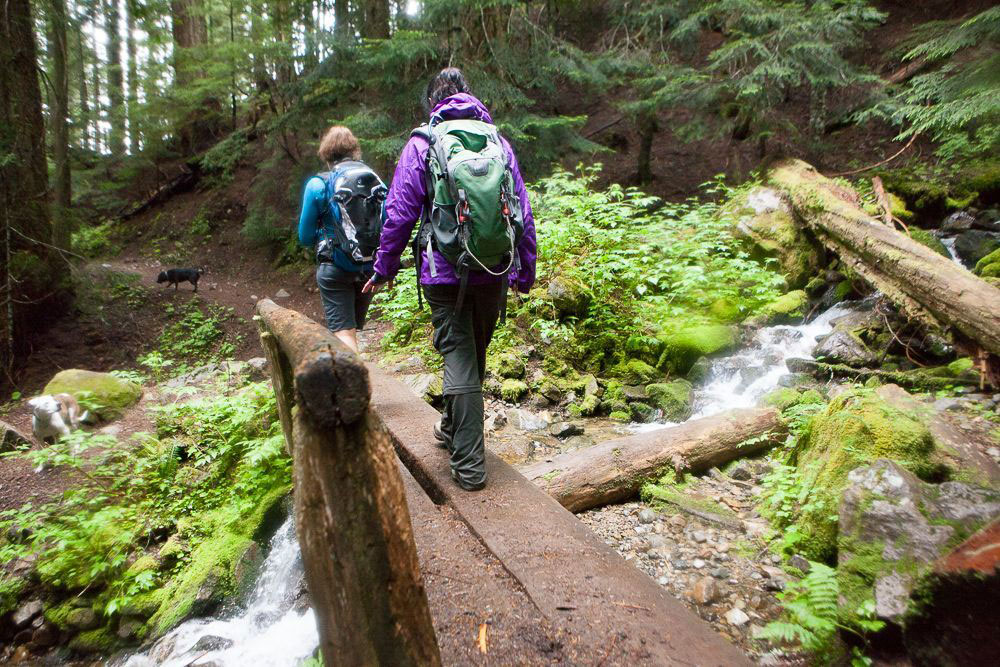 Sometimes, a few hours on the trail before heading back home just don't cut it. You need an escape that's a little longer, a little more complete. Overnighters take a bit more planning and gear, but for adventure, solitude and the kind of rejuvenation that only a night in the wild can provide, nothing's better.
Check out these eight classic Northwest backpacking hikes for some helpful advice and incredible trips.
Waterfront Hikes

Lakes. Rivers. The Pacific Ocean. We're blessed with water here in the Northwest, and whether it's the roar of the surf or a cool dip in an alpine lake, there's something about water that makes hiking here more magical.
See for yourself on any of these must-do river hikes or epic coastal hikes.
Waterfall Hikes

The Northwest's notorious rain and mountain snow are actually good for a lot of different reasons. One of the best: waterfalls. Hundreds of waterfalls gush, roar and trickle all over the wild Northwest, and there's almost no better reward for a hard push on the trail—or a better spot for a break—than a gorgeous cascade.
They're all over the place, but here are some of our favorite Northwest waterfall hikes in Washington and Oregon.
Hidden Gem Hikes

Everyone in Portland knows the Mirror Lake trail near Mount Hood, just like everyone in Seattle knows Rattlesnake Ledge. But what about Palisade Point on the east side of Hood or Beckler Peak by Skyhomish? Hidden hikes are the best. Here are five every Northwesterner should explore.
In addition to the joy of hidden hikes, there's also a lot of joy in soaking in some natural hot springs. After a long day on the trail or a short walk in the woods, soothe your soreness in these Northwest hot springs.
Urban Hikes

Getting out is what it's all about in the Northwest, but sometimes you might not have the time or the pep to head way out to the hills. Luckily for us, some of the region's greatest urban areas are chock full of hikes not far from their centers. We've compiled some of the best that places like Seattle, Portland and Spokane have to offer:
GET READY FOR YOUR HIKE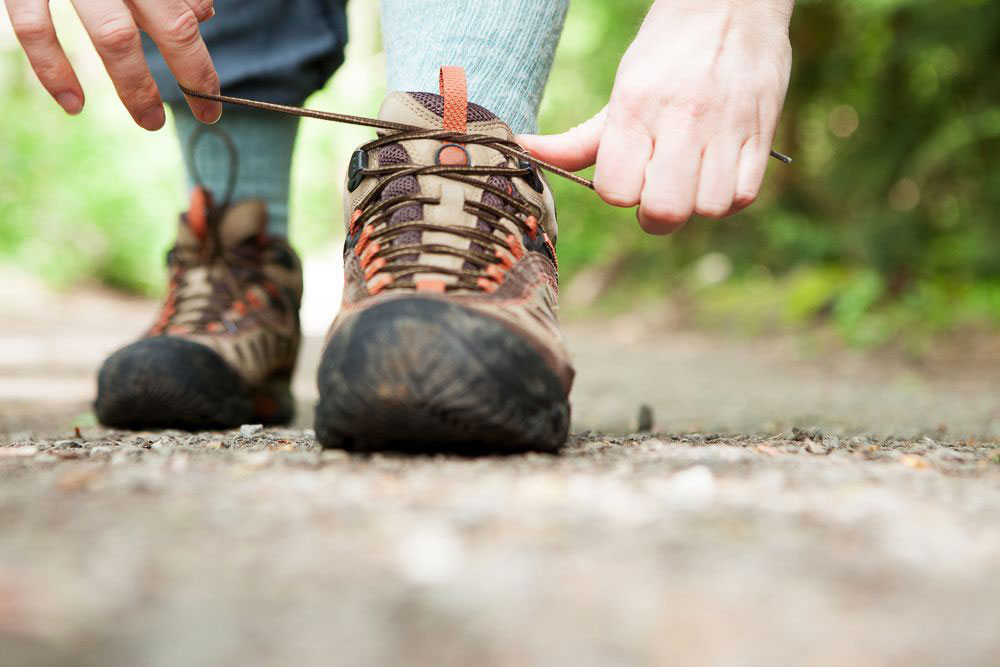 Whether you're a seasoned veteran with plenty of miles on your legs or a newcomer just getting ready to explore, it takes a little preparation to get set for hiking season. Start easy with shorter, less-steep hikes and work your way up to the heavy hitters.
You'll also want to get your hiking gear in shape before you head out. Make sure you have a good pair of hiking shoes or boots, so check out our hiking boot guide to help find the right ones. For staying energized, we've got some tips on the best energy bars to take on a hike. And in case you just need a little primer—or refresher—on must-haves for hiking, we've got one of those too.
TIPS FROM THE EXPERTS

Just as there are a lot of people in the Northwest who love to hike, there a lot of people with tons of experience who can offer helpful advice, trip recommendations and trail tips. Great Northwest hiking resources include:
Now get out there! With our ultimate hiking guide at your fingertips, you should have no excuse not to get outdoors and experience the beautiful natural backdrop the Northwest is so famous for. See you on the trails!