The ideal standup paddleboarding (SUP) location has easy access and interesting views. From there, you can decide if you're more interested in a calm lake or mastering your surfer turns on choppy water.
Lake Union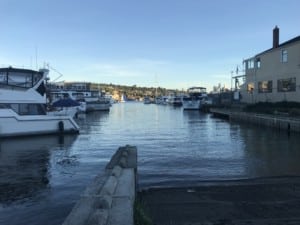 There's never a dull moment on Lake Union—even on a rainy morning. Some easy spots to put in include the boat launch just east of Gas Works Park on NE Pacific Street and the Lake Union Rowing Club dock that you'll find under the Aurora Avenue Bridge—just a little to the east. Both have decent parking, so you don't have to haul your gear far. From there, you can choose your own adventure. Head west through the calm Fremont Cut. You'll have to turn around before the Locks or prepare to carry your board on land around the Locks. You could go East toward the University of Washington and even through to Lake Washington. You can head south toward Downtown and South Lake Union Park. There are plenty of opportunities to float past postcard-worthy houseboats.
While you're out, check out these paddle-up restaurants.
Elliott Bay
To take in downtown views, consider putting in at the 32nd Avenue Boat Launch at Magnolia Park. It's fun to paddle among the boats at Smith Cove and look for seals along the rock wall. This is not the route for beginners though. Beyond the rock wall are some serious waves.
Shilshole Bay
A calm option is the public beach next to Ballard Bay Club off Seaview Avenue. Park on the street and walk along the club parking lot. You're in for sweeping mountain views and keep your eyes open to spot curious seal heads bobbing along the surface. Just be sure to yield to ship traffic.
Alki Beach
It's not always easy to find parking along Alki on beautiful summer days, but if you do, you can enjoy Seattle's own beach town. Launch on Alki Beach East between 53rd and 55th Avenues SW or Alki West. Make sure to stay out of the way of swimmers and beach loungers and enjoy views of the mountains, downtown.
Seward Park
Launch at the Adams Street Boat Launch off Lake Washington Boulevard or near the parking lot on the south end of Bailey Peninsula. Either way, there's plenty to explore under the watchful eye of Mount Rainier.
Rentals are available at Green Lake, Adams Street, Alki, Shilshole and at multiple locations on Lake Union.
Where do you like to go? Tell us on Facebook or join our Insiders group to find adventure partners.
Elliott Bay image by 400tmax