Editor's note: Skiing is not without COVID-19 risks. See how to protect yourself and others.
Ski season's back, and there's nothing much better than a day on the slopes: snow, scenery and the cool exhilaration that comes with time spent outside in the Pacific Northwest can be hard to beat.
But wait, what's that you say? You can't go skiing because you have kids now?
Wrong.
While parents with the youngest of children may have to take a year or two off from their favorite runs- or find some other arrangement – kids can be just as at-home on a ski hill as they can on a soccer field. And the reality is, the earlier they learn how to ski, the better they'll be – and the sooner you'll be able to get back up there and hit it hard.
With that in mind, here are some helpful tips on how to get your kids downhill skiing early and often.
Get the Gear
Kids grow fast, and you never know if they're even going to enjoy skiing once they learn. (Yeah, right!) Don't hesitate to check out ski clothes rental while they're testing the waters. It doesn't hurt to ask friends or family for hand-me-downs. You can also find affordable used gear at secondhand stores and annual ski swaps held as fundraisers by school ski teams and other organizations.
Go easy
A lot of ski resorts let kids ski for free or for a highly discounted rate. When you get there, hit the beginners' area, which usually has a very mild slope and a magic carpet or easy lift for learners. Once the kiddos progress, talk to resort staff to find out which runs are best for beginners.
School's in
A lot of parents may teach their kids to ski, but that can bring its own frustrations. Signing up your kids for a youth ski school or private lessons can be a nice way to give your kids proper instruction and an independent experience – while giving you a chance to grab a couple turns on your own.
Start 'em young
It's no fun learning to ski as an adult. The falling, the frustration, the self-consciousness. But with kids, there's much less of that. Most ski resorts offer programs to kids as young as three or four, so feel comfortable at least starting them out around that age. Kids' low center of gravity means they're fairly stable and won't fall far when they do. And most kids don't have that same fear or hesitation to try something new that adults do. Best of all, once they've got it down, it's a skill they'll take with them wherever they go.
Insider tip: Take frequent hot chocolate breaks!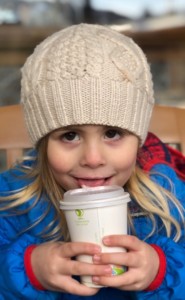 Try the spring thing
Spring skiing in the Pacific Northwest may be a little slushier and warmer than a chilly powder weekend in January. But when it comes to kids, that may be a good thing. A little sunshine will keep young spirits bright and warm, and the slower snow can be a little easier to navigate, presuming it doesn't get too warm and start to stick. Plus, nicer weather means you can hang outside the lodge après ski and celebrate everyone's progress with a special treat.
Fun first
Whether they're bombing down the slopes or tumbling down the hill like a giant snowball after their first lesson, kids will learn how to ski – eventually. The key is just to make it another fun family experience outside. Ensure everyone's well-fed and dressed warmly. Take hot chocolate breaks and head inside the lodge when it seems like the efforts are outweighing the good times. Enjoy the time together and the experience of your kiddos learning something new. Before you know it, you'll be chasing them down the mountain.
Images by Emily Agerton