If you're an active, outdoor person no matter the season, you've probably skied and maybe even skated. (And, likely, snowshoed, sledded and maybe even fat biked.)
But have you ever skate skied?
"Moving fast through the woods in the snow with the sun shining is just awesome," said Maxine Williams who took up skate skiing a couple years ago. "It's exhilarating."
Initially spawned in the late 1970s or early 1980s, skate skiing is a faster, more intense version of the classic Nordic or cross-country skiing. Rather than the straight kick-and-glide motion that Nordic skiers employ, skate skiers use shorter skis and kick or push off the surface at a V angle in more of an ice-skating technique. They also use poles that are a tad longer to help propel them forward.
The technique is somewhat different than cross-country skiing, but it's not something that's all that hard to pick up. Even so, Williams recommends taking a lesson or two from a professional to develop the proper techniques.
"I just started and now I have bad habits to unlearn," Williams said.
Prospective skate skiers can also rent equipment from most outdoor retailers and, even at some popular Nordic skiing areas.
Skate skiing is best done on groomed trails. But because you're not gliding in the same way a Nordic skier does, there's no need to try and ski in a normal cross-country track.
A few other considerations when giving skate skiing a go:
Start with a reasonable amount of physical fitness already under your belt.
Try skate skiing without poles at first to get a good feel for the technique.
Don't be intimidated. Everybody starts as a beginner and falls down. You will too, but with a little practice and some perseverance, you'll be skate skiing with confidence in no time.
"It's cheaper than downhill and such a good workout," Seattleite Kate Flynn said. "You're sweating like 5 minutes in."
Kate and her husband started skate-skiing two years ago. Now they look forward to every January when conditions are just right in the pass.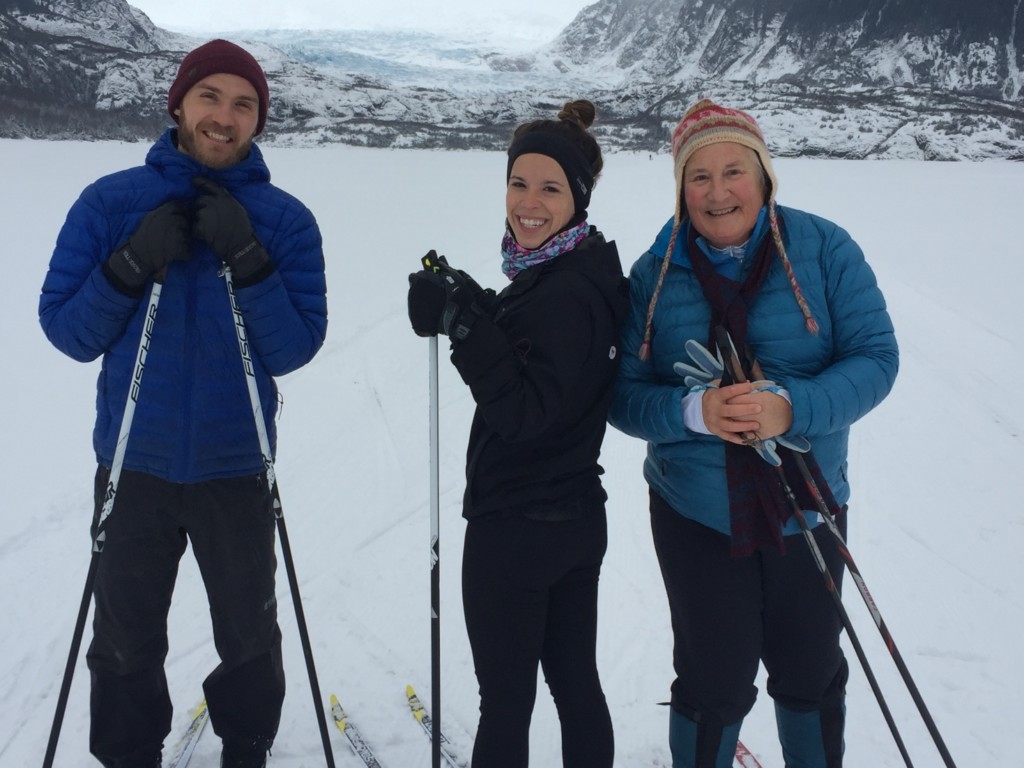 Where to go
Skate skiing is most enjoyable on groomed trails at established Nordic skiing areas, which Washington has plenty of. One note on etiquette: try not to trash the tracks that traditional cross-country skiers are using.
Goldmyer Hot Springs — Ski right up and take a soak. Did you know the Pacific Northwest is home to more natural hot tubs?
Lake Wenatchee — Camp on the lake and step right out and start skate skiing.
Mt. Spokane State park Nordic Ski Area — With almost 40 miles of trails for every skill level, this ski area is an ideal place to get your skate skiing up to speed. Even better: The area offers rental equipment and lessons on-site.
Mt. Baker — The Nooksack Nordic Ski Club grooms and tends to nearly 20 miles of scenic trails around the Salmon Ridge Sno-Park, less than 50 miles up the Mt. Baker Highway from Bellingham.
McClellan Meadows — Not far from Mt. Adams, this Sno-Park has 25 miles of groomed and ungroomed trails.
Stevens Pass area — Chiwawa Sno-Park and Lake Wenatchee State Park have a combined 13 miles of groomed ski trails, some of which parallel the banks of the serene Wenatchee River.
Leavenworth and Chelan — A Nordic skier's dream, the Leavenworth-Chelan area has several gorgeous options for hitting the groomed snow, including the Echo Ridge Nordic Area and the Plain Valley Ski Trails, the latter of which offers rentals and lessons on-site.
Photos courtesy of Kate Flynn.