One of the great joys of living in the Pacific Northwest is there's something fun to do outside pretty much all year round. And yes, it rains a lot west of the Cascades. But we know that in winter, if it's raining in the city, it's probably snowing in the mountains.
If you're not a skier or maybe you're taking a day off from the slopes but you still want to enjoy the snow, consider going for a snowshoe in Paradise on Mount Rainier.
The tours start from the Henry M. Jackson Visitor Center there. When the snow is deep, the sun is out, and the world is wrapped in that winter stillness, Paradise truly lives up to its name.
A few years ago, my boyfriend and I were at Mt. Rainier for a long weekend, and we happened to stumble upon the Park Ranger-led showshoe tours. We managed to find spots on the next tour going out, and we signed up on the spot.
We're not experienced snowshoers, and we wouldn't feel entirely comfortable heading out on our own, given our lack of knowledge about the trails and the art of wearing tennis rackets on our feet and staying upright. So the Ranger-led tour was perfect.
It was glorious. We asked a ton of questions, we got some great exercise, and we got an even deeper appreciation of the park and the people who work there.
To get the full scoop on the snowshoe tours, I asked Rangers Catherine Burleaud and Curt Jaquot a bunch of questions. These are their answers in their own words.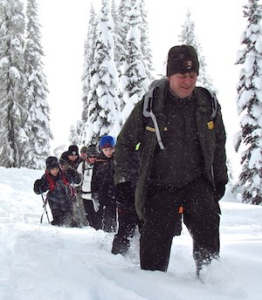 Who leads the tours, and can I ask them questions about what we're experiencing? 
Interpretive Park Rangers lead the tours with the assistance of volunteer interpretive park rangers. We love questions and will try to explain and point out as much as we can!
 How physically hard is it? 
For the 1.5-mile round trip on the Nisqually Vista marked winter route, it is strenuous to moderately strenuous depending on snow conditions.
How many people go in one group? 
When we are doing the guided snowshoe walks (currently suspended due to COVID) we have limits of the first 25 to sign up (we recommend these for ages 8 and up). All must be at the sign-up desk at the Paradise visitor center in person to sign up. Sign-ups start one hour before each of the two walks (usually at 11:15 a.m. and 1:30 p.m.) – times are subject to adjustment due to road/gate opening.
What can I expect to see?
We usually are assured of seeing animal tracks, local birds and occasionally some mammals that are at Paradise in winter (Cascade fox, ermines, and on rare occasions maybe a wolverine!)
Why do you offer this service? 
Our mission is to help visitors connect to their park, including the flora and fauna and other visitors. We strive to facilitate visitors to care for their park.
How much does it cost? 
The guided walks, as well as all our interpretive programs, are free.
Can I reserve a space? If not, how do I get on a tour group? 
We no longer offer reservable group walks.  We will plan for up to two guided walks where up to 25 visitors can sign up up to one hour in advance, in person at the Paradise visitor center.
Do I need my own equipment? 
Snowshoes are provided or visitors can bring their own.
How much distance do you cover? 
1.5 miles round trip.
Is there an age limit for kids or seniors?
We recommend 8 years and up. We are out for 2 hours, and it can be well below freezing with windchill on many of the days. Walks are moderately strenuous to strenuous depending on the snow/weather conditions. Visitors should have non-cotton, waterproof layers of clothing, waterproof footwear, sunscreen, snacks, and water, as well as sunglasses. Because it is moderately strenuous, we do not recommend the walks for those with heart issues or significant back or knee problems.
Is it dangerous? 
The walks are fun and great exercise if you are prepared. The walk does not travel through avalanche terrain, but there are other winter hazards that could be a problem if anyone strays from the marked route (drop offs and hidden creeks under the snow).
For us, the best part of the tour was going with someone who knows the park, its inhabitants and terrain at the level of a Park Ranger. We learned that the lichen commonly called "Old Man's Beard" indicates a healthy ecosystem. We identified some tracks in the snow we would have completely overlooked on our own.
There were quite a few kids in our group, and when they weren't gamboling (yes, gamboling) in the snow, they were peppering the Ranger with questions nearly as much as I was. It was an adventure we're eager to repeat when it's safe to do so!
If you feel comfortable on snowshoes on your own, the park is open for self-led "tours," so take advantage of this gorgeous natural resource. Just check with the Visit Rainier website before heading up to learn about conditions and availability.
Main image by july7th