When it comes to picture-perfection, it's hard to beat the Pacific Northwest. Our mountains, rivers, trees, waterfalls, beaches, lakes, skylines — do we really need to go on? — make it easy to take stunning, Instagram-worthy pictures whether you're on a Sunday drive or an all-day climb up a Cascade peak.
Wintry accents can make the Northwest even more photogenic. So charge up your battery, beef up your phone storage and head out to one of our favorite Northwest locales. Whether you'd like to Instagram your lunch at Timberline Lodge or capture an epic day in the backcountry at Mount Rainier National Park, one of these hotspots are sure to inspire you.
Oregon's Photogenic Hotspots
Mount Hood
Sure, Oregon's signature peak is a go-to for its amazing beauty all year long, but catch it when it's pure white with snow against a blue sky or menacing clouds, and you'll have a frame-worthy photo for your wall.
Easy shots: If the mountain's out, the Jonsrud Viewpoint in Sandy offers an outstanding drive-up vista. Or, head up to the picturesque Timberline Lodge and snap a few shots of the interior's Northwest charm before hopping the chairlift up the Magic Mile's smooth, scenic ride.
Work for It: Ski or snowshoe up from the White River Sno-Park for images of snowy trees and in-your-face mountain views. Another, tougher, option is to snowshoe or ski up the Tilly Jane Trail, past the Tilly Jane cabin and up to the open slopes of the mountain's stunning northeast face.
The Columbia River Gorge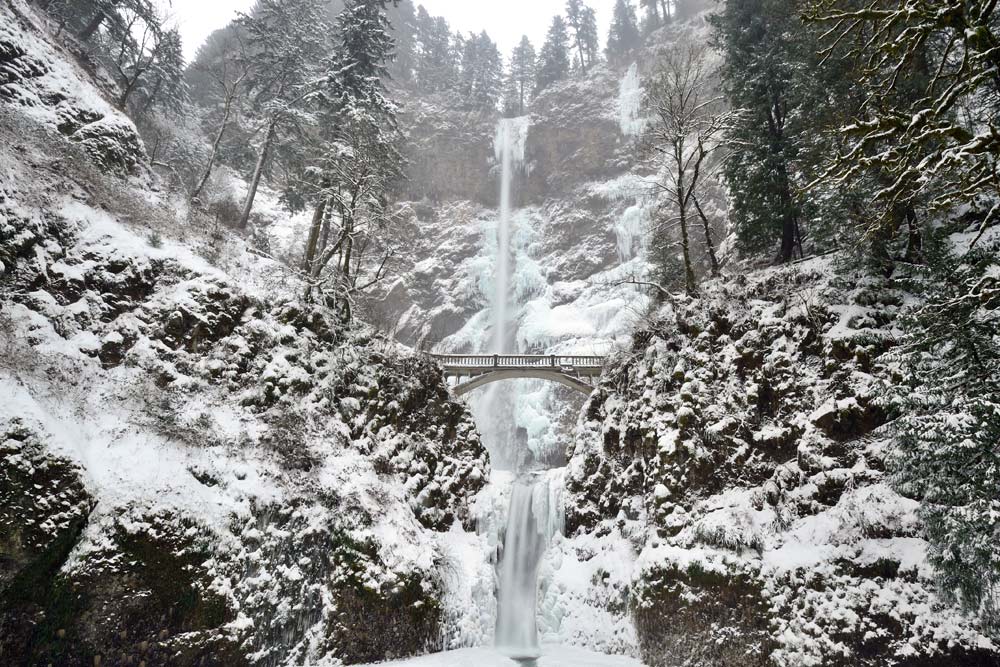 There's nothing like raging waterfalls, snow-dusted mountains and a white-capped river to set the stage for a photo feast.
Easy shots: Multnomah Falls is popular, and for good reason, especially in the winter. The 627-foot waterfall runs full this time of year, plunging and spraying its way down into your field of vision. Bonus points for cold-weather pics that capture snow and ice on the nearby trees and rocks.
Work for it: Hike along Eagle Creek for the lush hues of a classic Northwest forest, ending at the lovely Punchbowl Falls, which can be even more dramatic in a wintry setting. Across the Columbia in Washington, Dog Mountain can be a formidable hike this time of year, but the views on a clear day from the top are always stunning.
Washington's Photogenic Hotspots
Mount Rainier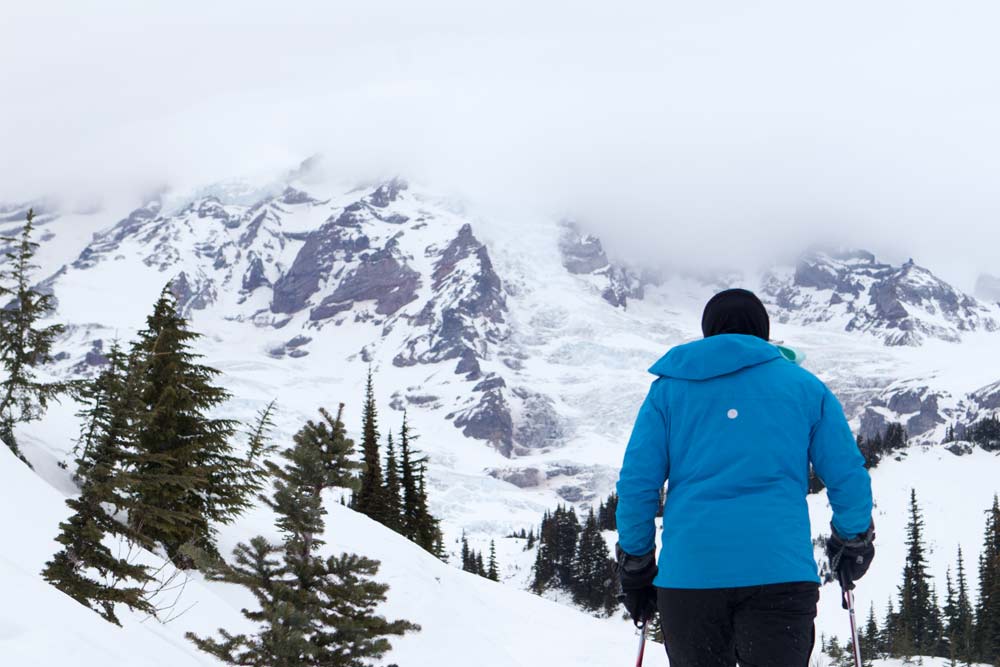 The snow piles up on the giant of the Cascades in the winter, creating some amazing mountain scenery that's still fairly accessible this time of year.
Easy shots: The National Park Service does its best to keep the road up to Paradise open, which makes it easy to get up close to the season on the mountain. Bring the sleds for the kids or just wander around outside the inn for an endless array of alpine subjects.
Work for it: Strap on the snowshoes and head up Mazama Ridge for expansive views of Rainier and the serrated peaks of the Tatoosh Range, or head up toward Mowich Lake to capture pictures of soaring firs, cedars and the big peak.
Olympic National Park
Looking for awesome Instagram-worthy photo ops in the mountains, forests or on the beach this winter? Olympic National Park is your place.
Easy Shots: On your way over to the park from Seattle, cruise through Port Townsend for a peek at this charming town's Victorian architecture and waterfront vistas. The 31-mile Quinault Rain Forest Loop Drive is also full of primeval forests, gushing waterfalls and far-off peaks perfect for photos.
Work for it: Hurricane Ridge is the classic wintertime destination in the park for snowshoeing, skiing and all other kinds of snowy, photogenic fun. The Hoh River hike is also guaranteed to amaze, as is the 6-mile roundtrip stroll out to Cape Alava, which offers wild views of the Pacific Ocean.