Even though you're likely eating lunch at home right now, you can keep it fresh. Take-out lunch costs at least $10 a day and is chock-full of unhealthy ingredients. So challenge yourself to revamp lunch. We'll help you plan ahead so that you'll have healthy (and cost effective) lunches all week long.
Mason Jar Salads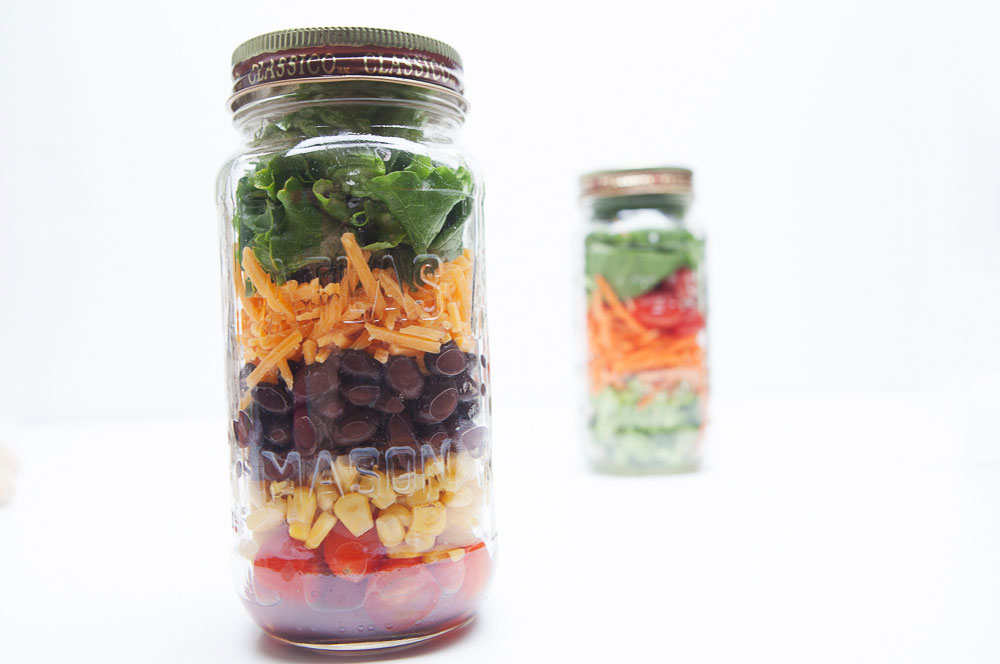 Mason jar salads continue to make the rounds on Pinterest – and for good reason. The idea is simple: grab a Mason jar (a clean pasta sauce jar will work just fine) and layer in your favorite veggies, making sure to add your dressing first to keep your ingredients fresh. When you're ready to eat, shake it up and enjoy! The possibilities are endless. For a Greek style salad, add in spinach, sliced chicken, Kalamata olives, tomatoes and feta. For a Mexican style lunch, try adding in black beans, salsa, spinach, peppers and quinoa.
Recipe to try: Two Make-Ahead Mason Jar Salads
Lettuce Wraps
Feeling carb conscious? Large lettuce leaves are a great alternative to a flour tortilla for your favorite wrap recipes. Keep it simple and roll up sliced turkey, mustard and tomato. For new flavors, mix chopped chicken, apples and sliced grapes with almond butter and a drizzle of honey.
Recipe to try: Southwestern Chicken Lettuce Wraps
Quinoa Salads

For those days when a traditional salad just won't cut it, try adding your favorite grain. The added fiber will help keep you full until dinnertime. Quinoa works great, but you can easily substitute healthy whole grain alternatives such as bulgur or farro. (Tip: You can order fresh farro from Bluebird Grain Farms in Winthrop, Wash.) When it's time to make your lunch, load up on chopped veggies, lean protein and top it off with a handful of nuts or your favorite cheese. Short on time? Make a large batch of grain on Sunday night so you're set for the week ahead.
Recipe to try: Delicious Kale Quinoa Bowl in Twenty Minutes
Bento Box Lunches
Helpful for portion control and just plain fun, reusable bento boxes offer the ability to easily spice up your lunch with a variety of small dishes. Keep it simple and start with hummus and pita bread with a small heaping of fruits and veggies. Or experiment and load in fresh ingredients you have on hand.
Recipe to try: Bento Box Inspiration Gallery
Vegetable Noodles
Add in an extra serving of veggies and cut down on unhealthy carbs by making vegetable noodles for lunch. To make the perfect noodles, it's best to use a mandolin slicer, but your vegetable peeler will work just fine for zucchini or carrots. Once you've got a good base, toss with olive oil, lemon juice and your favorite pasta toppings (roasted chicken and Pecorino cheese work great).
Recipe to try: Tahini Zucchini Noodles