For those who love to eat, cook and buy local, there's no better place to stock up on fresh produce, artisan cheeses and sustainably-raised meats than a neighborhood farmers market. The Northwest boasts some of the best markets in the country, and lucky Oregonians can choose from more than 160 Oregon farmers markets across the state.
Here are a few of Oregon's best seasonal farmers markets. And for those who live farther north, check out the list of Washington markets reopening this spring!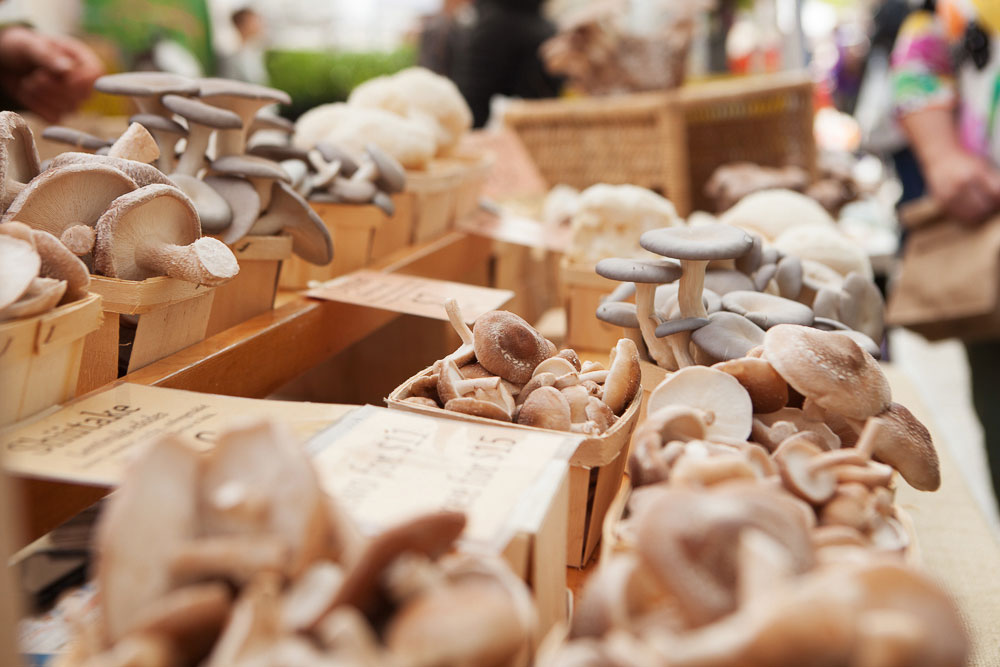 Portland Markets
The Portland area is home to more than 50 different markets, making it one of the best cities to shop local on any given day of the week. While the Saturday market at PSU is a destination in itself, check out one of these lesser known markets for a change of pace.
1. Montavilla Farmers Market: This gem of a market is more manageable in size than the bustling PSU market. Pooch and kid-friendly, this is an accessible spot to stock up on a selection of veggies, fruits, meats, flowers, baked goods and prepared foods.
Located at Southeast Stark Street, west of 82nd Ave. Open Sundays 10 a.m. to 2 p.m., June through October.  
2. Hawthorne Evening Market: This new market aims to make your produce shopping an evening event. More than just a great place to stock up on food, this market will offer wine and beer tastings, an outdoor food garden, bike services and live music. Who said shopping had to be a chore?
Located at the intersection of Lincoln and Cesar Chavez Blvd. Open Saturdays, 4 to 7:30 p.m., with a May 31 grand opening.
Outside Portland
3. Lane County Farmers Market, Eugene: This is one of Oregon's longest-running markets, with an amazing array of fruits, vegetables, cheeses, meats and prepared foods from across the state. After getting your fill of produce, head across the street to the Eugene Saturday craft market for local artwork, jewelry, a food court and music stage.
Located at 8th and Oak Street in downtown Eugene. The large Saturday market runs from 9 a.m. to 3 p.m., April through mid-November. There are smaller markets on Tuesdays from 10 a.m. to 3 p.m. May through October, and on Thursdays from June to September, 2 p.m. to 6 p.m.
4. Corvallis Farmers' Market: The Corvallis market has something for everyone: organic produce, live music, an idyllic riverside location, and a great selection of artisanal and prepared foods. After perusing the market, take a stroll along the riverside or walk through the historical downtown of Corvallis to shop the many local storefronts.
Located at 1st and Jackson. Open Saturdays and Wednesdays, 9 a.m. to 1 p.m., from mid-April through the end of November.
5. Salem Saturday Market: This is one of the largest markets in Oregon, offering a great variety of produce, meats, cheeses, and prepared foods, as well as local artisan stalls selling crafts, jewelry and art. While you're there, grab a quick bite at one of the many food trucks and enjoy live music from area musicians. Salem also has a mid-day Wednesday market and Monday market serving the Salem Hospital and nearby community.
Located on Summer & Marion Streets. Open Saturdays 9 a.m. to 3 p.m., April 5 through Oct. 25.