Looking for a creative way to eat more berries? A handful of blackberries or strawberries can turn a meal from ordinary to gourmet. Berries also give your body a boost of antioxidants and anti-inflammatory nutrients, Vitamin C and fiber to fight stress, stay heart healthy and keep your blood sugar in check. Try these three refreshing and nutritious berry recipes for a healthy taste of summer.
TROPICAL MOONLIGHT SMOOTHIE

Ingredients:
2 cups frozen blackberries
1/2 frozen banana
2  cups coconut milk
1/2 teaspoon vanilla extract
1/2 teaspoon finely grated fresh ginger
1/2 cup torn-up fresh basil leaves
Preparation: Combine all the ingredients at once and blend until smooth and creamy.
TUSCAN QUINOA AND BLACKBERRY SALAD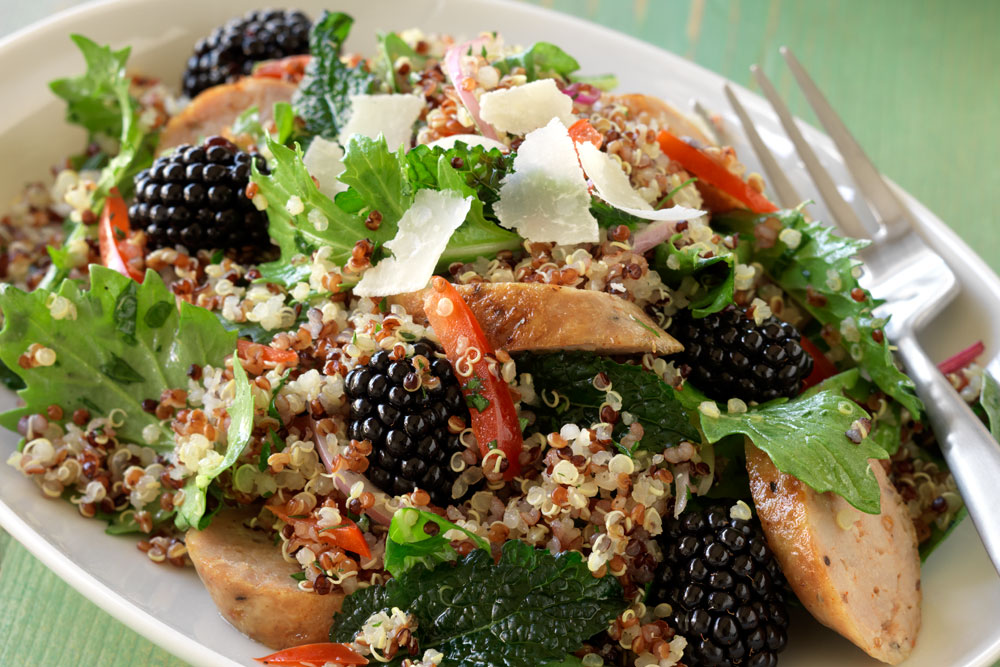 Ingredients:
1 cup cooked and cooled quinoa (prepare with chicken stock)
1/4 cup chopped red onion
1/2 cup chopped red pepper
1/4 cup chopped fresh basil
1/4 cup chopped fresh parsley
1 cup chopped mixed salad greens
1 1/2 cooked and sliced Italian chicken or turkey sausage
1/2 cup blackberries (fresh or defrosted)
2 tablespoons Italian salad dressing
2 tablespoons grated Parmesan cheese
Preparation: Prepare quinoa as directed on the packaging, using chicken stock instead of water. Let cool. Combine all the ingredients, toss with the dressing and enjoy!
STRAWBERRY PESTO ON GRILLED ROCKFISH

Ingredients:
12 to 15 ripe strawberries, hulled
2/3 cup Romano Padana cheese
3/4 cup Oregon hazelnuts
2 cups fresh basil
3 tablespoons extra virgin olive oil
3 tablespoons liquid coconut oil
Salt and pepper
Cinnamon
1-pound rockfish fillet
2 tablespoons coconut oil
Pinch of salt
Preparation: Blend strawberries, cheese, hazelnuts and basil in a blender or food processor. Drizzle in oils, adding more if needed for consistency. Add seasonings (be sure not to overblend) then set aside. In a skillet, heat 2 tablespoons coconut oil on medium high heat. Season rockfish filet with salt on both sides and then place it on the skillet. Cook 5 to 6 minutes on each side, or until fish becomes flaky. Spoon pesto over fish and serve.