Eating seasonally can become a bit monotonous this time of year. The pickings are slim at the market, and it's all too easy to "rinse, repeat" your standby recipes for kale, beets and Brussels sprouts. Maybe this New Year you can resolve to explore some new winter vegetables!
We've collected a few lesser-known crops and simple, creative recipes that can keep you inspired through the winter doldrums. To find these veggies, check out one of the Northwest's year-round farmers markets.
Turnips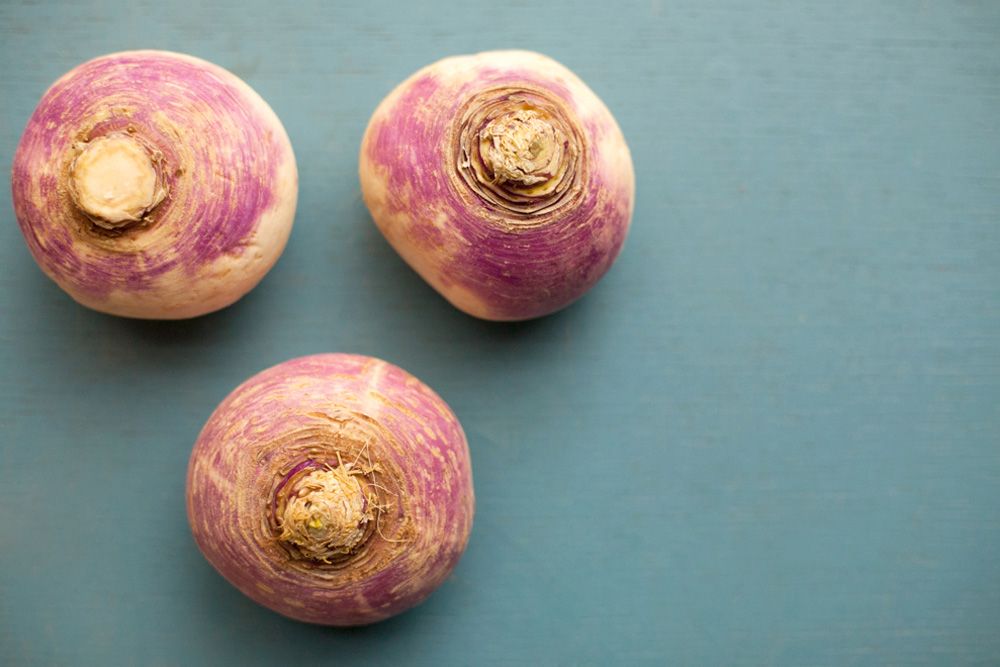 For whatever reason, turnips don't get the love that other veggies do. But this white root vegetable is one of the most delicious and versatile crops of the winter season. Whether slowly braised with cider and maple, tossed with carrots to add variety to stews or simply grated and added to a winter slaw, turnips can be prepared in a multitude of creative and tasty ways. And let's not forget the greens! Rich in calcium, lutein and vitamins A, K and C, the greens from young salad turnips will add depth of flavor when tossed into your next kale or chard sauté.
Recipe: Maple & Cider Braised Turnips
Ingredients:

3-4 medium turnips (2-3 inches in diameter), peeled and cut into 1/2-inch pieces
3/4 cup apple cider
1/4 cup apple cider vinegar
1 tablespoon butter
1/2 teaspoon salt
1 tablespoon real maple syrup
Instructions:
Heat butter in a large heavy skillet over medium heat. Add the turnips and cook for 8-10 minutes, until well browned. Add the cider, cider vinegar, salt and maple syrup. Bring it to a low boil, then cover the pan, reduce the heat to low and simmer for 20 minutes. Remove the lid and continue to cook for an additional 10 minutes, until the liquid has reduced into a glaze.
Recipe: Turnip, Beet and Carrot Slaw with Miso Lime Dressing
Ingredients:
3 carrots, washed and peeled
2 medium turnips and 2 medium beets, washed and peeled
2 tablespoons white miso paste
1 tablespoon honey
2 tablespoons lime juice
1 tablespoon light olive oil
2 tablespoons chopped fresh mint
Instructions:
Grate the carrots, turnips and beets using a food processor with a shredder attachment, or a large-holed box grater. Whisk together miso, lime and olive oil. Toss with grated vegetables and mint. Let sit 30 minutes before serving. Makes 4 servings.
Escarole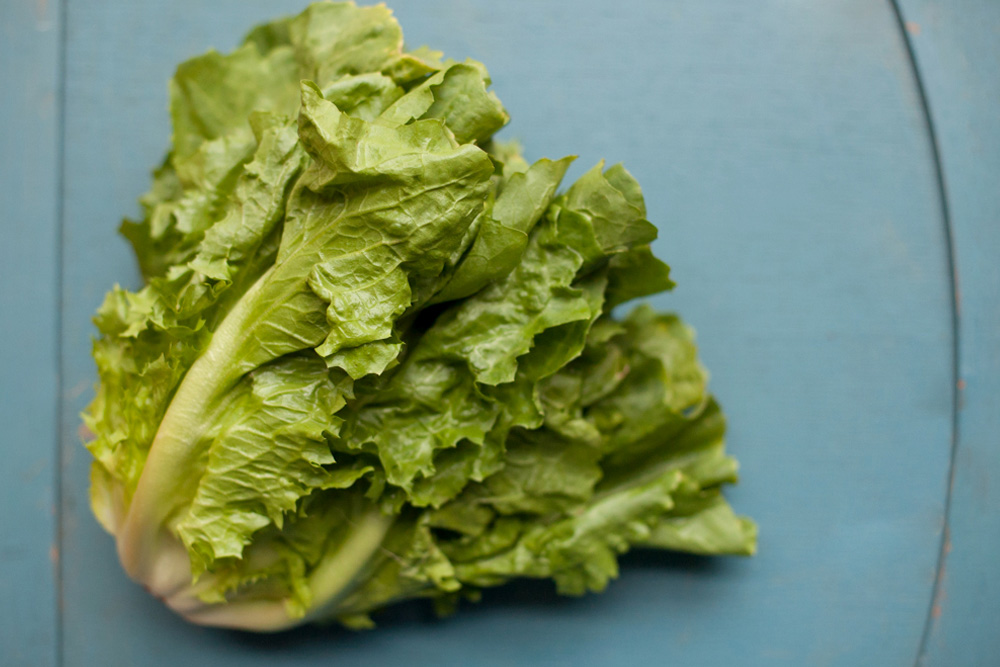 This pale green, crisp and mildly bitter vegetable thrives in cool weather. It grows from fall through winter in the Northwest, offering a refreshing substitute for lettuce in salads, or kale in sautés and braises. Try a simple sauté with garlic, olive oil and a generous squeeze of lemon, or simply chop and toss with spinach and radicchio for a colorful winter salad.
Recipe: Escarole, Persimmon and Oregon Hazelnut Salad
Ingredients:
2 tablespoons sherry vinegar
1 tablespoon water
2 teaspoons Dijon mustard
2 shallots, finely chopped
1/4 teaspoons salt
2 tablespoons extra-virgin olive oil
5 cups torn escarole
2 persimmons, peeled and sliced into thin rounds
1/3 cup toasted Oregon hazelnuts, coarsely chopped
Coarse ground pepper
Instructions:
Stir together vinegar, water, mustard, salt and shallots in a small bowl. Gradually whisk in oil. Toss escarole with vinaigrette, then top with persimmons and hazelnuts and a coarse grind of pepper. Makes 4 servings.
Recipe: Citrus Salmon and Escarole
Ingredients:
2 lemons and 1 orange, preferably organic
1 tablespoons olive oil
1 medium red onion, halved and thinly sliced
3 garlic cloves, thinly sliced
2 heads escarole (2 pounds total), cored, trimmed and coarsely chopped
4 boneless, skinless salmon fillets (6 ounces each)
Coarse salt and ground pepper
Instructions:
Slice off both ends of the orange and one lemon, then cut into very thin slices. Juice the second lemon and set aside. In a large Dutch oven or heavy pot, heat oil over medium-high. Sauté onion and garlic, stirring occasionally, until golden brown — about 5 minutes. Stir in escarole and add 1/2 cup water. Arrange salmon on top; season with salt and pepper, and top each filet with lemon and orange slices. Cover, and cook until salmon is opaque throughout — 12 to 14 minutes. Drizzle juice from remaining lemon over the top and serve. Makes 4 servings.
Kabocha, Kuri, Hubbard and Buttercup Squash
Now is the time to take advantage of winter squash, which remain abundant in markets throughout the winter. Packed with fiber, vitamins and antioxidants, there are many ways to use this versatile vegetable, from soups and purees to salads, pastas, casseroles and delicious-yet-simple sides.
While butternut, acorn and Delicata are more common, you may also find unique varieties at your local farmers market, including:
Kabocha, a dark-green Japanese variety with a dense, orange, nutty-tasting flesh;
Red Kuri, a squat dark-orange squash with creamy, sweet flesh;
Blue Hubbard, a large grey squash with rough skin and mild flesh;
or Buttercup, a compact dark-green squash with pale stripes and dense, sweet and somewhat-dry flesh.
Whichever variety you choose, you can't go wrong with one of these easy, healthy squash recipes.
Recipe: Winter Squash with Chili and Lime
Ingredients:
1 butternut squash (about 2 pounds), peeled, halved, seeded, and cut crosswise into 1/2-inch slices
2 tablespoons olive oil, divided
1 teaspoon chili powder
Salt and pepper
3 tablespoons lime juice (from 2 limes)
1 teaspoon local honey
1/3 cup chopped fresh cilantro
1/4 cup crumbled cotija or feta cheese
Instructions:
Preheat oven to 400 degrees. On a rimmed baking sheet, toss squash with 1 tablespoon oil and arrange in a single layer. Sprinkle with chili powder and season with salt and pepper. Bake until soft and lightly golden, 20 to 25 minutes.
Whisk together lime juice, honey and remaining tablespoon of oil; season with salt and pepper. Arrange squash on platter and sprinkle with cheese and cilantro. Serves 4, as a side dish.
Recipe: Curried Squash and Lentil Soup
Ingredients:
2 teaspoons ground coriander and ground cumin
2 teaspoons cumin seed
1 teaspoon ground turmeric
1/2 teaspoon cinnamon
1 teaspoon kosher salt
1 1/2 cups (12 ounces) red lentils
2 tablespoons olive oil
1 onion, diced into 1/2-inch pieces
4 cloves garlic, minced
1 tablespoon  freshly grated ginger
1 medium winter squash (about 1.5 pounds), peeled, seeded and cut into 1/2-inch pieces
2 cans (14 1/2 oz. each) low-sodium chicken stock
1 can lite coconut milk
Mint or cilantro, to garnish
Instructions:
Heat oil in a large saucepan over medium heat. Add coriander, cumin, turmeric, cinnamon and salt. Stir until fragrant, about 1 minute. Add onion, garlic and ginger; cook until translucent, about 4 minutes. Add squash; cook until just beginning to soften, about 5 minutes. Add stock, bring to a low simmer and cook 10 minutes until squash is tender. Stir in lentils and coconut milk, and continue to cook until lentils are soft, 10 to 15 minutes. Serve with mint or cilantro. Makes 6 servings.