It's football time! You can't walk more than two blocks in Seattle without coming across some form of blue and green pride; even the Space Needle is sporting the '12' flag. But when it comes to game time, the last thing you want to do is cook.
Instead, try these healthy make-ahead recipes to keep the 12th Man full while you're watching the big game! Here's a menu to show your Seattle pride:
Smoked Salmon Mousse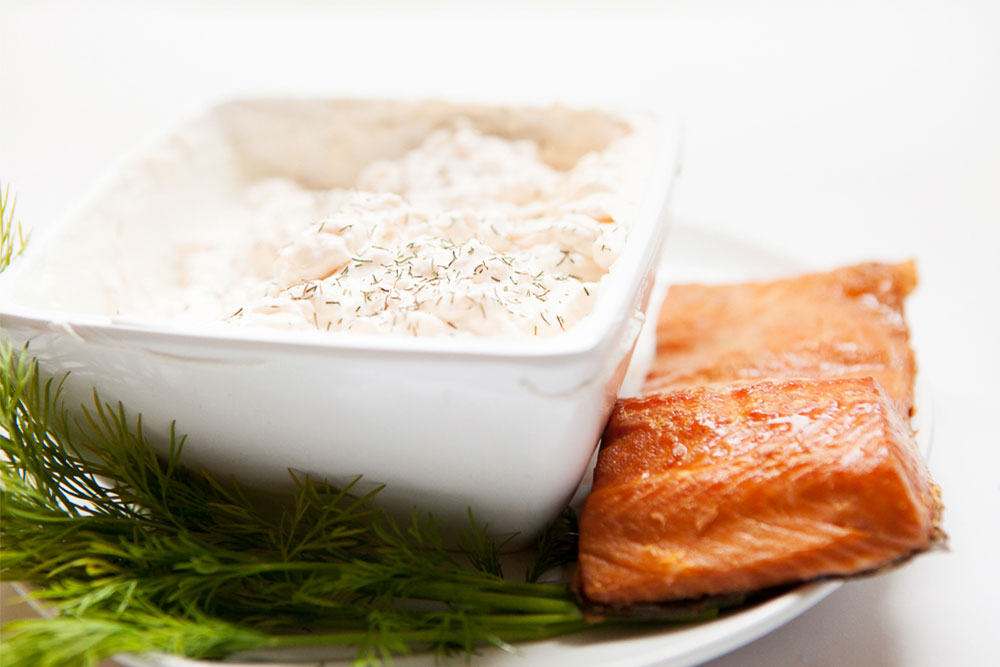 This smoked salmon spread couldn't be easier to make, and is much healthier than the widely available mayonnaise and cream cheese-based dips. Simply whirl together 1 cup Greek yogurt, ½ cup low-fat cream cheese, the zest and juice of 1 lemon, 1 small shallot (or use 2 tablespoons minced red onion), 2 tablespoons minced fresh herbs (tarragon, parsley or dill) and a hefty grind of black pepper. Process until smooth, then add 4 ounces smoked salmon, flaked into chunks, and pulse until just combined.  Serve with sliced cucumbers as a chip alternative.
Blue Bites
This healthy spin on the oh-so-delicious bacon-wrapped blue cheese-stuffed dates is far better for you and still addictively good. Combining reduced -fat cream cheese with blue cheese cuts the calories without sacrificing on flavor, and prosciutto offers an excellent, low-fat stand-in for bacon.
To make, mix together ½ cup reduced-fat cream cheese with 2 ounces soft blue cheese until well combined. Stuff 1 teaspoon cheese into pitted dried Medjool dates, then wrap each with a 1-inch wide strip of prosciutto. Secure with a toothpick and bake for 5 minutes at 400 degrees until prosciutto crisps and cheese starts to melt.
Emerald City Baked Artichoke and Kale Dip

This baked dip has all the cheesy goodness of party-favorite spinach & artichoke dip, but with far fewer calories and fat. Fresh kale, a readily available vegetable this time of year, adds heartiness and packs in a variety of nutrients. Cottage cheese, when pureed, adds body and creaminess with far fewer calories than mayonnaise or cream cheese, and the green color gives a nod to the Emerald City.
To make, sauté 1 onion and 2 cloves garlic in a teaspoon of olive oil until just soft.  Add 1 bunch kale that has been chopped into wide ribbons and ¼ cup water. Cook 10 minutes until kale is soft. In a food processor, puree 2 cups low-fat cottage cheese until smooth. Add kale mixture and puree 10-20 seconds until kale is well incorporated. Add two cups thawed artichoke hearts and pulse a few times until artichokes are chopped into small pieces. Add ½ cup reduced-fat Swiss cheese and ½ cup Parmesan cheese, and pulse to combine. Transfer to a greased baking dish and sprinkle with another ¼ cup Parmesan, then bake 20 minutes at 400 degrees until bubbly. Serve with baked pita chips.
Chipotle-Coffee Pork Sliders with Washington Apple Slaw

Unlike traditional pulled pork, which is made with fat-laden pork butt or shoulder roast, these sliders are made with the lean tenderloin. The chipotle-coffee rub makes for a delicious, assertive spice rub that will please your football crowd. What's best, the pork cooks completely unattended – either low and slow in the oven, or even easier in the crockpot. You can even make it in advance and reheat it. It's served on small slider buns, topped with Washington apple coleslaw dressed with a tangy Cider Vinaigrette. Stack 'em up on a tray and serve for an easy-to-make, easy-to-eat dish. You can find the complete recipe at Notes on Delicious.
Chewy Theo Chocolate Brownies
Low-fat brownies seem to get a bad reputation since they often turn out dry, crumbly and bland. Not so for these dense, chewy brownies. Made with local Theo chocolate, they are decadent without being overly rich. The key is using both cocoa powder and extra dark chocolate, which reduces the overall amount of sugar and butter needed to provide the right texture and flavor. The complete recipe can be found at Notes on Delicious.