The Seahawks may not be playing in the Big Game this year, but you can still enjoy Pacific Northwest-inspired fare while you watch …whoever is playing again.
These recipes will keep the 12th Man full and show your Seattle pride:
Smoked Salmon Mousse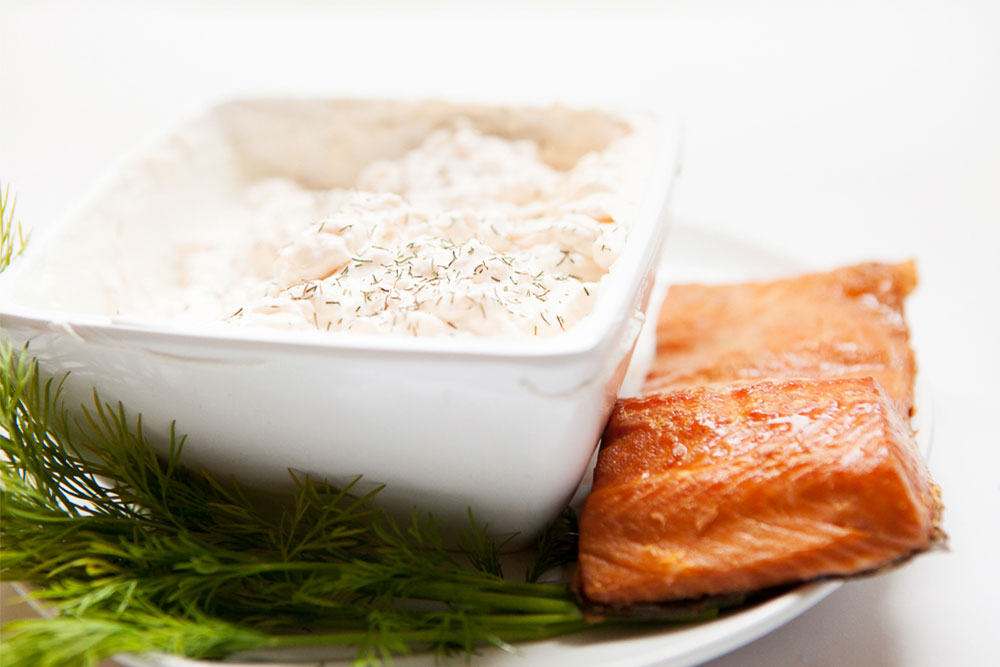 This smoked salmon spread couldn't be easier to make, and is much healthier than the widely available mayonnaise and cream cheese-based dips. Simply whirl together 1 cup Greek yogurt, ½ cup low-fat cream cheese, the zest and juice of 1 lemon, 1 small shallot (or use 2 tablespoons minced red onion), 2 tablespoons minced fresh herbs (tarragon, parsley or dill) and a hefty grind of black pepper. Process until smooth, then add 4 ounces smoked salmon, flaked into chunks, and pulse until just combined.  Serve with sliced cucumbers as a chip alternative.
Blue Bites
This healthy spin on the oh-so-delicious bacon-wrapped blue cheese-stuffed dates is far better for you and still addictively good. Combining reduced -fat cream cheese with blue cheese cuts the calories without sacrificing on flavor, and prosciutto offers an excellent, low-fat stand-in for bacon.
To make, mix together ½ cup reduced-fat cream cheese with 2 ounces soft blue cheese until well combined. Stuff 1 teaspoon cheese into pitted dried Medjool dates, then wrap each with a 1-inch wide strip of prosciutto. Secure with a toothpick and bake for 5 minutes at 400 degrees until prosciutto crisps and cheese starts to melt.
Emerald City Baked Artichoke and Kale Dip

This baked dip has all the cheesy goodness of party-favorite spinach & artichoke dip, but with far fewer calories and fat. Fresh kale, a readily available vegetable this time of year, adds heartiness and packs in a variety of nutrients. Cottage cheese, when pureed, adds body and creaminess with far fewer calories than mayonnaise or cream cheese, and the green color gives a nod to the Emerald City.
To make, sauté 1 onion and 2 cloves garlic in a teaspoon of olive oil until just soft.  Add 1 bunch kale that has been chopped into wide ribbons and ¼ cup water. Cook 10 minutes until kale is soft. In a food processor, puree 2 cups low-fat cottage cheese until smooth. Add kale mixture and puree 10-20 seconds until kale is well incorporated. Add two cups thawed artichoke hearts and pulse a few times until artichokes are chopped into small pieces. Add ½ cup reduced-fat Swiss cheese and ½ cup Parmesan cheese, and pulse to combine. Transfer to a greased baking dish and sprinkle with another ¼ cup Parmesan, then bake 20 minutes at 400 degrees until bubbly. Serve with baked pita chips.