Campfire cooking can sound intimidating: in a setting very unlike your home kitchen you must build a fire, prep everything and try not to undercook, overcook or drop food into the coals. But cooking in the woods doesn't have to be a difficult ordeal. Instead of resorting to prepackaged or unhealthy foods (yes, we know hot dogs and s'mores are delicious!), you can easily whip up healthy, delicious camping chow in the wild.
To get started, take into consideration how you'll cook your food. There are several methods for cooking over a campfire, from bare-bones food on a stick to deluxe camp stoves or grills. Whatever the method, it's important to know what we mean by "campfire." We're not talking about crackling flames of orange and yellow.
For cooking, the ideal campfire is one you let burn down until you have a bed of hot coals where the flames are very low. Ideally, you may want to use cooking firewood (https://www.cuttingedgefirewood.com/cooking-firewood/) for the initial fire because it can lend the food a nice flavor depending on the type of wood chosen. Make sure you have learnt enough about cooking over a campfire, and that you take all the safety measures before you begin! When you go camping, you may need to know how to cook an animal you have hunted as well as how to use firewood as fuel during your cooking. The meat of a dove could be cooked effectively with the help of a dove recipe during a forest hunt, for instance. In the same way, you can find other food recipes that could be useful while camping. It might help you enjoy a hot and delicious meal in the midst of dense forests.
From there, your options are wide and delicious. Read on for our go-to cooking tips and favorite healthy campfire recipes and check out GSI Outdoors for camping gear–from a Spokane company–that lasts!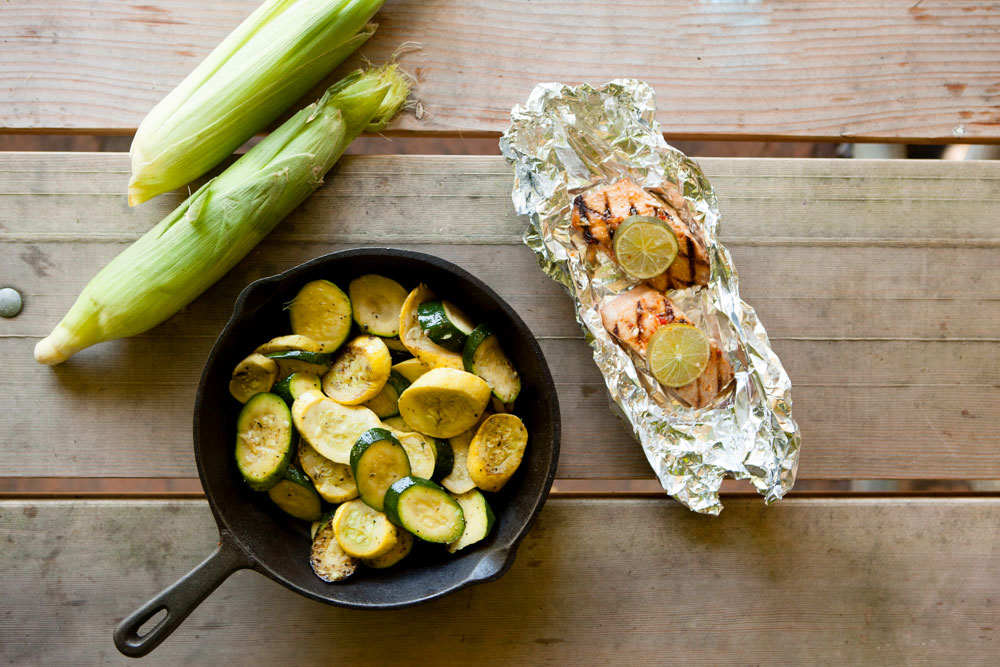 Cooking On a Stick
This is the most basic way to cook food: simply build a fire, skewer your food and roast away. This method is good for rewarming pre-cooked food, but can be limiting in terms of what you can actually skewer and cook.
Tips:
Make sure any food that needs to be thoroughly cooked (like sausages) is pre-cooked ahead of time.
Bring some long, relatively "green" sticks with you. You can never be certain to find good ones near the campfire, and dry sticks can easily ignite. Short kebab skewers are also a bad idea, as you need some distance from the fire to prevent roasting yourself!
Recipe suggestions:
Precooked chicken sausages (or buy fresh sausages and boil ahead of time)
Bannock bread dough wrapped on a stick
Veggie kebabs: whole mushrooms, peppers, eggplant or zucchini can be sliced large enough to skewer

Cooking In Foil
Foil is also a very basic way to cook over a campfire. Simply wrap up your food in some foil, then toss into the embers to roast.
Tips:
Layer the food to facilitate even cooking, with the most resilient/long-cooking food on the foil itself and more tender/quick-cooking ingredients on top. For example, line the foil with sliced potatoes or onions, then add thin slices of meat or fish, and on top of that add any aromatics (herbs, garlic).
Cut longer-cooking vegetables and meat in smaller pieces and quick-cooking ingredients in larger pieces to ensure everything cooks at the same rate.
Before sealing the foil packet, drizzle your meal with some liquid (olive oil or water) to prevent the food from drying out.
Place the food directly on the coals, then use a long-handled spoon or stick to push coals up and around the foil packets to ensure even heat all around.
Recipe Suggestions:
Many foods can be tossed into a foil packet then warmed in the fire. Try making breakfast burritos ahead of time (cooking the eggs, beans and veggies) then wrapping in foil and tossing into the coals to heat through in the morning.
For pack dinners, just toss ingredients together, drizzle with some liquid and cook away. Try the classic (using lean ground beef and a medley of root vegetables) or thinly sliced chicken with sweet potatoes and BBQ sauce. You can also try filets of salmon with summer squash, whole cherry tomatoes and fresh herbs.
Instead of s'mores, try banana boats, using nuts and a few dark-chocolate chips for a healthier-but equally delicious-dessert.
Unhusked ears of corn are nature's own foil packs! Soak the corn in water for a half hour ahead of time to ensure the husks don't burn.
Cooking in a Dutch Oven
Dutch ovens are great for campfire cooking. You can whip up big one-pot meals simply by placing the entire covered pan over the coals. Anything you can cook at home in your oven or slow cooker can be made in a Dutch oven! But beware that they are quite heavy, and you'll need a place to wash it out afterward. If you're carrying this for your trip, make sure to take enough food items that can be cooked in them. Having said that, if you're a fan of Asian food, it might be a good idea to try getting one of those ramen kits and sauces from a japanese food store online. You could most probably cook these in your dutch oven without much hassle.
Tips:
Gourmet campfire chefs often outfit their Dutch ovens with a tripod and chain for hanging above the flames. That's great but not truly necessary-you can easily place the oven directly on hot coals.
What do you like to make at home? Whatever it is, you can do it in a Dutch oven while camping: bake bread, make soups or chili and even braise meats and vegetables.
The lid of the Dutch oven can also serve as a griddle for cooking eggs, grilling sandwiches or searing veggies or meat. Simply place the overturned lid directly on hot coals, add some grease (if needed) and sauté away!
Make sure to pack hot pads to safely remove the Dutch oven from the coals.
Recipe ideas:
No-knead bread is great camp food: you can mix up the dough at home, heat your Dutch oven over the fire and have hot, fresh bread in half an hour!
Turkey Black Bean Chili is even better when made ahead of time and reheated over the fire, picking up hints of smoke.
Campfire Egg Bake is a great all-in-one breakfast: whisk together eggs, chopped veggies and cheese and pour into the Dutch oven. Cook over the coals for approximately 20 minutes and you'll have a campfire soufflé!
If you have access to a deluxe camp-stove or grill, you're in luck. Just like barbecuing or cooking over your home stove, these setups need little explanation. However, there are a few things to keep in mind when cooking outdoors, regardless of cooking method:
A cooler is a must. You want one that's a good size and easy to transport. A full cooler stays cold longer than an empty one, so pack accordingly.
It's helpful to have a larger chef's knife, a paring knife and two cutting boards.
Sanitizing wipes or spray make clean-up easy.
Consider the resilience of ingredients-e.g., which items need to be refrigerated, fully cooked or cut up ahead of time.
Always pack extra food just in case-an extra loaf of bread, a jar of peanut butter or some trail bars are welcome in a pinch.
Finally, remember that camp meals don't have to be elaborate or complex. Even the simplest food tastes delicious when cooked by the campfire!