We've previously teamed up with Bastyr University, Guckenheimer, and Northwest chefs and nutritionists to provide you with healthy and delicious recipes all year long.
At this point in January, it is easy to fall back into unhealthy habits. Between the cold weather, running low on time, and lack of motivation, your goals may be on the back burner. But it's not too late! If you are sick of using the same few recipes or looking for healthy ideas, fear not. We have recipes that will help jump start your goals.
Steel Cut Oatmeal Breakfast Bites with Asian Pear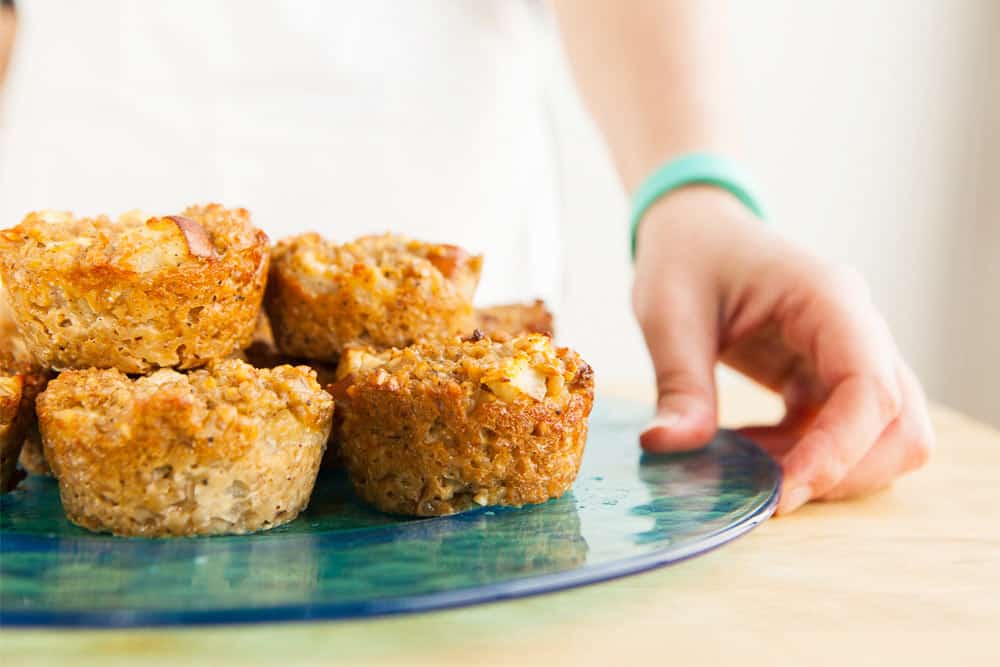 Oatmeal is a hearty breakfast that can keep you full until lunchtime. We take a twist on traditional oatmeal by cooking it into bite-sized pieces that can be meal-prepped ahead of time.
Ingredients:
2 cups almond milk
1 1/2 cup pear juice
2 tablespoons packed brown sugar
1 1/2 cups steel cut oats
2 eggs
1 tablespoon ground cinnamon
1 1/2 teaspoons Kosher salt
1 fresh Asian pear
Cooking spray
Directions:
Core and finely chop Asian pear. Set aside.
Combine the almond milk, pear juice, sugar, cinnamon and salt in a pot and bring to a simmer.
Add the oatmeal and cook until oatmeal is done.
Pour out into a large shallow pan and allow to cool completely.
Whisk the eggs until smooth, then fold into the oat mixture with the 1/2 cup finely chopped Asian pear.
Spray muffin pans or line with muffin cups and scoop the batter into the molds.
Bake at 350 degrees for approximately 25 to 30 minutes (bake time varies by oven).
Check for doneness (when a toothpick inserted near the center comes out clean).
Spicy Moroccan Root Vegan Vegetable Stew
Stews are the perfect comfort dish this time of year to warm your stomach. And having a stew that is veggie based makes it healthy enough to align with any goals you may have around food.
Ingredients:
3/4 cup sliced almonds
2 rutabagas
2 parsnips
3 carrots
1 turnip
1 onion, red, large
1 1/2 tablespoons extra virgin olive oil
1 teaspoon cumin, ground
1 teaspoon coriander, ground
1 teaspoon Madras curry powder
4 cinnamon sticks
1/3 teaspoons chili pepper, red crushed flakes
1 2/3 cups white wine
3/4 cup Golden raisins
1 2/3 cups Vegetable stock, no sodium
Pinch kosher salt
Pinch black pepper
4 cups couscous, cooked
Instructions:
Place almonds in heavy medium skillet. Stir over medium heat until almonds are pale golden, about 4 minutes. Transfer almonds to bowl.
Peel and cut the root vegetables into desired shapes — batons or wedges look great.
Add oil to same skillet; increase heat to medium-high. Add root vegetables, cumin, coriander, Madras curry powder, cinnamon stick and red pepper flakes; sauté until vegetables just begin to soften, about 5-7 minutes.
Add wine and raisins. Boil until wine is reduced by half, about 3 minutes.
Add broth. Partially cover skillet; simmer until vegetables are tender, about 6 minutes. Season with salt and pepper.
Mound couscous on plate. Spoon vegetable topping and juices over. Sprinkle with almonds and serve.
Fruit and Nut No-Bake Chocolate Bites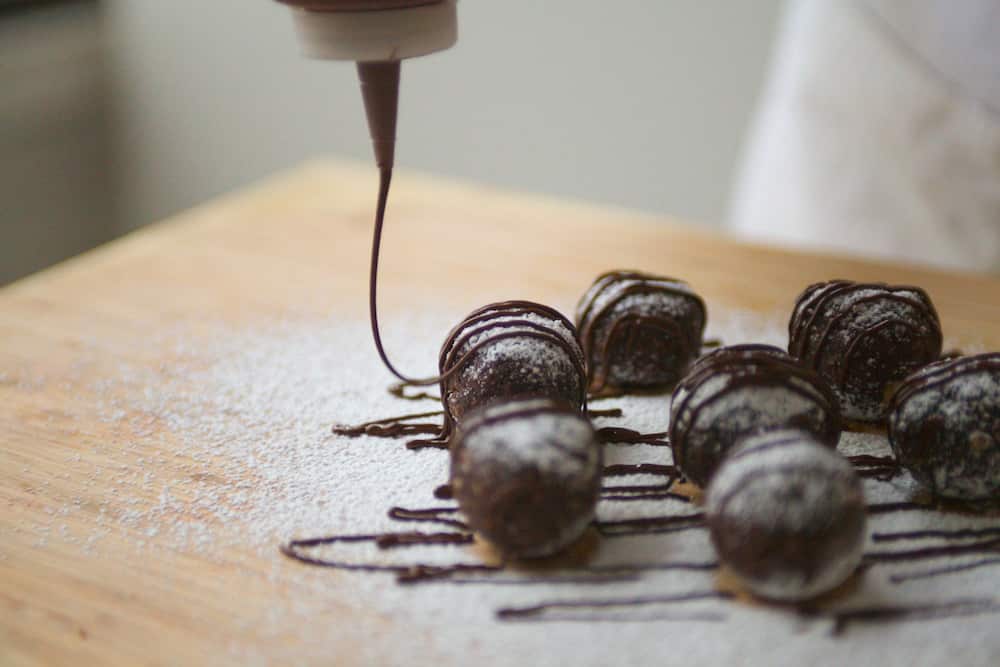 Looking for something sweet to end the day with? This recipe can help you satisfy your sweet tooth while getting a serving of fruit in your diet. The best part is no baking is required!
Ingredients:
2 cups dates, pitted
1 tablespoons vanilla extract
1/8 teaspoon kosher salt
1/3 cup cocoa powder, unsweetened
1/3 cup coconut, dried, sweetened
1 1/2 cups Pecans, pieces
1 cup semi-sweet baking chips
Instructions:
Place all ingredients except baking chips into blender. Blend until ingredients are mixed well. Remove from blender and shape into small balls – approximately 1 ounce. Place in refrigerator. Meanwhile, melt chocolate (in a double boiler, or in the microwave on low for 3 minutes). Remove balls from refrigerator and drizzle with chocolate.
Let us know in the comments if you try any of these recipes!