Sometimes, your grocery store shopping routine can feel a bit … routine. Farmers markets offer local and seasonal options and an awesome atmosphere, but in the chilly winter air outdoor markets may be tough to brave.
We may have found the solution.
Want to peruse aisles of fresh, sustainable produce? Hoping to learn how to make gourmet holiday gifts this year, or how to safely can your own winter preserves?  Perhaps you're just looking for a fun place to bring the kiddos for a family-friendly cooking class. For all of this and more, 21 Acres in Woodinville, Washington, is the place to go.
What began as an effort to find a permanent home for the Woodinville Farmers Market has since grown into a multi-faceted food operation. Brenda Vanderloop, the communications manager at 21 Acres, explains how the market grew and evolved:
"We've grown to serve the community, providing the classes, market store and farm space that they want. But we also have the opportunity to educate and influence the community in positive ways."
While a large, eco-conscious building was being constructed to house the market, members of the community kept offering advice and voicing their wishes for what the new site could be. So now, in addition to giving farmers a place to sell their crops, 21 Acres offers cooking and crafts classes, provides community gardens and even has an event space.
As the mission of 21 Acres expanded, so did the community around it, Vanderloop notes:
"Woodinville itself is relatively small and suburban, but we've been pleasantly surprised to see a very diverse community support our organization. It's great to see people from all walks of life participate in our classes and, ultimately, incorporate ways to live sustainably in their own lives."
Woodinville is a 30-minute drive from Seattle, and any Western Washingtonians interested in seeing what 21 Acres has to offer have some great upcoming events to choose from. And there's more to come — look forward to a packed calendar in the late spring, when the growing season kicks into full swing.

Upcoming events at 21 Acres:
December 5: Yes, You Can! Pickled Beets & Red Onion Jam
Extend summer throughout the year by learning how to can and preserve your farm-fresh produce.
December 6: Warm Gifts: Soup in a Jar
Surprise the ones you love with a homemade gift to keep them warm on those cold winter nights. A great family activity!
December 6: Heritage Crafts
Learn the secrets of creating professional-looking draperies or centerpieces for the holidays by using greens and garden elements.
December 13: Cookie and Gingerbread Decorating
Learn to make safe and healthy colorful dyes from fruit and vegetable powders. And don't forget to bring the kids for hands-on cookie decorating.
Year-round: Market Store
The year-round market features organic products from local farms, plus cheeses, dairy, eggs and bread. During the winter, it's a great place to stock up on hearty greens, winter squash, heirloom apples, honey and locally milled grains. You can also pick up some homemade soup and a few select deli items to go. Some of the more popular items include chef Asako's pumpkin-seed hummus, dark stout-beef stew and naturally fermented apple sourdough bread.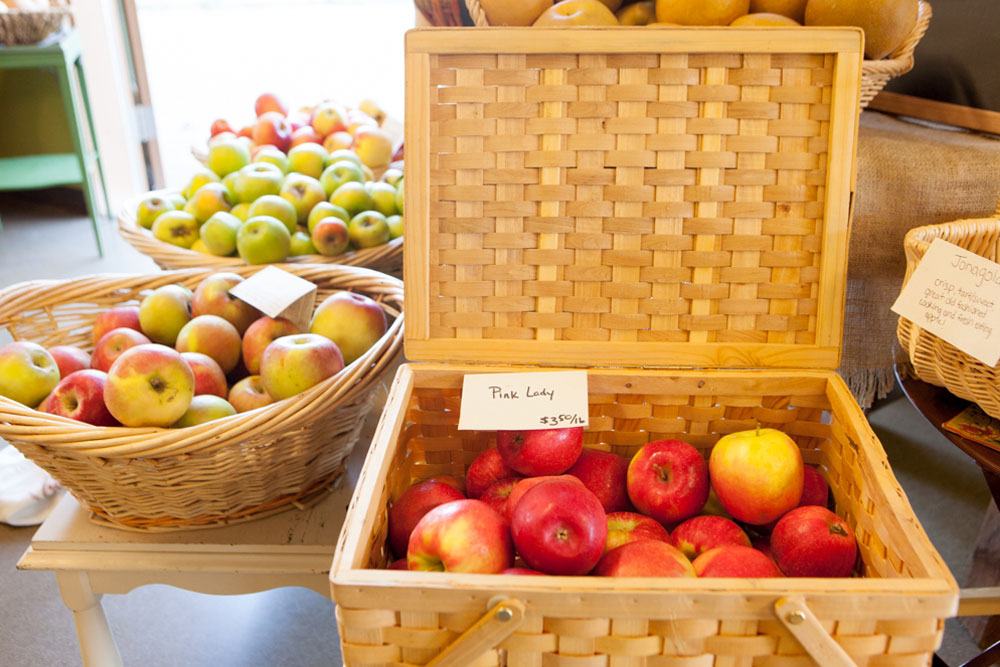 For those outside the Seattle area looking for seasonal produce, check out the year-round farmers markets operating across Washington and Oregon during the winter. And for those in the Portland area, visit Our Table, a local cooperative of farmers and producers offering a selection of locally grown and produced items at the year-round farm store in Sherwood, Oregon.