We've teamed up with the Washington State Farmers Market Association and the Portland Farmers Market to bring you our new Behind the Farmers Market series. Here you'll meet farmers from around the Northwest who provide the fresh, local and seasonal products popular at your local farmers market.
Name: Terri Martin
Farm: Martin Family Orchards in Orondo, Washington
Find Martin Family Orchards produce at over 50 farmers markets in Washington, including the University District Farmers Market on Saturdays, the Ballard Farmers Market on Sundays and Pike Place Market daily.
THE MARTIN FAMILY STORY
People spend years searching for their calling in life. Some never find it. But for a fortunate few, the calling finds them. That was the case for Rick and Terri Martin.
Nearly 30 years ago the Martins purchased a piece of land for their new house in Central Washington and found themselves owners of a 5-acre nectarine orchard. They discovered a love for growing their own tree fruit, so they purchased an additional 12 acres of pear, apple and apricot orchards. They began selling their fruit at Pike Place Market and other local markets, and they found they really enjoyed the personal interaction and relationships they developed with their customers.
Today, the Martins manage nearly 100 fruit-bearing acres in Orondo, WA, and sell their fruits at over 50 farmers markets each week. Their oldest son, Ricky Jr., runs the farmers market operations, and the two younger sons work on the farm alongside their parents.
The whole family agrees that it's the community they've created, both at the farm and with their customers, that is the real backbone of their farm.
PRODUCT AND CUSTOMER-FOCUSED

What keeps their customers coming back? For some, it's the relationship they've developed with the Martin family. For others, it's simply the delicious fruit.
"We pride ourselves on growing clean tree-ripened fruit, picked at its peak. Our fruit is picked literally the day before you take it home," Terri explains.
While they are not certified organic, the Martins try to utilize as many natural pest remedies as possible, and avoid spraying once the trees bear fruit. This has been their approach since day one, even before the market for organics took off.
WHAT'S IN SEASON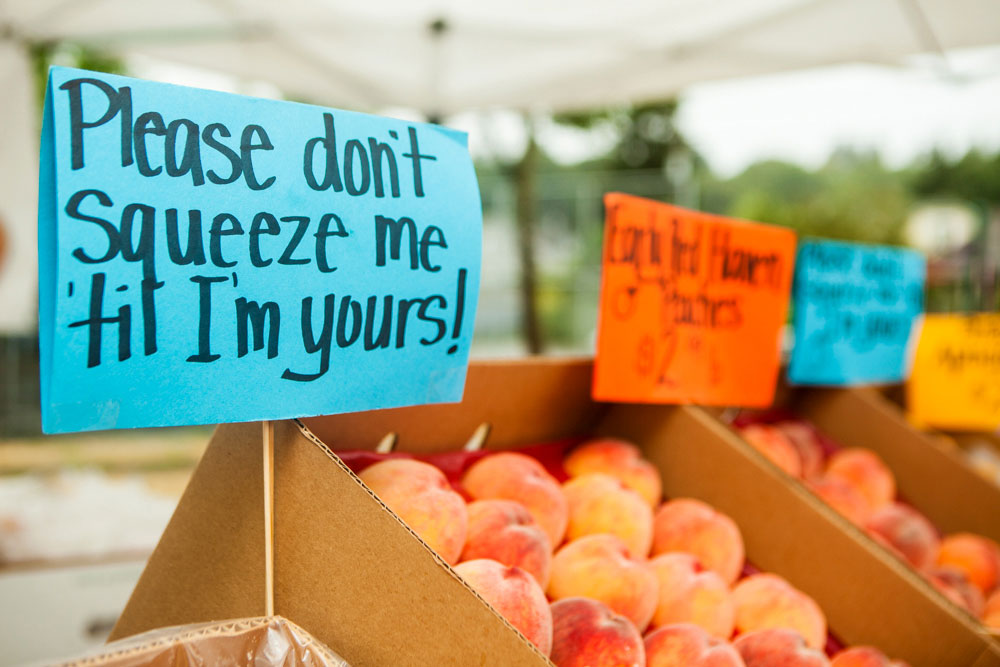 Interested in sampling some of the Martins' delicious produce? August is stone fruit season, so the Martins' stand will be stocked with several varieties of nectarines and peaches, all of which you can sample and compare. (In fact, they encourage it!) You'll also find a variety of summer veggies, including squash, tomatoes, cucumbers and peppers.
Terri's favorite is the gold nectarine—"The most intense, flavorful and tart-sweet nectarine you've ever tried."
Nectarine Recipes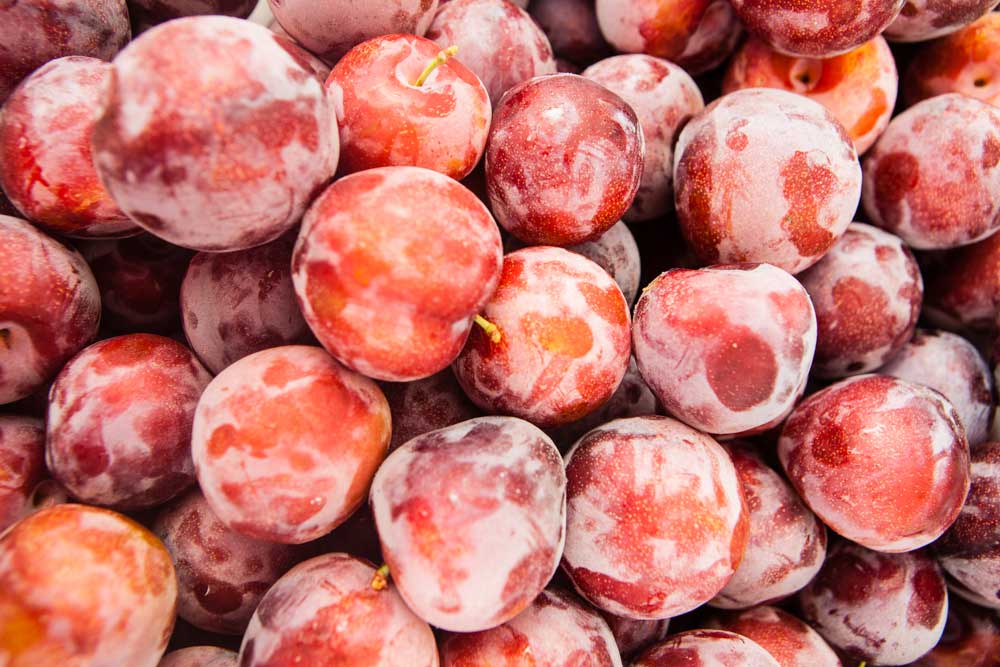 Convinced? Once you stock up on a pound (or three), here are two delicious recipes to make use of your nectarine haul.
Nectarine Caprese Salad
Try adding nectarines to the traditional tomato-basil-mozzarella antipasti; their tart-sweetness pairs well with tomatoes and fresh cheese. Instead of mozzarella, try Samish Bay Ladysmith, available at many of the same Northwest farmers markets as Martin Family Orchards.
Directions: On a large platter, layer slices of tree-ripened nectarines and vine-ripened tomatoes in an overlapping, concentric circle. Top with roughly sliced fresh cheese and a generous handful of thinly sliced fresh basil. Sprinkle with 1/2 teaspoon sea salt and drizzle with a good, aged balsamic.
Nectarine Salsa
This is delicious with grilled chicken and fish. It's also quite adaptable: substitute cilantro for the mint, add some cumin, bell pepper and avocado and you've got a great Mexican salsa to serve with chips, fish tacos or quesadillas.
Directions:In a large bowl, combine 3 large nectarines, diced; 1 jalapeño pepper, seeded and minced very fine; 1/2 large red onion, finely minced; 1/4 cup chopped fresh mint; and the juice of 1 lime. Toss together and let sit at least 30 minutes for the flavors to meld.
________________
The Washington State Farmers Market Association (WSFMA) believes that farmers markets have an essential role to play in developing healthy communities and a sustainable local food system. By providing support and technical assistance to farmers markets statewide, educating the public on the benefits of buying fresh, local farm products, promoting access to healthy foods for all and increasing awareness of the role farmers markets play in sustaining local agriculture, the WSFMA is fulfilling its vision to have a thriving farmers market within reach of every resident in Washington State.  For more information about their work, or to find a farmers market near you, visit www.wafarmersmarkets.com.