We can learn a thing or two from squirrels. For instance, stashing some nuts in handy locations (the car, desk drawer, snack cupboard) provides a healthy treat at moment's notice. Nuts are a perfect antidote to a grumbling tummy. They're full of protein and fiber, plus they are packed with vitamins, antioxidants and healthy fats that will keep you feeling full when mid-afternoon hunger pangs strike. As with all foods, portion control is key. To keep yourself in check, divide nuts into smaller reusable containers (approximately ¼ cup) for a quick, nonperishable snack that won't tip the scale.
While whole, raw nuts are quite healthy, they can also be somewhat boring. We've highlighted a few of our favorites, along with recipes you can whip up to help you think outside the mixed-nut bowl. Be sure to make extra – once you share with family and friends they disappear quickly!
Almonds

Lower in calories and higher in protein than most nuts, almonds are a great choice for nut lovers who are watching their weight. High in vitamin E, calcium, B vitamins and monounsaturated "good" fat, which can help lower "bad" cholesterol, almonds are the darlings of nutritionists as well. They are also one of the most versatile of all nuts – you can buy them whole, slivered, roasted or plain. Almond flour, butter and milk are increasingly popular and a good choice for those with sensitivities to gluten, peanuts and dairy. One ounce of almonds (approximately 23 nuts) weighs in around 160 calories, with 6g of protein and 3g of fiber.
Try it: Looking for a new twist on the classic roasted nut? Try roasting almonds with smoked paprika and thyme. Tired of the same old PB&J? Substitute almond butter and top with apple slices and a sprinkle of cinnamon for a low sugar, high fiber and antioxidant-rich take on the classic sandwich.
Cashews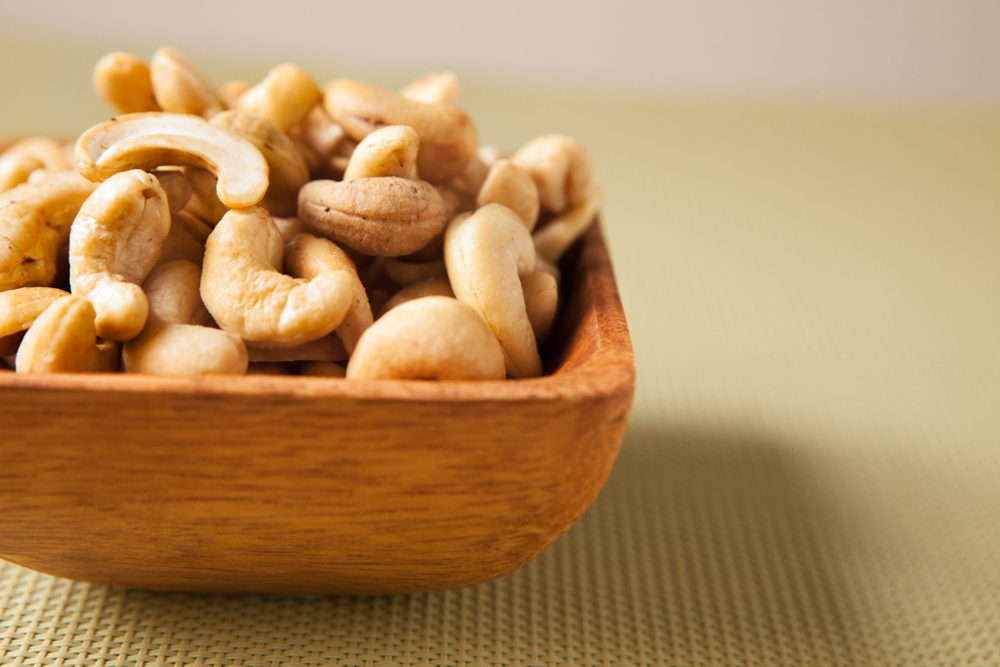 Cashews are native to Brazil, but have become a major crop grown in tropical climates across Asia and Africa. Unlike other nuts, cashews have a high starch content, which makes them a great thickener in soups and a good substitute for flour or cream for those avoiding gluten and dairy. Cashews are high in many essential minerals, including magnesium and selenium, as well as high in oleic acid, the same monounsaturated "good" fat found in olive oil. Each 1-ounce serving of cashews (between 15-20 nuts) contains 157 calories, 5 grams of protein and 1 gram of fiber.
Try it: Want an appetizer for your next dinner party that will make people stand up and cheer? Try spicing cashews with cumin and coriander for an addictively salty-sweet crowd pleaser.
Pistachios

Pistachios are one of the earliest nuts to be cultivated, with orchards dating back to 6000 B.C. They're widely consumed in the Middle East, where the majority of pistachios are still grown today. Pistachios are one of the most heart-healthy nuts and recent research links pistachio consumption with a decrease in bad cholesterol and triglycerides, an increase in good cholesterol and improved blood vessel elasticity. Furthermore, a USDA study shows that some of the fat in pistachios is not absorbed during digestion, resulting in lower fat and calorie intake when eating these nuts. A one-ounce serving of pistachios (about 28 shelled nuts) contains 160 calories, 6 grams of protein, and 3 grams of fiber.
Try it: While it's hard to beat munching on roasted pistachios in their shells, they are a great addition to salads and pilafs. Try adding coarsely chopped pistachios, a handful of golden raisins, some chopped mint, parsley and the zest and juice of a lemon to cooked bulgur or couscous. This delicious Middle-Eastern-inspired side dish goes well with roast chicken or grilled fish. Or make your own exotic trail mix with shelled pistachios, dried cherries, diced dried apricots, toasted sliced almonds and unsweetened flaked coconut.
Peanuts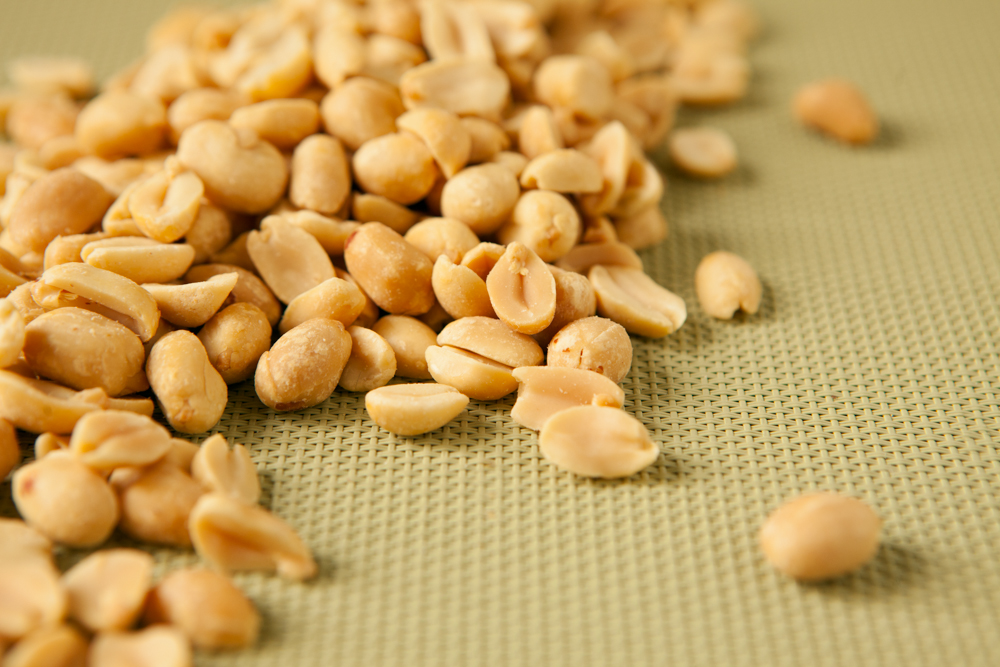 While technically a legume, peanuts are higher in protein than tree nuts, and provide heart-healthy monounsaturated fats that are shown to lower cholesterol. Peanuts are also high in Vitamin E and Folate, which is a mineral that's essential for brain development and may also protect against cognitive decline. While the majority of peanuts grown in the U.S. are from Georgia, there are several local producers in the Northwest: Alvarez Organic Farms sells fresh peanuts on the bush at the Ballard Farmers market in the fall. One ounce of peanuts (about 30 unshelled nuts, or 60 shelled nuts) contains about 170 calories, 8 grams protein, and 3 grams of fiber.
Try it: Peanut butter has many culinary uses beyond a sugary jelly pairing or a cookie recipe. To make a simple Thai peanut dipping sauce to accompany grilled chicken skewers, blend together ½ cup creamy peanut butter, ¼ cup chicken stock or water, 2 tablespoons soy sauce, 1 tablespoon minced ginger, 1 clove garlic, the juice of 1 lime, and ½ teaspoon Sriracha or chili flakes (Note: adjust salt to taste; it will vary depending on whether you use unsalted peanut butter or chicken stock).
What are you favorite nut recipes? We'd love to hear about them in the comments below.