There are over 600 small "restaurants on wheels" across Portland's parking lots, sidewalks and parks. And one of them has a name that encapsulates the vibrancy of both the city's food truck scene and the items on its menu: Ladies and gentlemen, meet Thrive.
Erika Reagor, who founded the Portland food cart in 2012, was inspired to unite her passion for cooking and travel. So she developed a healthy menu that combines global cuisine with the abundant produce of the Pacific Northwest (and also makes use of her degrees in culinary arts and nutrition!). In her words:
"We believe in taking a raw ingredient and letting it shine with proper cooking and seasoning. Nothing is more rewarding than seeing our customers gobble up local vegetables seasoned with a tasty house-made sauce. It's not unusual to hear 'More, please!'"
Let's Talk Menu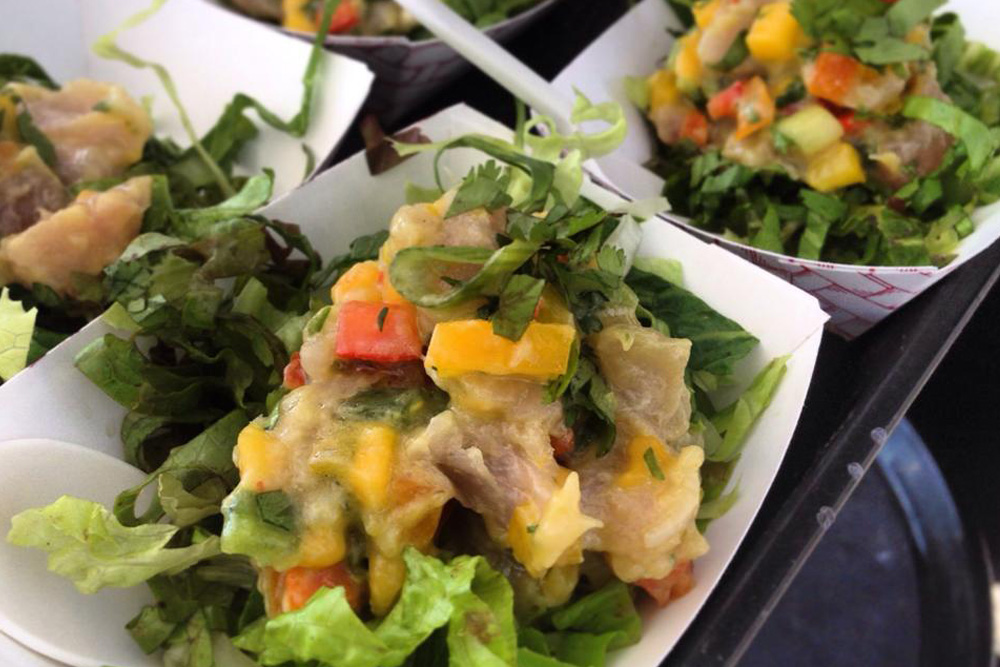 The Thrive menu is centered on creative interpretations of rice bowls, made with a range of homemade international sauces. And if you're imagining run-of-the-mill chicken and sugar-packed teriyaki sauce, you're way off.
Everything at the Portland food cart is locally sourced, vegetable-centric and completely customizable. Choose your protein, sauce and perhaps an add-on like tomatillo avocado salsa. Don't care for rice? No problem: Make it an all-veggie bowl. Vegan? They've got you covered.
A few of their standouts include free-range chicken with veggies, cilantro, mint, peanuts and Thai coconut sauce. Or how about organic tempeh over brown rice with sautéed veggies, basil, cashews and Indian yogurt curry?
The dedication to quality ingredients and authentic preparation is apparent in the robust flavors and nutritional profile of their food. "The thing that makes us different is our philosophy and how we create and execute our finished product," says Reagor. "Quality, appearance, healthfulness and taste are everything to me."
…And Add a Dash of Sustainability
Not only is Thrive committed to serving up great local food, but the Portland food cart is also committed to serving the communities their food comes from:
"From our locally sourced ingredients to our belief in treating farm animals right, we support our farmers and partner with local business to bring about a sustainable community in which we can all thrive."
Reagor's company also invests through Impact Flow, an organization that connects small businesses with nonprofits, to allocate a percentage of its proceeds to the Slow Food movement and Oregon Wild.
The Portland food community has long been at the forefront of the sustainable food movement, and at Thrive, everything from its menu to its relationships to other organizations is focused on, well, thriving.
Learn More
Thrive's location varies by day. To find their food cart and view current hours of operation, visit their website. You can also find it and other local food trucks on the Food Carts Portland master index.
All photos courtesy of Thrive.