Longer days and rising temperatures mark the transition from hearty winter roasts, braises and stews to lighter spring meals.
Here are a few simple recipe ideas to whip up at home and help usher in the warmer days ahead.
Grilled Salmon, Asparagus and Ramps

While grilling is often considered a summer-only cooking technique, there is nothing quite like a perfectly grilled side of salmon to harken warmer days to come. If you don't have easy access to an outdoor grill, using an indoor grill pan is a fine substitute.
Salmon, perhaps the most quintessential Northwest food, is readily available year-round thanks to flash-freezing techniques. Ramps, otherwise known as wild leeks, are perfectly paired with tender young asparagus, and both take well to a quick toss on the grill. If you can't find ramps at your local farmers market, you can substitute spring onions or even mature leeks, which will take longer to cook.
To prepare: Heat a grill (or indoor grill pan) to medium high. Brush a 1-inch thick filet of salmon with a light coat of olive oil, sprinkle with salt and pepper and place skin-side down on grill. Close grill and cook 5 minutes. Toss asparagus and ramps with olive oil, salt and pepper, and place on grill with the salmon. Close and cook another 2 to 4 minutes, less for thin asparagus and longer for thicker stalks. Serve with a squeeze of lemon, or if you're feeling ambitious, whip up a quick mustard tarragon sauce – it pairs beautifully with salmon and asparagus and sings of spring.
Quinoa, Beet and Mint Tabbouleh

Tabbouleh is a classic Middle Eastern side dish, but instead of making it with bulgur, tomato and parsley, this recipe uses beets (readily available at farmers markets through winter and spring) plus quinoa and mint for a quick, fresh tasting, protein-packed salad. Top with some grilled chicken – perhaps rubbed with a Moroccan spice blend – and you've got a complete dinner.
To prepare: Bring 1 cup well-rinsed quinoa and 1 1/4 cups water to a boil in a medium saucepan over high heat. Reduce to medium-low, cover and simmer until quinoa is tender (about 10 minutes). Remove from heat and let stand, covered, for 5 minutes. Meanwhile, dice 3 medium roasted beets, 1 cucumber, 1 spring onion (or other mild onion) and 1 large bunch of mint.  Whisk together 2 tablespoons lemon juice, 2 tablespoons olive oil, 1 small clove minced garlic and 1/2 teaspoon of salt.
Combine the quinoa and beet mixture in large bowl and toss with dressing. For a bit more flavor, top with 1/4 cup of crumbled feta, toasted almonds or pistachios before serving.
Spring Herb Fettuccine Alfredo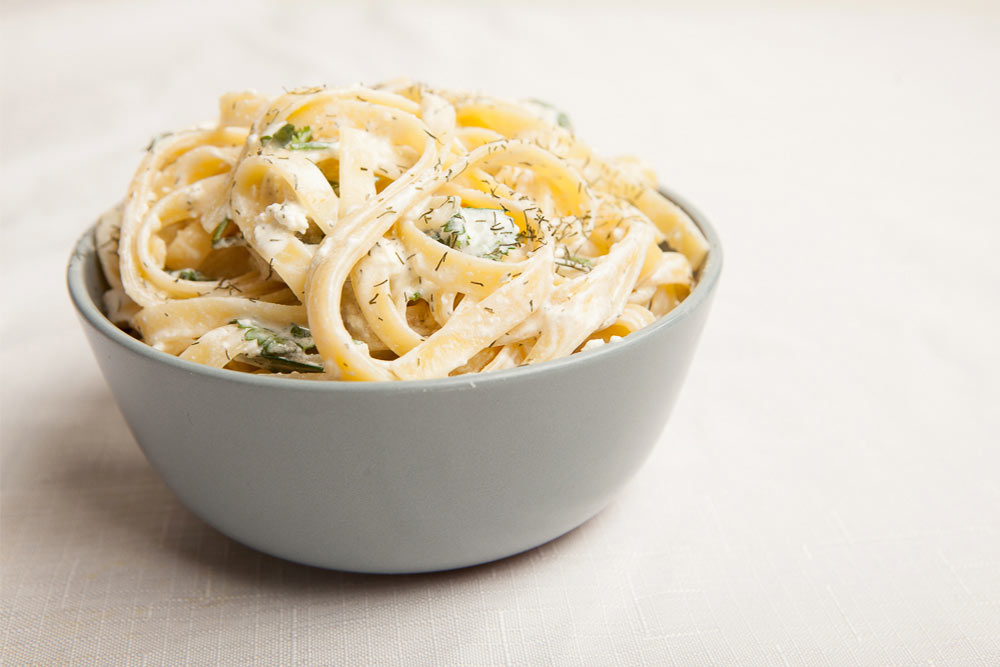 While traditional fettuccine Alfredo is loaded with heavy butter and cream, this lighter version uses Greek yogurt, lemon and herbs to make a healthy, creamy sauce that tastes rich, vibrant and oh-so-spring-like. You can add sliced chicken breast, thin spears of blanched asparagus and petite peas for chicken Alfredo primavera.
To prepare: Bring a large stock pot of water to a boil and cook fettuccine according to package instructions. Meanwhile, sauté 2 cloves of minced garlic in 1 tablespoon olive oil until fragrant. Remove from heat and whisk in 1/2 cup low-fat Greek yogurt, the juice and zest of 1 lemon, 1/2 teaspoon salt, and 1/4 cup minced fresh parsley, plus 1/4 cup fresh herb of choice (tarragon, dill, chervil or basil all work well). Drain pasta, combine with herb sauce and 1/4 cup freshly grated Parmesan cheese and a healthy grind of black pepper. Serve with additional grated cheese on the side.