When you think of comfort food, the word "healthy" rarely comes to mind. Some may even argue that comfort food is intrinsically unhealthy; a guilty pleasure to be enjoyed on rare occasions. But who says you must shun your favorite comfort foods altogether, or indulge your cravings only to feel guilty afterwards?
There are many simple ways to tweak your childhood favorites to make them much better for you without losing the comforting tastes you crave. Here are a few tips to lighten up classic comfort foods, plus a full recipe for home-style meatloaf that is sure to please.
Lasagna

Substitute extra lean ground beef, ground bison or lean ground turkey for ground beef.  Replace some of the meat with finely minced sautéed mushrooms, which will boost the "meaty" flavor and add moisture. Or, use fresh, uncooked Italian chicken sausage. Simply remove the meat from the casings and sauté with some minced onion and garlic. For the cheese, use less mozzarella and swap out full-fat ricotta with a low- or non-fat version (both work well). You can also replace the ricotta with a reduced-fat cottage cheese that has been pureed in a food processor until smooth. To top it off, add more veggies: thawed frozen spinach mixed in with the ricotta, sautéed bell peppers and mushrooms are all excellent in lasagna.
Chicken Pot Pie
Thicken the filling with cornstarch whisked into milk instead of a butter and flour-based gravy.  Rather than topping the pie with a buttery crust, substitute a lower-fat buttermilk biscuit recipe:  Stir together 2 cups self-rising flour, 3/4 cup low-fat buttermilk, 2 tablespoons melted butter and 1/2 teaspoon salt. Mix until just combined and then drop tablespoon-sized biscuits on top of the chicken potpie.
Mac-n-cheese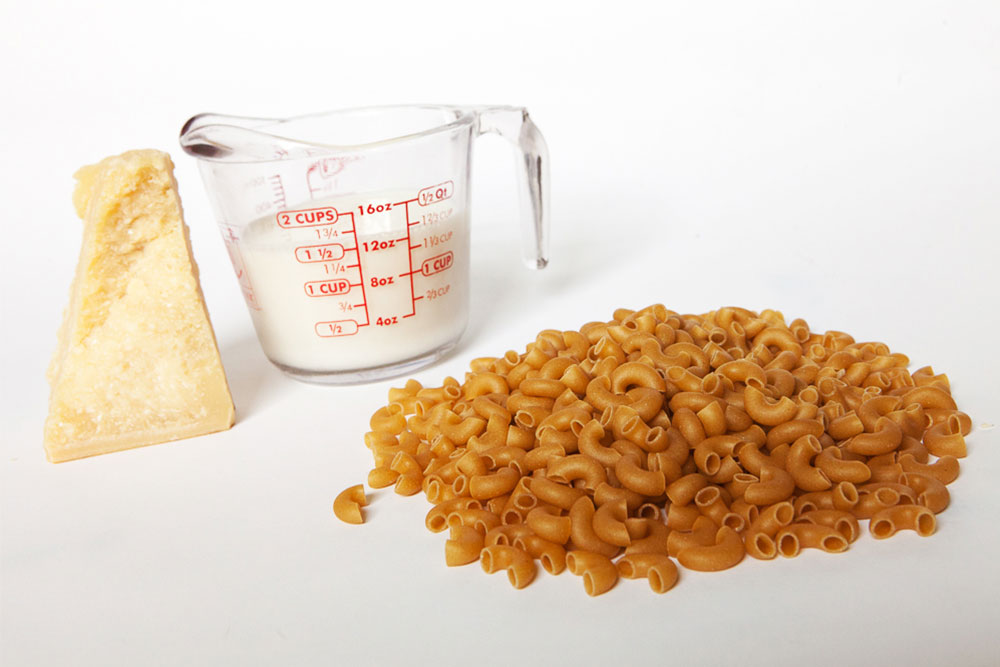 Instead of making a butter-flour-cream-based cheese sauce, whisk 2 teaspoons cornstarch into 2 cups low-fat milk, bring to a simmer and melt in a good, extra sharp reduced-fat cheddar to make a delicious, yet lower-fat sauce (don't use non-fat cheese or milk, as it will produce a grainy texture and lackluster flavor).
"Lightened" Home-style Meatloaf
1/2 cup milk
1 cup fresh breadcrumbs (made by grinding 2 slices of bread in a food processor until fine crumbs are formed)
8 ounces crimini or button mushrooms, finely chopped
1 medium onion, diced
1 garlic clove, minced
1 teaspoon olive oil
1 teaspoon kosher salt, plus pepper to taste
1 1/2 pounds lean (93 percent) ground beef, bison or turkey
2 large eggs
1 tablespoon Worcestershire sauce
1/4 cup minced fresh parsley
1/2 cup ketchup
Preparation: Preheat oven to 350 degrees. In a small bowl, combine the breadcrumbs and milk and set aside to let the crumbs absorb the liquid. Meanwhile, heat oil in a medium skillet over medium heat. Sauté onion, garlic and mushrooms with salt until mushrooms release their liquid and onion is soft, about 8 to 10 minutes. In a large bowl, whisk the eggs, then add the Worcestershire sauce, parsley, meat, mushroom mixture and soaked breadcrumbs. Mix well with your hands until just combined.  Mound onto a large, rimmed baking sheet and form into a rectangle loaf shape (you can also bake in a loaf pan, but it forms a better crust when baked on a flat baking sheet). Brush all sides with ketchup, then bake 1 hour at 350 degrees, or until the internal temperature reaches 160 degrees. Allow it to rest for at least 15 minutes before slicing.
Craving some delicious comfort food but too tired to cook? Check out Eat Local. With four locations in the Seattle region, Eat Local prepares take-and-bake home-style meals from scratch using locally-sourced, organic ingredients, which can be picked up in store or shipped directly to your house.
Looking for a quick bite in Portland? Swing by Hope Kitchen food cart. With options like tamale pie, mac-n-cheese and BBQ chicken, they are dedicated to serving healthier versions of comfort food, and contribute a portion of proceeds to fighting colorectal cancer.