Laurie Pritchard is a content strategist in Seattle. Her family of 4 has members, including a meat lover, a plant-based eater, one who has sensitivities to gluten and dairy, and a visiting college student who will eat anything as long as it's free. Here's how she plans meals for 2 weeks at a time.
So, here it is, Saturday afternoon—meal planning time. I really hate this part of my second job. But, I have to say it is completely worth it. In April, I was still fresh on the pandemic. I was making sourdough, searching for toilet paper, and tracking a complete inventory of my freezer contents. I started meal planning like clockwork, every 2 weeks. But then, another month in, I stopped feeding the sourdough starter. The freezer inventory became out-of-date. And soon the meal planning went by the wayside too. Netflix and napping soon took over my Saturday afternoons.
However, I soon discovered I was spending more money, eating less healthy food, and facing more stress. Each day, when 5 o'clock rolled around, my family yelled up the stairs to my home office "What's for dinner?", and I had no plan. My husband, fortunately, likes to cook, but does not care to plan. So, for a while we were winging it…either ordering takeout, or eating whatever was easiest and available…not always healthiest. (Nachos? Fun dinner the first go round, but not on a regular basis. Takeout 3 nights in a row? Expensive!)
Yikes: We need a plan!
I plan meals for 2 weeks at a time. It works out well if you're trying to avoid the grocery store during a pandemic. That's about as long as I can go without additional trips to the store. Our milkman delivers milk and eggs each week, and we have a veggie box delivered every other week so that helps "fill in" between grocery runs. We shop for food that lasts, and stock our freezer.
Here's my process for meal planning in a pandemic, in 3 easy steps. Figure out:
1) What did we like from last few meal planning menus? (Or make a list of the meals you enjoy eating, if you don't have an existing menu.)
2) What do we have in the pantry or freezer to build on? (Also, what do we need to use up in the fridge!?)
3) What ingredients can we conveniently purchase to make use of what's in the pantry? (Are they ones we'll likely use again in the future?)
Be smart. Make a chart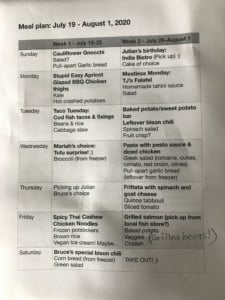 I made a simple meal planning chart on my computer that I reuse each 2-week cycle. (Very handy if you reuse the menu items, too! Cut and paste your favorite meals.) As I'm planning, I check pantry/freezer inventory, double check recipes, and make a shopping list.
I have a couple of standard dinners that I fill in off the bat. Every other Tuesday is Taco Tuesday. Sometimes it's chicken, sometimes fish, and sometimes vegetarian depending on what's "in stock" in our freezer or pantry, but at least every other Tuesday if not both, is a Taco Tuesday.
Every other Monday (sometimes if I have my way, it's EVERY Monday), is Meatless Monday. It's not a specific meal, but I look for some of our easy vegetarian favorites and plug them in.
Every other Saturday night is takeout. (Now and then, all we want to make for dinner is a call…), and we also look on our calendar for special events that might cause us to make or do something different to celebrate. For example, we just celebrated my son's birthday and scored an extra takeout night because I have not yet mastered Indian cuisine, and he deserved a special treat. My daughter made some fantastic homemade cheesecake! Yum!
As I'm planning, I glance at the previous weeks' menus and see what was a hit with the family. At the same time, I check to see what we have in the pantry and freezer. If we have a match (Bingo! A "hit" from previous menu + have the ingredients), down it goes on the plan.
Be flexible and try to keep everyone happy…some of the time
I'm not a fan of red meat, and my husband isn't a lover of vegetarian cuisine. I try to avoid gluten and dairy, and my daughter has braces so shouldn't eat crunchy or sticky food. I try to switch things up a bit so we get a nice variety of healthy meals. I also consider, how can I put the meat on the side so we're all happy…carnivores and vegetarians alike!
Each meal planning Saturday, I ask my family, "Anything special you want for dinner for the next couple weeks?" and at this point in the pandemic, they usually say "I don't care" or "You choose." So, then I do.
2 weeks of planning is enough to keep us on track, and it pretty well matches my trips to the store during the pandemic. My husband and I try to remember to look the night before and see if we need to defrost anything for the next night's supper.
Now and then we deviate. We consider the weather (too hot for soup!), something surprising comes in our produce box (beets in July? Let's try grilling them!), or we swap the meal days because we've forgotten an ingredient and push that meal later in the week.
What about breakfast and lunch?
I don't worry about planning breakfast or lunch. I just make sure I have some healthy options for those meals on our shopping list. I'm a daily oatmeal gal, and my daughter likes leftovers for breakfast. We eat leftovers, a sandwich, or salad for lunch. (This has been easy since we've all been at home.) I have older kids, so we can all fend for ourselves.
If I plan on Saturday, I can usually prep a meal or two for the week on Sunday, but generally, that's gone by the wayside, too. It's too nice out these days. (I'll prep and freeze more in the winter!) Besides, most of our dinners are easy enough to make the same day, given we have no commute at this point.
I hope you'll give meal planning a try, too. It's easy as pie. And way easier than sourdough.