Kale is all the rage these days, but there are plenty of other delicious greens for you to explore, such as chard, spinach, turnip, collards and bok choy. Many of these greens are available year-round in Washington and Oregon and can be found at your local farmers market.
These greens are nutritional powerhouses; chock full of vitamins, fiber and nutrients, including calcium and iron. Plus, they offer a new slate of cooking options and unique flavors to expand your leafy green repertoire.
Mild, tender and quick-cooking greens include chard, beet greens, spinach and bok choy. These are great for a quick sauté to add into soup, toss with pasta, or fold into a grain salad or pilaf.


The easiest way to cook tender greens like chard, beet and mature (large leaf) spinach is to strip leaves from the stem, then quickly blanch them in a pot of simmering water for 1 to 2 minutes. Once cooked, drain the greens in a colander, pressing out any excess liquid with the back of a spoon. Coarsely chop greens and then serve with a squeeze of lemon, or sauté them in a bit of olive oil and garlic and finish with a drizzle of balsamic vinegar.
Sturdier greens like turnip, collards and mustard take well to braising (long, low simmer with a bit of liquid). Mustard, and to a lesser extent turnip, can be quite pungent and sharp tasting, particularly when mature. However, this is easily remedied with a long, slow cooking process, which softens the flavor and bite. Try the Braised Turnip and Apple recipe below for a new way to use turnips and their greens.
Asian greens like bok choy or choy sum are extremely mild and great for stir fries. Try the Miso Bok Choy recipe below for a quick vegetable side to serve with salmon and brown rice.
The possibilities don't end here. Both chard and collards are sturdy enough to serve as wrappers, stuffed and baked – much like the traditional cabbage roll – with a variety of fillings. Chard and beets can even stand in for spinach in traditional lasagna.  Try the Greens & Cheese Gratin below for a healthy spin on spinach and cheese pie.

Braised Turnips and Apples
2 pounds turnips and their greens
1 cup apple juice
1 tablespoon apple cider vinegar
2 gala apples, sliced into wedges
1 tablespoon butter
1 teaspoon kosher salt
Prepare turnips: Remove tough stems from greens then slice leaves into thick strips. Peel turnip bulbs and slice into 1/2-inch wedges.
Fill a large pot with water, bring to a boil, and blanch turnip greens until just tender for about 15 minutes. Drain and set aside. Meanwhile, melt butter in a large, wide-bottomed skillet. Add apples, sliced turnip bulb, apple juice, vinegar and salt. Bring to a low simmer and continue to cook, uncovered, for 10 minutes. Add greens and continue to cook another 10 to 15 minutes until the liquid has evaporated into a thick glaze. Serve with roasted pork tenderloin, or dot with goat cheese and serve on top of quinoa as a vegetarian main course.

Miso Bok Choy
2 tablespoons water
2 tablespoons white (shiro) miso
1 tablespoon rice vinegar
1 teaspoon honey
1/2 teaspoon toasted sesame oil
1 clove garlic
1 teaspoon grated fresh ginger
1 tablespoon vegetable oil
1 pound bok choy, cut into quarters
Miso sauce: Wisk together water, miso, vinegar, honey and toasted sesame oil. Set aside.
Heat oil, garlic and ginger over high heat in a large, wide-bottomed skillet, and cook until pan gets hot and garlic starts to sizzle. Quickly add bok choy and toss with tongs until just wilted, about 2 minutes. Add miso sauce and continue to toss to combine. Serve with teriyaki-glazed salmon, or quickly seared tofu with toasted sesame seeds and brown rice.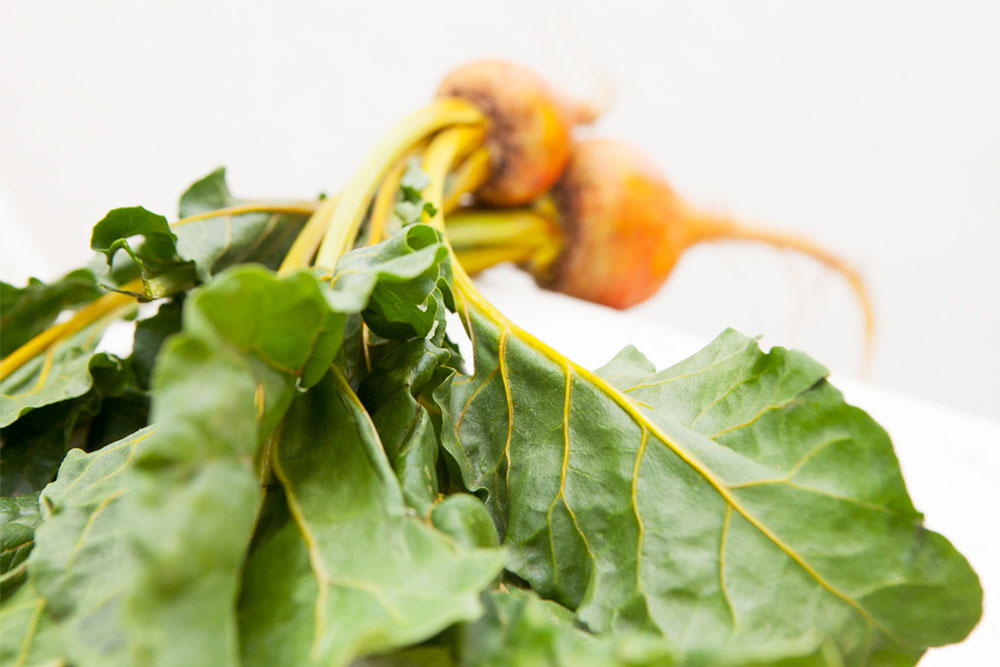 Greens and Cheese Gratin
2 large bunches greens (spinach, chard and/or beet), stems removed and rinsed
1 teaspoon olive oil
2 cloves garlic, minced
1/2 teaspoon chili flakes
2 cups cottage cheese (low-fat or nonfat)
4 eggs
1 teaspoon dried dill
1/4 cup chopped parsley
First preheat your oven to 350-degrees. Then heat the garlic, chili flakes and oil in large fry pan until they just start to sizzle. Add greens and sauté for 5 minutes until tender. Remove and set aside.
In a food processor, puree eggs, cottage cheese, parsley and dill together. Process until smooth. Add spinach mixture and pulse 3 to 4 times until spinach is just chopped and mixed in with cheese.
Bake in a greased 8 x 10-inch baking dish for 45 minutes. Let rest 5 minutes, then cut into squares and serve topped with sliced cherry tomatoes and olives.