Spring is the perfect time to purge the clutter in your life and make way for a healthier you.
"Spatial surroundings have a huge impact on overall well-being," says Annie Traurig, Seattle-based professional organizer and founder of Live Simply.
"Streamlined, clean spaces and design allow for calm, clear minds. It's as simple as that."
With that "simplify" philosophy in mind, here are four easy ways to spring clean your routine.
1. Start small.

Traurig suggests starting with just one small project and building from there. It could be something as small as fixing your wardrobe. You may have a lot of clothes that are not used or needs to be washed. You may need to make sure that they're all segregated based on their types so that it doesn't affect the material. You could learn more on the topic by reading various blogs or asking someone you know.
"As you knock out the smaller tasks, you'll gain confidence and be better prepared to tackle those larger ones," Traurig said.
Do you have a side closet filled with odds and ends accumulated over the years? Start by taking everything out and laying it out in an open space. Place everything you haven't used in a year in your donation bag. Move aside everything you may not need and call in Cheap rubbish removals Melbourne or elsewhere to get rid of them. Before you cram the rest back in, think about reorganizing the space. Annie swears by storage containers and a labeler!
2. Overhaul your kitchen.

Everyone has food items stacked in the pantry or fridge that have long since expired. A real spring purge would not be complete without a simple kitchen overhaul. Here are Annie's go-to tips.
Clean everything out. Check all expiration dates and toss everything that is past due. Clean all the containers using some Spoonflower kitchen towels or something similar.
Add a fresh dash of colour to your kitchen space While spring is all about transformations and cleanliness, it always symbolises the presence of warm colours in nature, green, yellow, pink, red, and whatnot! So, once you declutter your kitchen and throw all the unnecessary items away, do consider adding a fresh coat of paint to the walls, perhaps with the help of your local painting companies, who can be found by visiting the website of My House Painter and its likes.
Store. Invest in high-quality food storage containers. Glass snapware works great for the fridge and air-tight canisters should be your go-to for the pantry.
Label. Not enough labeling happens in the kitchen, which leads to waste. You can get labels specifically designed for food containers and use them to jot down the contents, and when it was cooked or purchased.
Reorganize. Avoid wasting food by having an "eat first" section in the fridge for fresh produce and other foods that quickly go bad.
Want more ideas for a healthier kitchen? Check out our 6 favorite kitchen hacks.
3. Revamp your lunch routine.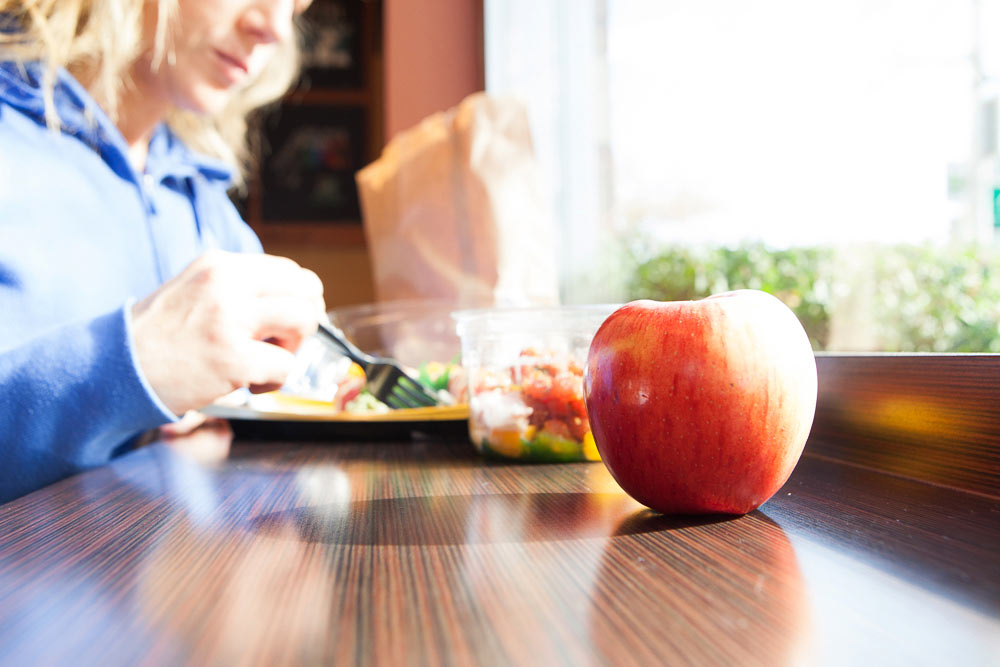 Organization applies to more than just your house or apartment. Simple modifications to your weekly lunch planning can help ease stress and help you stay healthy during the week. Instead of grabbing whatever is available before work, follow Annie's tips on prepping, storing and packing lunches.
4. Prioritize you.

Making time to stay active can often take a backseat to work and family responsibilities, but just a few minor adjustments can help you make sure you're also prioritizing your own well-being. While you're organizing your home, take the time to reorganize your busy schedule.
Start by blocking off 30-minute breaks a few times a week for a short workout – go for a walk, head out on a run or try one of our workout ideas when you're short on time. You'll be amazed at the sense of serenity and stress reduction that comes with a regular workout routine.
Ready, set, organize!

So what are you waiting for? Plan a weekend of spring cleaning to lighten your load, start the season fresh and make room for a healthy body and mind. You'll also find it so much easier to navigate your daily routine after decluttering and simplifying your space and schedule.