Ariana Kukors is an Olympic swimmer, world-record holder and Pacific Northwest native who is working with LifeWise to promote healthy living. Follow along on her journey to live an active and healthy life. 
I have two sisters – Emily, who is 28, and Mattie, who is 22. Put us in swim caps and our own parents have a hard time telling us apart. Sibling rivalry? You won't find that in my family. We have a sister support system. In fact, at the 2008 Olympic Trials, we wore shirts that read: "When sisters stand shoulder to shoulder, who stands a chance against us?" That pretty much sums up the Kukors women.
We were active kids with wild imaginations. Our mom would send us outside after school and we could entertain ourselves for hours on end. We each had a special and different relationship and we played to our strengths. As the eldest, Emily is and always will be the protector and trailblazer. I was the middle child – curious with my head in the clouds. Mattie, the youngest, was the observer and jokester. To this day she's the light of my life.
Some of my favorite memories of my sisters revolve around the pool, and I'm thankful that we shared so many years together in the water. I still remember the day I beat Emily for the first time as if it were yesterday. It was at a pool in Federal Way, Wash. in the 200 IM. After I won, we were both stunned. Emily was a gracious loser; I was a shocked winner. I remember crying later to my mom, feeling that the world was out of balance.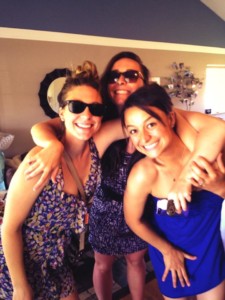 Mattie and I have a little bit of the "twin thing" going on. We can read each other's minds with a glance and can sense one another's emotions from thousands of miles away. In high school, Mattie and I each had our own rooms with queen-sized beds. Yet, somehow, we ended up in the same bed every night. She is my best friend and my secret keeper. She's also one of the reasons I'm an Olympian.
A lifetime of hard work boiled down to 131 seconds for me. To say that the U.S. Olympic Trials are stressful is laughable. Stressful doesn't even begin to describe the experience. However, thanks to Mattie's support and sense of humor, I got through it. From start to finish, she had me giggling, singing, joking, playing and cuddling. She slept in the same bed as me the night before the 200 IM Olympic Trials final, and she held my hand until I fell asleep. Before the final the next day, she sat and sang with me to calm my nerves and hugged me hard before I walked to the pool. When I hugged her 10 minutes later, we were crying tears of happiness and relief.
We celebrate together, cry together and even fight together. In the end, we'll always stay together – no matter what. As we always say, it's Three Sisters versus the world. I can't imagine it any other way.