Ever wonder what chefs eat when they're cooking for themselves? Or what special gadgets and cooking tools they use in their home kitchens? In this series, Behind the Counter, we're profiling a few well-known Northwest chefs to see how they approach healthy eating and cooking both at their restaurants and at home.
The sushi roll has brought Japanese cuisine into the mainstream. So much so that today, you can easily buy sushi at most grocery stores. However, you need to be careful. Sushi tucked into these plastic containers is often quite different from traditional Japanese cuisine. Rolls filled with mayonnaise, stuffed with fried ingredients, sugary sauces or even cream cheese are not nearly as healthy as you might think.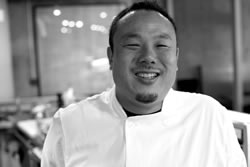 To explore authentic Japanese cuisine we talked with Taichi Kitamura, chef and owner of Seattle's Sushi Kappo Tamura, selected as "Best Sushi" in 2012 and 2013 by Seattle Magazine, and recognized as one of the top sushi restaurants in the U.S. by Bon Appetit and Travel & Leisure magazines. Sushi Kappo Tamura marries authentic Japanese cuisine with a focus on local, seasonal and sustainable ingredients.
Chef Kitamura shared his thoughts on cooking at the restaurant and at home, along with some tips on eating healthfully when dining out at Japanese restaurants in your area.
ANW: How would you describe your overall approach to cooking?
Kitamura: Sushi Kappo Tamura is a Japanese restaurant with a strong Northwest influence. We use local, seasonal ingredients in traditional preparation. We highlight fish caught in Northwest waters, and have also started growing our own vegetables on our rooftop garden. Food that is local is guaranteed to be fresh and just tastes better. We respect the ingredients – that is the Japanese philosophy.
ANW: What are some of the menu highlights?
Kitamura: I serve many things that are grown here that you wouldn't find in Japan. Seasonal specials like matsutake mushrooms or geogduck from Puget Sound are unique to the Northwest.
ANW: Does this same approach translate to the food you cook for yourself at home?
Kitamura: Yes. I like to cook all kinds of food. Not just Japanese, but also Mexican, Italian and Korean. I also try to buy from local producers when I cook for myself at home, and use ingredients when they are in season, at the peak of flavor, so you don't have to do much to them to make them taste delicious.
ANW: What are some of your favorite dishes to make at home?
Kitamura: One of my favorite dishes is to grill local, grass-fed beef. Flatiron is a good cut, and I marinate it in a mixture of honey, garlic, soy sauce and sesame oil, grilling it quickly over hot fire until it's medium rare. I slice it thin and serve it with butter lettuce, along with some sliced radish and cilantro and lime to make Asian lettuce wraps. Add some steamed rice and you have an easy and healthy dinner.
ANW: What is a kitchen tool that you'd recommend home cooks use?
Kitamura: This sounds simple, but I think all cooks in the Northwest should invest in fish bone tweezers. We eat so much salmon here. Taking the time to remove those pin bones before you cook the fish is always a good idea. It's very easy if you have the right tool. They sell them at cooking stores, or you can just buy some needle-nose pliers. I get mine in Japan, of course!
Making the Most of Japanese Cuisine
There is much more to Japanese cooking than sushi, but the respect for ingredients, simple preparation and focus on fresh fish and vegetables make it one of the healthiest cuisines to try. Here are a few simple tips to help make the most of your next Japanese dinner and ensure you're making healthy choices:
Look for a "fresh sheet" or seasonal specials, which will often highlight what is being caught locally or in season at the time.
Tempura, while delicious, is deep-fried and can be unhealthy when eaten in large portions. Follow the Japanese model and eat smaller amounts of many different dishes. If you love tempura, order an appetizer portion to share.
When ordering sushi rolls, avoid those that include "crunchy" or "spicy" in the title. "Crunchy" often means deep-fried, and "spicy sauce" is usually mayonnaise-based.
Order oily fish like mackerel (saba), tuna (toro) and wild salmon are high in omega-3 fatty acids, which have been associated with a range of health benefits, including protecting the heart, reducing inflammation and protecting against autoimmune diseases.
Load up on the wasabi and ginger. Ginger helps boost the immune system and wasabi is packed with antioxidants.
Ask for reduced-sodium soy sauce, but be mindful of how much you eat. It's still high in overall sodium content.