Living LifeWise is a regular column provided by LifeWise Ambassadors – LifeWise employees whose healthy choices are helping them live better lives. Today's column is provided by LifeWise Ambassador Dana Robertson Halter.
On Sunday, March 16, more than than 35,000 athletes flooded the streets of downtown Portland – many wearing green tutus, striped socks and leprechaun hats – for the 36th annual Adidas Shamrock Run.
For the past three years, LifeWise has supported almost 2,000 runners in their health journeys by paying their Shamrock entry fees and giving out gear and swag at the pre-race Fitness Fair. After hearing raves from co-workers about Shamrock, my husband and I decided to join in the fun.
My long (and pot-holed) road to running in the 15K Shamrock Challenge started in 2011, after my second daughter was born. I was in a hurry to lose the baby weight and did too much, too soon. Midway through a seven mile training run, I felt a searing pain down my right side – I had injured the sacroiliac joint in my back. The injury sidelined me for a year, and gave me a fresh perspective on racing and balance. The Shamrock Run was my first serious race in almost five years, and it gave me an opportunity to test the lessons I learned along the way.
Lesson #1: It all starts with a strong core
The main reason I injured my sacroiliac joint was because I started running right after having a baby without bothering to strengthen my abdominal muscles. I learned quickly that your core is your foundation for just about everything. It only takes a few minutes a day, so I find time for abdominal work to ensure that my core is strong enough to support my fitness goals.
Lesson #2: Prepare yourself both mentally and physically

To be honest, I was totally unprepared for a 15K race. I didn't review the Shamrock training runs and figured people were exaggerating about the 9.3-mile course being hilly. (They weren't.)  I got carried away at the start and took it out too fast. By the time we hit mile four, the hills felt endless and my legs felt like concrete. I seriously considered walking several times, and said some not-so-nice things to my speedy husband.
In the middle of a highly unpleasant hill around the halfway mark, I took a deep breath and tried to focus on the positive. I took in the beautiful views, thanked the volunteers and waved at the bands playing along the course. I gave high-fives to the military personnel and kids that came out to cheer us on. In honor of St. Patrick's Day, the aid station at mile eight handed out bacon and beer. Who can't smile at that?
Lesson #3: Don't take yourself too seriously

I love racing in costumes because it reminds me that my first priority is having fun. I've run the Leavenworth Oktoberfest twice in a dirndl and braids, and I wore a sparkly green skirt with my LifeWise Ambassador t-shirt for Shamrock. Wear something whimsical or fun and you'll get energy from the crowd as you pass by!
Lesson #4: Sleep is critical
I never used to think about the role sleep plays in training and recovery. After five months of acid reflux that triggered night-long coughs, I had to approach my sleep schedule differently. Having a night or two of compromised sleep is fine, but getting three hours of sleep night after night is not. I learned that doing training runs when I was exhausted increased my risk of injury and didn't provide much benefit. I learned to skip running on the rough days and focused instead on the necessities: being there for my family and doing my job.
Lesson #5: Set realistic goals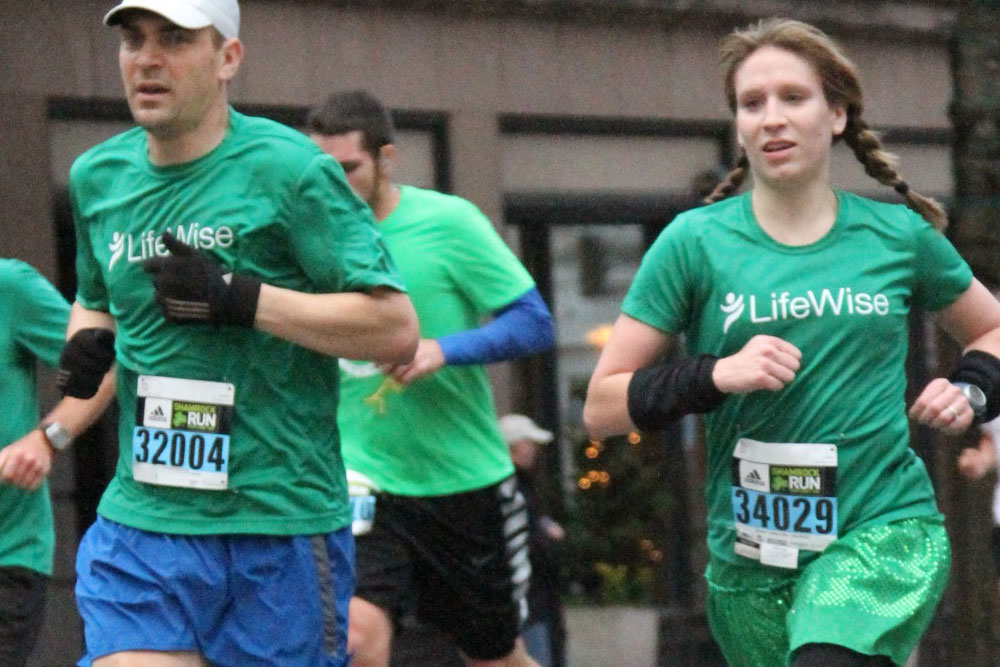 If I focused on my best times from the years before my injury, I would have been miserable. Instead, I adjusted my expectations and set a goal that was reasonable for a mom of two with a full-time job who was unable to run at all a year ago. I looked at the clock when we crossed the finish line and was proud. I didn't walk, I achieved my goal, and I finished with a huge smile on my face.
Photos courtesy of BalanceMedia.tv and the Adidas Shamrock Run.
____________
Dana Robertson Halter is a lifelong athlete and mother of 4-year-old Cassandra and 2-year-old McKenna. Dana started swimming competitively at six, began racing triathlons after college, switched to bike racing in 2004 because triathlons were too lonely, and then went back to racing solo (marathons) after having her first child in 2009. Living LifeWise is how Dana keeps her body and brain strong – and it provides a healthy outlet for her competitive spirit. Dana works as a Communications Manager for LifeWise and lives in Ballard with her family and two Australian Shepherds.