Living LifeWise is a regular column provided by LifeWise Ambassadors – LifeWise employees whose healthy choices are helping them live better lives. Today's column is provided by LifeWise Ambassador Johanna Dokken.
Picture this: The skies are clear and the air is warm, with a slight breeze. My family decides it's the perfect day to head to the water that we are so fortunate to have close by in North Seattle. We love the water, and with so many accessible boating opportunities in the Northwest, it's easy to get out, be active and test our basic boating skills.
Thinking about planning your own boating adventure? Here's a guide to our favorite family boating spots in the Seattle area, as well as some lessons we've learned along the way:
Greenlake boat rentals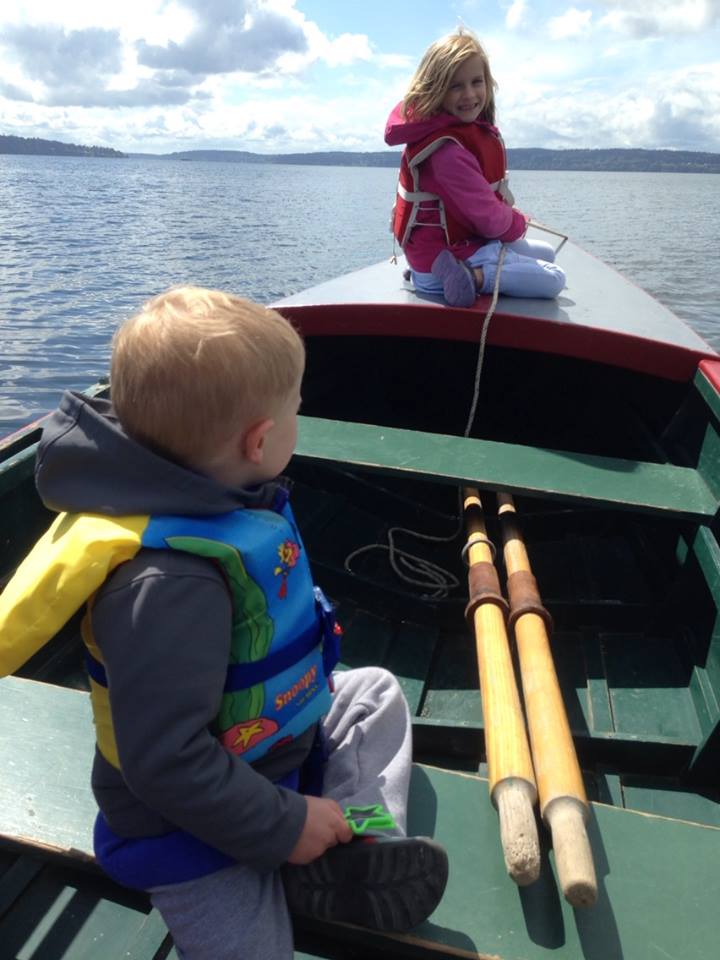 One good thing about Greenlake is you don't have to worry about getting sucked out to sea! And there is always a bevy of onlookers taking keen interest in your boating activity.
My last venture at Greenlake was with a friend, trying out the mini-sailboats you can rent there. It was a fiercely windy day, practically white capped. (We were feeling brave.) As we struggled to recall dormant terms from long-ago sailing lessons—were we attempting a "broad reach" or a "tack"?—we realized we were barreling right toward the concrete swimming platform. Thankfully, we were able to change course at the last moment…and were rewarded with cheering and clapping from nearby spectators.
I don't trust myself to take the kids out sailing on my own quite yet, but I am eager to keep working on my skills. Meanwhile, we can all handle cruising along in the adorable and forgiving paddle boats they also have for rent.
UW boat house
It doesn't get much better than a $9 canoe from the UW's Waterfront Activities Center. Having one adult and one child in each boat works out pretty well. The kids are able to get into the paddling action (even my three-year-old) while I try to hone my "power canoe" skills.
Those skills came into play the last time out, when my daughter and I got caught in a tailspin and swept into the freeway of vessels coming in from the canal. I thought for sure we were going to get plowed over by an unobservant speed boat. Fortunately, we were able to muscle it back to the dock, and now we know to stick close to the water's edge.
Center for wooden boats
There is something about the nautical wooden ambiance at the Center for Wooden Boats that I find extremely relaxing. We've tried out the free Sunday afternoon boat ride around Lake Union (on a giant visiting sailboat that the kids were enthralled with), as well as the motor boat rental at Cama Beach on calm waters on Camino Island. There we were able to spot harbor porpoises, much to the kids' delight. Both locations also offer canoe, kayak, rowboat and sailboat rentals.

Kayaking
Want a good way to put a toddler to sleep? Ten minutes into a kayak adventure, my son—who sits nestled between my legs and arms—is lulled by the smooth paddling and promptly passes out. Kayaking is probably one of the best boating activities for small children. We can cross the street to our small neighborhood lake or go out for an extensive starfish hunt with a cruise in the sound. The kids are easily absorbed in the passing surroundings and we can ease along at our own pace.
Although we're still boating amateurs (at best), I find it pretty special that we're always able to have an entertaining experience. And accessibility to Northwest lakes and waters makes an active boating adventure all the easier.
Have you been on a boating adventure lately? Share with me by leaving a comment below!
________________


Johanna Dokken is a former college swimmer and mom of two, looking to make health and fitness a higher priority. Her inspiration to lead a more active and healthy life comes from her family's history of diabetes and heart issues, as well as a personal brush with cancer as a teenager. She loves the personal empowerment, stress relief and community of training and pursuing outdoor activities.